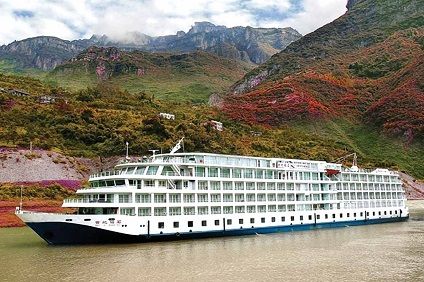 Cruise the Yangtze River on Viking Emerald, a state-of-the-art river cruise vessel. Accommodating 256 guests with full verandas, hotel-style beds in every spacious suite and stateroom, public areas bathed in light and an English-speaking crew, Viking Emerald is one of the most sophisticated river ships sailing the region.
Ship Profile & Stats
Maiden voyage: 2011
Length: 361 ft
Passenger capacity (dbl): 256
Crew nationality: European
Officer nationality: European
Dining nationality: European
Ship Amenities
Telephone
Flat-panel TV with CNN & more
Individual Climate Control
Safe
Voltage: 220V & 110V (U.S. outlet) in stateroom
Hair Dryer
Bathrobe & slippers upon request
Bottled water replenished daily
Ship Facilities
Sun Deck
Boutique
Lounge
Restaurant
Hairdresser
Free Internet service
Laundry Service
2 Elevators
Doctor
Library
Bar
Filter results:
Currently we have no results for this ship, please click here to start a search and find something for you!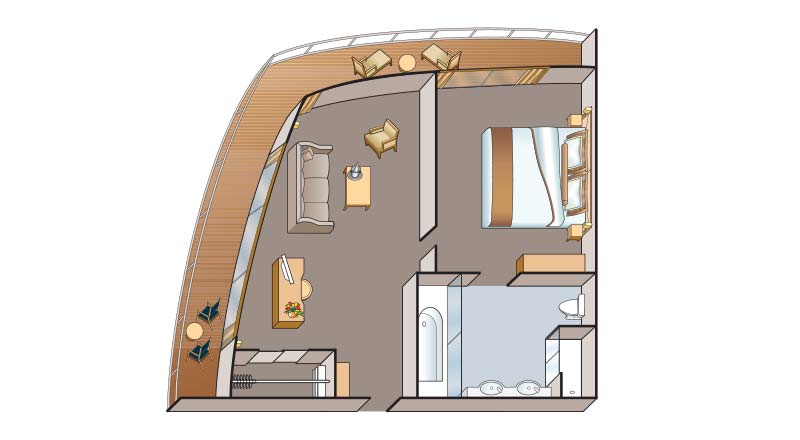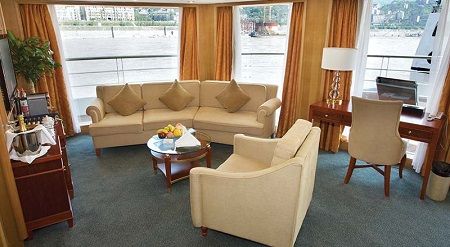 Stateroom size: 603 sq. ft.
Hotel-style beds 79 inches x 71 inches (with optional twin-bed configuration)
Sitting area with sofa, armchair and desk
Panoramic windows that open onto private wraparound veranda
Private bathroom with bathtub, shower and premium bath products
Bathrobe and slippers available upon request
Telephone, refrigerator, safe, hair dryer & bottled water replenished daily
Kettle and instant coffee available in the stateroom
Air conditioning
Space under bed for storing suitcases
Roomy wardrobe with wooden hangers
Voltage: 220V and 110V in stateroom
Two flat-panel TVs with premium entertainment package including CNN and other English-language programming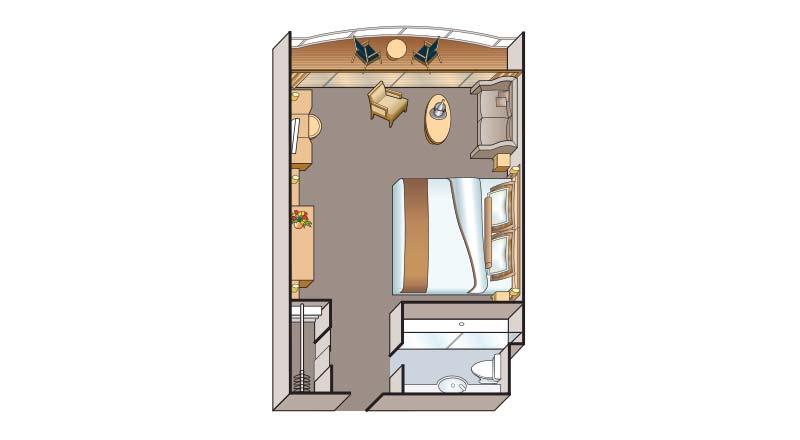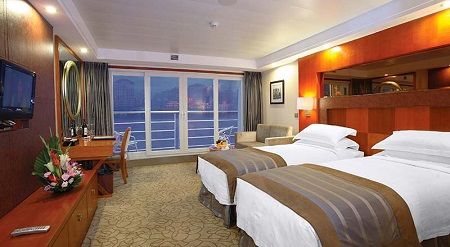 Stateroom size: 301 sq. ft.
Hotel-style beds 79 inches x 35 inches (with optional twin-bed configuration)
Panoramic windows that open onto private veranda
Private bathroom with shower and premium bath products
Bathrobe and slippers available upon request
Telephone, refrigerator, safe, hair dryer & bottled water replenished daily
Kettle and instant coffee available in the stateroom
Air conditioning
Space under bed for storing suitcases
Roomy wardrobe with wooden hangers
Voltage: 220V and 110V in stateroom
TV with premium entertainment package including CNN and other English-language programming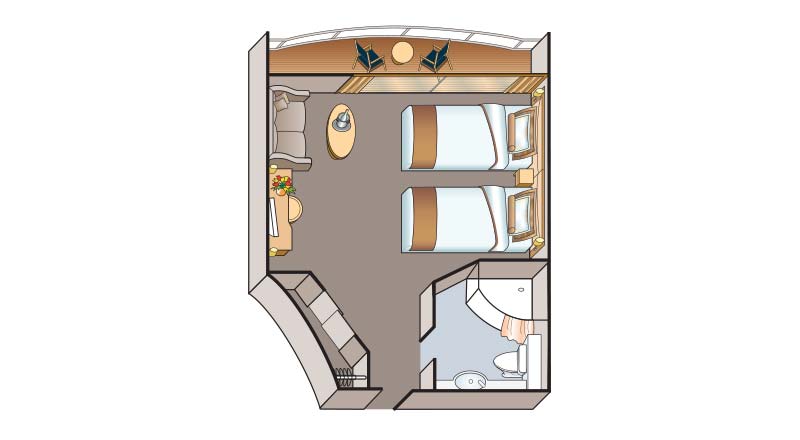 Stateroom size: 260 sq. ft.
Hotel-style beds 79 inches x 35 inches (with optional twin-bed configuration)
Panoramic windows that open onto private veranda
Private bathroom with shower and premium bath products
Bathrobe and slippers available upon request
Telephone, refrigerator, safe, hair dryer & bottled water replenished daily
Kettle and instant coffee available in the stateroom
Air conditioning
Space under bed for storing suitcases
Roomy wardrobe with wooden hangers
Voltage: 220V and 110V in stateroom
TV with premium entertainment package including CNN and other English-language programming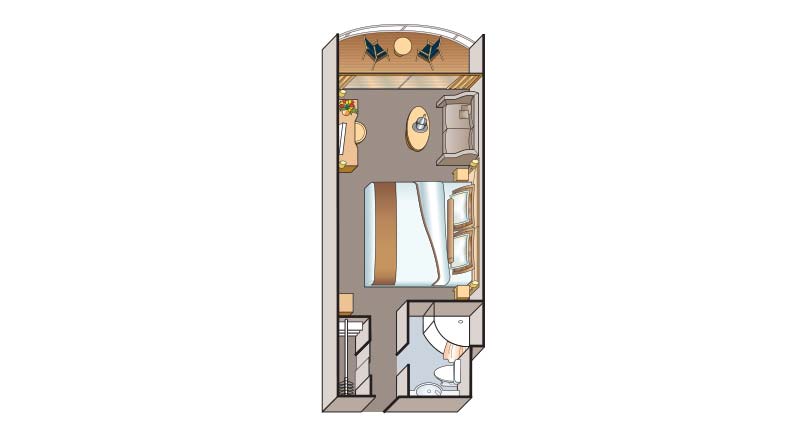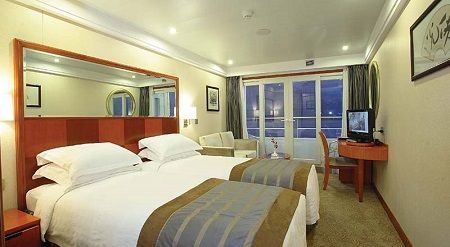 Stateroom size: 250 sq. ft.
Hotel-style beds 79 inches x 35 inches (with optional twin-bed configuration)
Panoramic windows that open onto private veranda
Private bathroom with shower and premium bath products
Bathrobe and slippers available upon request
Telephone, safe, hair dryer & bottled water replenished daily
Kettle and instant coffee available in the stateroom
Air conditioning
Space under bed for storing suitcases
Roomy wardrobe with wooden hangers
Voltage: 220V and 110V in stateroom
TV with premium entertainment package including CNN and other English-language programming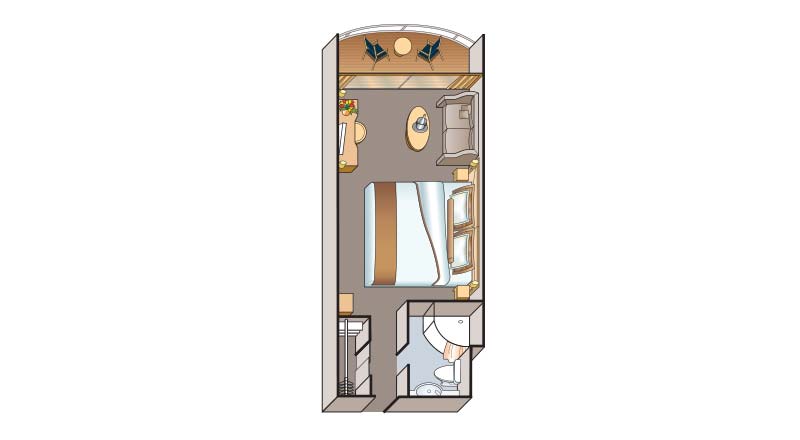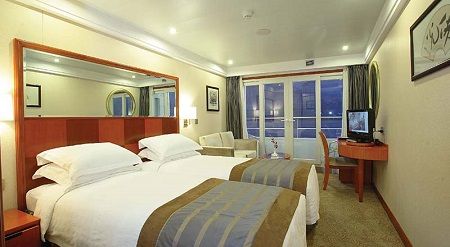 Stateroom size: 250 sq. ft.
Hotel-style beds 79 inches x 35 inches (with optional twin-bed configuration)
Panoramic windows that open onto private veranda
Private bathroom with shower and premium bath products
Bathrobe and slippers available upon request
Telephone, safe, hair dryer & bottled water replenished daily
Kettle and instant coffee available in the stateroom
Air conditioning
Space under bed for storing suitcases
Roomy wardrobe with wooden hangers
Voltage: 220V and 110V in stateroom
TV with premium entertainment package including CNN and other English-language programming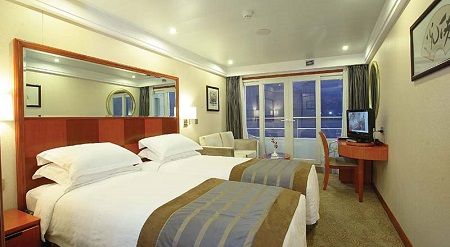 Stateroom size: 250 sq. ft.
Hotel-style beds 79 inches x 35 inches (with optional twin-bed configuration)
Panoramic windows that open onto private veranda
Private bathroom with shower and premium bath products
Bathrobe and slippers available upon request
Telephone, safe, hair dryer & bottled water replenished daily
Kettle and instant coffee available in the stateroom
Air conditioning
Space under bed for storing suitcases
Roomy wardrobe with wooden hangers
Voltage: 220V and 110V in stateroom
TV with premium entertainment package including CNN and other English-language programming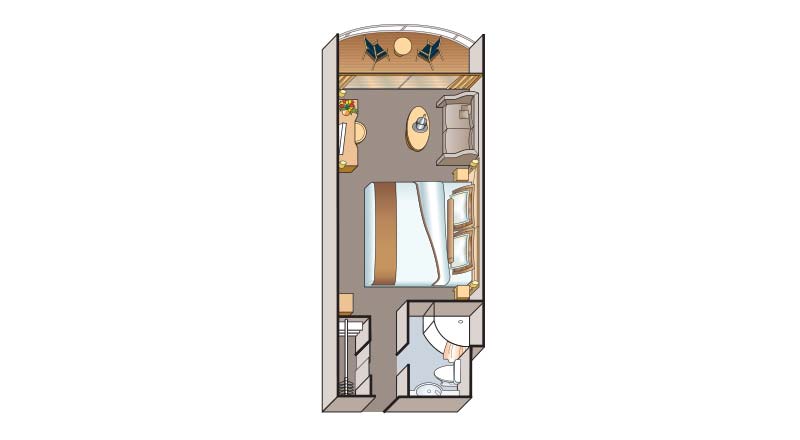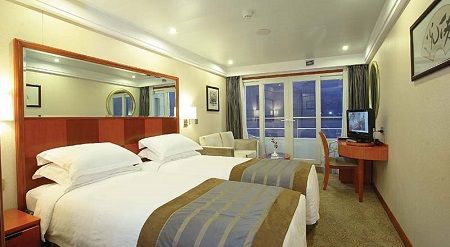 Stateroom size: 250 sq. ft.
Hotel-style beds 79 inches x 35 inches (with optional twin-bed configuration)
Panoramic windows that open onto private veranda
Private bathroom with shower and premium bath products
Bathrobe and slippers available upon request
Telephone, safe, hair dryer & bottled water replenished daily
Kettle and instant coffee available in the stateroom
Air conditioning
Space under bed for storing suitcases
Roomy wardrobe with wooden hangers
Voltage: 220V and 110V in stateroom
TV with premium entertainment package including CNN and other English-language programming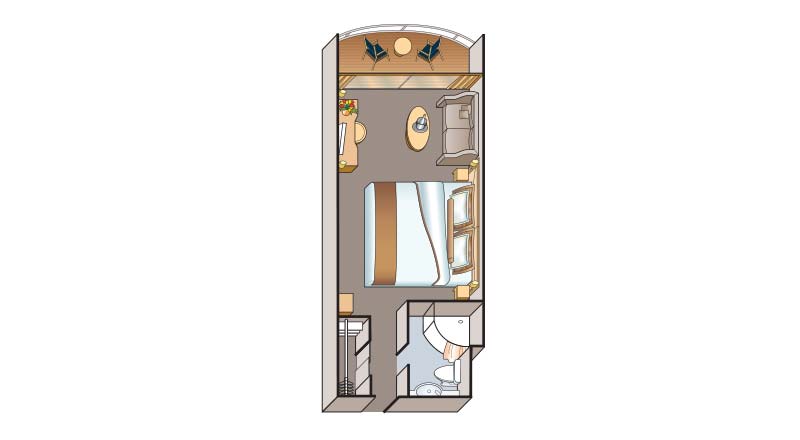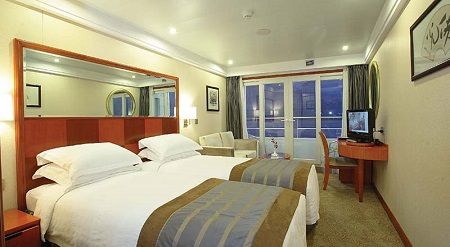 Stateroom size: 250 sq. ft.
Hotel-style beds 79 inches x 35 inches (with optional twin-bed configuration)
Panoramic windows that open onto private veranda
Private bathroom with shower and premium bath products
Bathrobe and slippers available upon request
Telephone, safe, hair dryer & bottled water replenished daily
Kettle and instant coffee available in the stateroom
Air conditioning
Space under bed for storing suitcases
Roomy wardrobe with wooden hangers
Voltage: 220V and 110V in stateroom
TV with premium entertainment package including CNN and other English-language programming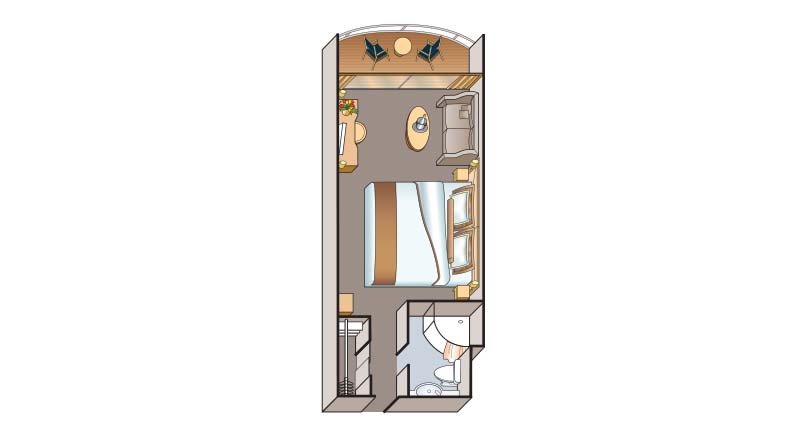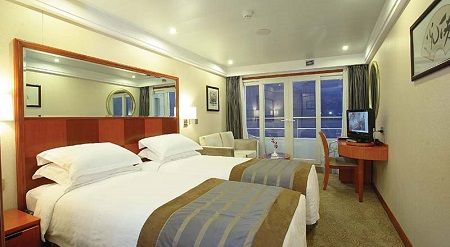 Stateroom size: 250 sq. ft.
Hotel-style beds 79 inches x 35 inches (with optional twin-bed configuration)
Panoramic windows that open onto private veranda
Private bathroom with shower and premium bath products
Bathrobe and slippers available upon request
Telephone, safe, hair dryer & bottled water replenished daily
Kettle and instant coffee available in the stateroom
Air conditioning
Space under bed for storing suitcases
Roomy wardrobe with wooden hangers
Voltage: 220V and 110V in stateroom
TV with premium entertainment package including CNN and other English-language programming