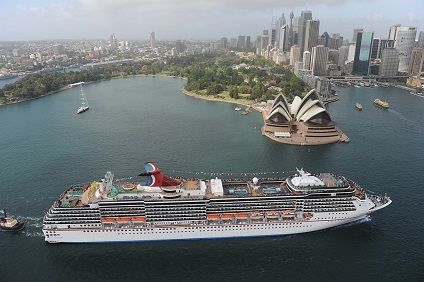 Cruising aboard Carnival Spirit will elevate your holiday at sea, to that unforgettable trip you will be longing to relive. You'll be on a ship that's nearly the length of three footy fields and 12 decks tall of things to do, see, taste and try. Whether you're after an action-packed holiday or just want to relax and unwind, you can create the type of cruise holiday you want.

There's heaps of fun on offer and something for everyone; little ones, big ones and the whole family. The largest waterpark at sea in Australia, mini-golf, two-deck fitness center, jogging track and sports court, Serenity Adult-Only Retreat™, day spa and pools and spas. Keep the kids entertained with three different age-appropriate youth programs, giving them plenty of choice on activities and the opportunity to make new friends.

You'll be spoilt for choice no matter what your passion. If you're a foodie, Carnival Spirit has tons of dining options - with Guy's Burger Joint™, Empire Restaurant, Lido Marketplace, Nouveau, where for a small cover charge you can dine in style, 24 hour Pizza and Ice-Cream and much, much more.

If it's night-time fun that you're looking for then you won't be disappointed. Carnival Spirit has more than 6 bars and lounges to choose from featuring all kinds of games, shows and entertainment. If you like a flutter on the pokies there's also a casino. Quite simply, you can pick and choose to create your own memorable holiday whilst onboard.

Ship Profile & Stats
Maiden voyage: 2001
Refurbished: 2015
Tonnage: 85,920
Length: 959.6 feet
Beam: 105.6 feet
Draft: 25.5 feet
Speed: 22 knots
Ship registration: Panama
Passenger capacity (dbl): 2124
Passenger space: 39.55 ft/pass
Crew nationality: International
Officer nationality: Italian
Dining nationality: International
Ship Amenities
Telephone
Electric Current 110 AC
Air Conditioning
Television
Hair Dryer
Ship Facilities
Dancin' Dance Club
The Chapel
Versailles Lounge
Pharaoh's Palace Lounge
Chippendale Library and Internet
Dome Pool
Nouveau Supper Club
Whirlpool(s)
Champions Sports Bar
Shanghai Piano Bar
Empire Dining Room
La Playa Grille Restaurant
Cool Club
Fountain Cafe
Sushi Bar
Louis XIV Casino
Artists' Lobby
Napoleon Room
The Jungle
Fun Shops
Photo Shop / Gallery
Spirit Atrium
Conference Room
Deco Lounge
Techno Arcade
Camp Carnival Childrens Club
Gymnasium
Spa Carnival
Steam & Sauna Rooms
Beauty Salon Classique
Sun Pool
Canopy Bar
Taste of the Nations
Asian Conrer
Deli
Rotisserie
Lido Cafe
Pizzeria
Ice Cream Bar
Fantail Bar
Fantail Pool
Club 02 Teens Club
Children's Pool
Spirit Casino
Mini Golf Course
Waterslide
Alchemy Bar
Blue Iguana Cantina
Blue Iguana Tequila Bar
Guys Burger Joint
The Cherry on Top
Red Frog Pub
Red Frog Rum Bar
Bonsai Sushi
Skybox Sports Bar
Seuss at Sea
Dive In Movies
Filter results:
Currently we have no results for this ship, please click here to start a search and find something for you!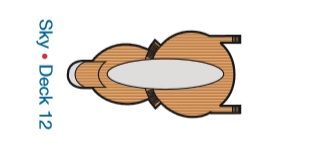 ALL THE PERKS. IN EVERY ROOM. With all this comfort and all these standard features, you've got to try real hard to get homesick on a Carnival cruise. 24–hour room service 24–hour room steward Soft, cosy linens (Carnival Comfort Collection®) Bathrobes Nightly turndown service Plenty of closet and drawer space Private bathroom and shower Television Individual climate control Telephone Personal safe for valuables. SUITE: Get all the comforts of home and then some, with absolutely none of the hassles. Since your suite gives you VIP status, you're the priority when it comes to getting on and off the ship. Plus, you'll receive a ton of exclusive amenities making this the ultimate way to cruise. Get comfy… stretch out, put your feet up, or just spend time on your balcony — you've got one of our most spacious rooms. EXCLUSIVE AMENITIES: VIP check-in Priority embarkation and debarkation Mini Bar or Refrigerator



ALL THE PERKS. IN EVERY ROOM. With all this comfort and all these standard features, you've got to try real hard to get homesick on a Carnival cruise. 24–hour room service 24–hour room steward Soft, cosy linens (Carnival Comfort Collection®) Bathrobes Nightly turndown service Plenty of closet and drawer space Private bathroom and shower Television Individual climate control Telephone Personal safe for valuables. SUITE: Get all the comforts of home and then some, with absolutely none of the hassles. Since your suite gives you VIP status, you're the priority when it comes to getting on and off the ship. Plus, you'll receive a ton of exclusive amenities making this the ultimate way to cruise. Get comfy… stretch out, put your feet up, or just spend time on your balcony — you've got one of our most spacious rooms. EXCLUSIVE AMENITIES: VIP check-in Priority embarkation and debarkation Mini Bar or Refrigerator



ALL THE PERKS. IN EVERY ROOM. With all this comfort and all these standard features, you've got to try real hard to get homesick on a Carnival cruise. 24–hour room service 24–hour room steward Soft, cosy linens (Carnival Comfort Collection®) Bathrobes Nightly turndown service Plenty of closet and drawer space Private bathroom and shower Television Individual climate control Telephone Personal safe for valuables. SUITE: Get all the comforts of home and then some, with absolutely none of the hassles. Since your suite gives you VIP status, you're the priority when it comes to getting on and off the ship. Plus, you'll receive a ton of exclusive amenities making this the ultimate way to cruise. Get comfy… stretch out, put your feet up, or just spend time on your balcony — you've got one of our most spacious rooms. EXCLUSIVE AMENITIES: VIP check-in Priority embarkation and debarkation Mini Bar or Refrigerator






QUAD SHARE. ALL THE PERKS. IN EVERY ROOM. With all this comfort and all these standard features, you've got to try real hard to get homesick on a Carnival cruise. 24–hour room service 24–hour room steward Soft, cosy linens (Carnival Comfort Collection®) Bathrobes Nightly turndown service Plenty of closet and drawer space Private bathroom and shower Television Individual climate control Telephone Personal safe for valuables. SUITE: Get all the comforts of home and then some, with absolutely none of the hassles. Since your suite gives you VIP status, you're the priority when it comes to getting on and off the ship. Plus, you'll receive a ton of exclusive amenities making this the ultimate way to cruise. Get comfy… stretch out, put your feet up, or just spend time on your balcony — you've got one of our most spacious rooms. EXCLUSIVE AMENITIES: VIP check-in Priority embarkation and debarkation Mini Bar or Refrigerator



ALL THE PERKS. IN EVERY ROOM. With all this comfort and all these standard features, you've got to try real hard to get homesick on a Carnival cruise. 24–hour room service 24–hour room steward Soft, cosy linens (Carnival Comfort Collection®) Bathrobes Nightly turndown service Plenty of closet and drawer space Private bathroom and shower Television Individual climate control Telephone Personal safe for valuables.
SUITE:
Get all the comforts of home and then some, with absolutely none of the hassles. Since your suite gives you VIP status, you're the priority when it comes to getting on and off the ship. Plus, you'll receive a ton of exclusive amenities making this the ultimate way to cruise. Get comfy… stretch out, put your feet up, or just spend time on your balcony — you've got one of our most spacious rooms.
EXCLUSIVE AMENITIES:
VIP check-in
Priority embarkation and debarkation
Mini Bar or Refrigerator


Any suite depending on availability.

ALL THE PERKS. IN EVERY ROOM. With all this comfort and all these standard features, you've got to try real hard to get homesick on a Carnival cruise. 24–hour room service 24–hour room steward Soft, cosy linens (Carnival Comfort Collection®) Bathrobes Nightly turndown service Plenty of closet and drawer space Private bathroom and shower Television Individual climate control Telephone Personal safe for valuables. SUITE: Get all the comforts of home and then some, with absolutely none of the hassles. Since your suite gives you VIP status, you're the priority when it comes to getting on and off the ship. Plus, you'll receive a ton of exclusive amenities making this the ultimate way to cruise. Get comfy… stretch out, put your feet up, or just spend time on your balcony — you've got one of our most spacious rooms. EXCLUSIVE AMENITIES: VIP check-in Priority embarkation and debarkation Mini Bar or Refrigerator


ALL THE PERKS. IN EVERY ROOM. With all this comfort and all these standard features, you've got to try real hard to get homesick on a Carnival cruise. 24–hour room service 24–hour room steward Soft, cosy linens (Carnival Comfort Collection®) Bathrobes Nightly turndown service Plenty of closet and drawer space Private bathroom and shower Television Individual climate control Telephone Personal safe for valuables
ALL THE PERKS. IN EVERY ROOM. With all this comfort and all these standard features, you've got to try real hard to get homesick on a Carnival cruise. 24–hour room service 24–hour room steward Soft, cosy linens (Carnival Comfort Collection®) Bathrobes Nightly turndown service Plenty of closet and drawer space Private bathroom and shower Television Individual climate control Telephone Personal safe for valuables


ALL THE PERKS. IN EVERY ROOM. With all this comfort and all these standard features, you've got to try real hard to get homesick on a Carnival cruise. 24–hour room service 24–hour room steward Soft, cosy linens (Carnival Comfort Collection®) Bathrobes Nightly turndown service Plenty of closet and drawer space Private bathroom and shower Television Individual climate control Telephone Personal safe for valuables

ALL THE PERKS. IN EVERY ROOM. With all this comfort and all these standard features, you've got to try real hard to get homesick on a Carnival cruise. 24–hour room service 24–hour room steward Soft, cosy linens (Carnival Comfort Collection®) Bathrobes Nightly turndown service Plenty of closet and drawer space Private bathroom and shower Television Individual climate control Telephone Personal safe for valuables

QUAD SHARE. ALL THE PERKS. IN EVERY ROOM. With all this comfort and all these standard features, you've got to try real hard to get homesick on a Carnival cruise. 24–hour room service 24–hour room steward Soft, cosy linens (Carnival Comfort Collection®) Bathrobes Nightly turndown service Plenty of closet and drawer space Private bathroom and shower Television Individual climate control Telephone Personal safe for valuables


ALL THE PERKS. IN EVERY ROOM. With all this comfort and all these standard features, you've got to try real hard to get homesick on a Carnival cruise. 24–hour room service 24–hour room steward Soft, cosy linens (Carnival Comfort Collection®) Bathrobes Nightly turndown service Plenty of closet and drawer space Private bathroom and shower Television Individual climate control Telephone Personal safe for valuables

ALL THE PERKS. IN EVERY ROOM. With all this comfort and all these standard features, you've got to try real hard to get homesick on a Carnival cruise. 24–hour room service 24–hour room steward Soft, cosy linens (Carnival Comfort Collection®) Bathrobes Nightly turndown service Plenty of closet and drawer space Private bathroom and shower Television Individual climate control Telephone Personal safe for valuables


QUAD SHARE. ALL THE PERKS. IN EVERY ROOM. With all this comfort and all these standard features, you've got to try real hard to get homesick on a Carnival cruise. 24–hour room service 24–hour room steward Soft, cosy linens (Carnival Comfort Collection®) Bathrobes Nightly turndown service Plenty of closet and drawer space Private bathroom and shower Television Individual climate control Telephone Personal safe for valuables


QUAD SHARE. ALL THE PERKS. IN EVERY ROOM. With all this comfort and all these standard features, you've got to try real hard to get homesick on a Carnival cruise. 24–hour room service 24–hour room steward Soft, cosy linens (Carnival Comfort Collection®) Bathrobes Nightly turndown service Plenty of closet and drawer space Private bathroom and shower Television Individual climate control Telephone Personal safe for valuables


ALL THE PERKS. IN EVERY ROOM. With all this comfort and all these standard features, you've got to try real hard to get homesick on a Carnival cruise. 24–hour room service 24–hour room steward Soft, cosy linens (Carnival Comfort Collection®) Bathrobes Nightly turndown service Plenty of closet and drawer space Private bathroom and shower Television Individual climate control Telephone Personal safe for valuables

ALL THE PERKS. IN EVERY ROOM. With all this comfort and all these standard features, you've got to try real hard to get homesick on a Carnival cruise. 24–hour room service 24–hour room steward Soft, cosy linens (Carnival Comfort Collection®) Bathrobes Nightly turndown service Plenty of closet and drawer space Private bathroom and shower Television Individual climate control Telephone Personal safe for valuables


ALL THE PERKS. IN EVERY ROOM. With all this comfort and all these standard features, you've got to try real hard to get homesick on a Carnival cruise. 24–hour room service 24–hour room steward Soft, cosy linens (Carnival Comfort Collection®) Bathrobes Nightly turndown service Plenty of closet and drawer space Private bathroom and shower Television Individual climate control Telephone Personal safe for valuables


ALL THE PERKS. IN EVERY ROOM. With all this comfort and all these standard features, you've got to try real hard to get homesick on a Carnival cruise. 24–hour room service 24–hour room steward Soft, cosy linens (Carnival Comfort Collection®) Bathrobes Nightly turndown service Plenty of closet and drawer space Private bathroom and shower Television Individual climate control Telephone Personal safe for valuables
QUAD SHARE.
ALL THE PERKS. IN EVERY ROOM. With all this comfort and all these standard features, you've got to try real hard to get homesick on a Carnival cruise. 24–hour room service 24–hour room steward Soft, cosy linens (Carnival Comfort Collection®) Bathrobes Nightly turndown service Plenty of closet and drawer space Private bathroom and shower Television Individual climate control Telephone Personal safe for valuables

ALL THE PERKS. IN EVERY ROOM. With all this comfort and all these standard features, you've got to try real hard to get homesick on a Carnival cruise. 24–hour room service 24–hour room steward Soft, cosy linens (Carnival Comfort Collection®) Bathrobes Nightly turndown service Plenty of closet and drawer space Private bathroom and shower Television Individual climate control Telephone Personal safe for valuables

Any balcony stateroom, or better, dependng on availability.

ALL THE PERKS. IN EVERY ROOM. With all this comfort and all these standard features, you've got to try real hard to get homesick on a Carnival cruise. 24–hour room service 24–hour room steward Soft, cosy linens (Carnival Comfort Collection®) Bathrobes Nightly turndown service Plenty of closet and drawer space Private bathroom and shower Television Individual climate control Telephone Personal safe for valuables


QUAD SHARE. ALL THE PERKS. IN EVERY ROOM. With all this comfort and all these standard features, you've got to try real hard to get homesick on a Carnival cruise. 24–hour room service 24–hour room steward Soft, cosy linens (Carnival Comfort Collection®) Bathrobes Nightly turndown service Plenty of closet and drawer space Private bathroom and shower Television Individual climate control Telephone Personal safe for valuables

ALL THE PERKS. IN EVERY ROOM. With all this comfort and all these standard features, you've got to try real hard to get homesick on a Carnival cruise. 24–hour room service 24–hour room steward Soft, cosy linens (Carnival Comfort Collection®) Bathrobes Nightly turndown service Plenty of closet and drawer space Private bathroom and shower Television Individual climate control Telephone Personal safe for valuables


Any oceanview stateroom, or better, dependng on availability.

ALL THE PERKS. IN EVERY ROOM. With all this comfort and all these standard features, you've got to try real hard to get homesick on a Carnival cruise. 24–hour room service 24–hour room steward Soft, cosy linens (Carnival Comfort Collection®) Bathrobes Nightly turndown service Plenty of closet and drawer space Private bathroom and shower Television Individual climate control Telephone Personal safe for valuables

QUAD SHARE.

ALL THE PERKS. IN EVERY ROOM. With all this comfort and all these standard features, you've got to try real hard to get homesick on a Carnival cruise. 24–hour room service 24–hour room steward Soft, cosy linens (Carnival Comfort Collection®) Bathrobes Nightly turndown service Plenty of closet and drawer space Private bathroom and shower Television Individual climate control Telephone Personal safe for valuables

ALL THE PERKS. IN EVERY ROOM. With all this comfort and all these standard features, you've got to try real hard to get homesick on a Carnival cruise. 24–hour room service 24–hour room steward Soft, cosy linens (Carnival Comfort Collection®) Bathrobes Nightly turndown service Plenty of closet and drawer space Private bathroom and shower Television Individual climate control Telephone Personal safe for valuables


QUAD SHARE.

ALL THE PERKS. IN EVERY ROOM.

With all this comfort and all these standard features,
you've got to try real hard to get homesick on a Carnival cruise.

24–hour room service
24–hour room steward
Soft, cosy linens (Carnival Comfort Collection®)

Bathrobes
Nightly turndown service
Plenty of closet and drawer space
Private bathroom and shower

Television
Individual climate control
Telephone
Personal safe for valuables




QUAD SHARE.

ALL THE PERKS. IN EVERY ROOM.

With all this comfort and all these standard features,
you've got to try real hard to get homesick on a Carnival cruise.

24–hour room service
24–hour room steward
Soft, cosy linens (Carnival Comfort Collection®)

Bathrobes
Nightly turndown service
Plenty of closet and drawer space
Private bathroom and shower

Television
Individual climate control
Telephone
Personal safe for valuables




ALL THE PERKS. IN EVERY ROOM.

With all this comfort and all these standard features,
you've got to try real hard to get homesick on a Carnival cruise.

24–hour room service
24–hour room steward
Soft, cosy linens (Carnival Comfort Collection®)

Bathrobes
Nightly turndown service
Plenty of closet and drawer space
Private bathroom and shower

Television
Individual climate control
Telephone
Personal safe for valuables




ALL THE PERKS. IN EVERY ROOM.

With all this comfort and all these standard features,
you've got to try real hard to get homesick on a Carnival cruise.

24–hour room service
24–hour room steward
Soft, cosy linens (Carnival Comfort Collection®)

Bathrobes
Nightly turndown service
Plenty of closet and drawer space
Private bathroom and shower

Television
Individual climate control
Telephone
Personal safe for valuables



ALL THE PERKS. IN EVERY ROOM. With all this comfort and all these standard features, you've got to try real hard to get homesick on a Carnival cruise. 24–hour room service 24–hour room steward Soft, cosy linens (Carnival Comfort Collection®) Bathrobes Nightly turndown service Plenty of closet and drawer space Private bathroom and shower Television Individual climate control Telephone Personal safe for valuables




ALL THE PERKS. IN EVERY ROOM. With all this comfort and all these standard features, you've got to try real hard to get homesick on a Carnival cruise. 24–hour room service 24–hour room steward Soft, cosy linens (Carnival Comfort Collection®) Bathrobes Nightly turndown service Plenty of closet and drawer space Private bathroom and shower Television Individual climate control Telephone Personal safe for valuables



ALL THE PERKS. IN EVERY ROOM. With all this comfort and all these standard features, you've got to try real hard to get homesick on a Carnival cruise. 24–hour room service 24–hour room steward Soft, cosy linens (Carnival Comfort Collection®) Bathrobes Nightly turndown service Plenty of closet and drawer space Private bathroom and shower Television Individual climate control Telephone Personal safe for valuables




Any inside stateroom, or better, dependng on availability. ALL THE PERKS. IN EVERY ROOM. With all this comfort and all these standard features, you've got to try real hard to get homesick on a Carnival cruise. 24–hour room service 24–hour room steward Soft, cosy linens (Carnival Comfort Collection®) Bathrobes Nightly turndown service Plenty of closet and drawer space Private bathroom and shower Television Individual climate control Telephone Personal safe for valuables