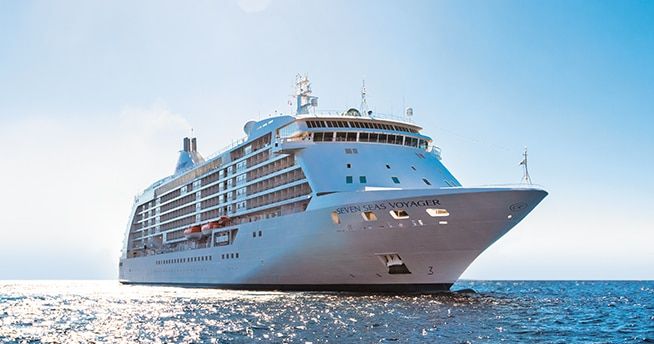 A trailblazer in the exclusive world of all-suite, all-balcony ships, Seven Seas Voyager® exceeds even the loftiest expectations for luxury. Considering her size, the amenities are surprisingly plentiful and include four main dining venues where you can dine wherever, whenever and with whomever you choose. With 447 international crew members attending to a mere 350 suites, personal service is exceedingly indulgent throughout.
Ship Profile & Stats
Refurbished: November 2016
Tonnage: 46,000 tonnes
Length: 670 feet
Beam: 94.5 feet
Draft: 23 feet
Speed: 20 knots
Ship registration: Bahamas
Passenger capacity (dbl): 700
Crew nationality: European, International
Officer nationality: European
Dining nationality: European, International
Ship Amenities
Safes in cabin
Hair dryer
Refrigerator stocked with soft drinks
Terry Robes
Interactive TV
DVD/CD player
Bar set-up with premium liquor
Ship Facilities
Internet Cafe
Constellation Theatre
Coffee Connection
Library
Canyon Ranch Spa Club
Shopping Boutiques
Club.com
Prime 7 Steakhouse Restaurant
Jogging Track
Observation Lounge
Pool Deck
Swimming Pool
Pool Bar
Pool Grill
La Veranda Restaurant
Fitness Facilities
Laundry
Signatures Restaurant
Horizon Lounge
Card & Conference Room
Connoisseur Club
Voyager Lounge
Casino
Compass Rose Restaurant
Chartreuse Restaurant
Sette Mari at La Veranda (Dinner only)
Filter results:
Currently we have no results for this ship, please click here to start a search and find something for you!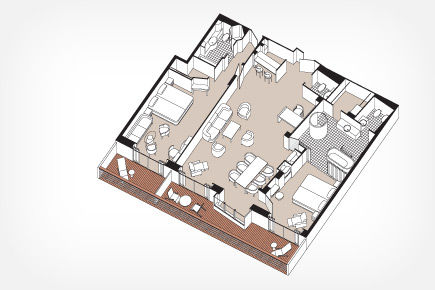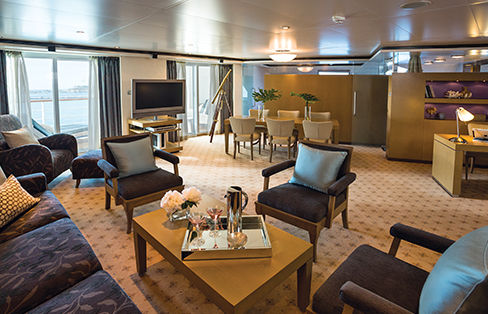 LAYOUT:

2 Spacious Bedrooms with
European King-Sized Slumber Bed®

2 1/2 Marble Bathrooms

Spacious Living Room

Two Private Balconies

Walk-in Closet With Safe

Accommodates 6 Guests DIMENSIONS:

Suite: 1,216 ft2 (113 m2)
Balcony: 187 ft2 (17 m2)
Suite measurements are approximate,
and those in same category may vary
in size. Furniture placement may be
different than as depicted in
photographs.
HIGHLIGHTS:

FREE 1-Night Pre-Cruise Luxury Hotel Package
Including:
- FREE Ground Transfers
- FREE Breakfast
- FREE Porterage
FREE Unlimited WiFi*
FREE 15 Minutes of Ship-to-Shore Phone Time
Choice of Guerlain, Bottega Veneta
& L'Occitane® Mer & Mistral Soaps, Shampoos & Lotions
Guerlain Fragrance & Spongelle Buffer
Personal Butler
Access to Your Suite on Embarkation Day at 12:00 noon
Welcome Bottle of Veuve Clicquot
Champagne With Fresh Floral
Arrangement of Your Choice
Complimentary Pressing on First Night
VIP Status to Include Dinner with the Captain
Welcome Letter from President & General Manager
Complimentary Cocktail Party for Eight
Personalized In-Suite Full-Liquor
Bar Set-Up
A Sumptuous In-Suite Caviar Service
Guaranteed Reservation Each Night in Specialty Restaurant of Your Choice
Complimentary 25-Minute Personal Training Session at the Canyon Ranch SpaClub® Fitness Center
24-Hour Room Service with Specialty Restaurant Selections During Dining Hours
Priority Online Shore Excursion Reservations
10% Discount on Premium Wine & Liquor
5% Discount on Regent Choice Shore Excursions, Hotel & Land Programs
Selection of Bed Pillow Styles
Selection of Fig & Tea Leaves Bath Salts
Regent Plush Bathrobes & Slippers
Cozy Sleep Shirt
Daily Canapés
Luxe Fruit Arrangement & Chocolate Leonidas
Tea Forte Set-Up
Personalized Stationery
Complimentary use of iPad®
iPhone® Docking Station to Accommodate All iPhone® Models
Complimentary Shore Excursion Bag
Delivery of Up to Three Daily Newspapers
In-Suite Blu-ray Player
World Atlas & Elegant Weather Clock
Binoculars, illy® Espresso Maker & Cashmere Blankets
Bath Scale
Vanity & Hair Dryer
Interactive Flat-Screen Television With Extensive Media Library, Complimentary Movies-on-Demand
Direct Dial Satellite Phone
Shoe Shine Service
Essentials Including Men's Unscented
Shaving Kit, Facial Wipes, Sewing Kit,
Emory Board, Stain Remover & Hand Sanitizer
Complimentary Tote Bag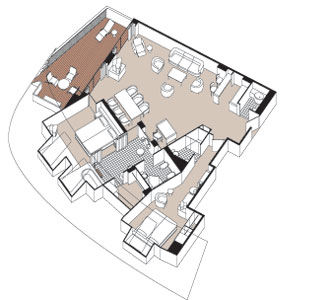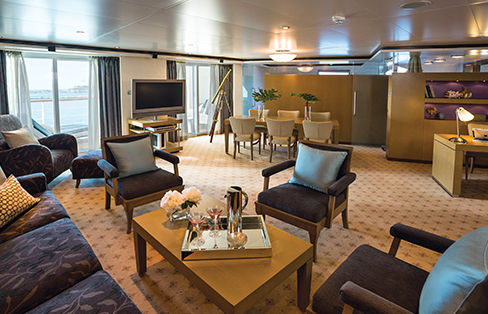 LAYOUT: 2 Spacious Bedrooms with
European King-Sized Slumber Bed®

2 1/2 Marble Bathrooms

Spacious Living Room

Private Balcony

Walk-in Closet With Safe

Accommodates 6 Guests DIMENSIONS: Suite: 1,152 ft2 (107 m2)
Balcony: 183 ft2 (17 m2)
Suite measurements are approximate,
and those in same category may vary
in size. Furniture placement may be
different than as depicted in
photographs. HIGHLIGHTS:
FREE 1-Night Pre-Cruise Luxury Hotel Package
Including:
- FREE Ground Transfers
- FREE Breakfast
- FREE Porterage
FREE Unlimited WiFi*
FREE 15 Minutes of Ship-to-Shore Phone Time
Choice of Guerlain, Bottega Veneta
& L'Occitane® Mer & Mistral Soaps, Shampoos & Lotions
Guerlain Fragrance & Spongelle Buffer
Personal Butler
Access to Your Suite on Embarkation Day at 12:00 noon
Welcome Bottle of Veuve Clicquot
Champagne With Fresh Floral
Arrangement of Your Choice
Complimentary Pressing on First Night
VIP Status to Include Dinner with the Captain
Welcome Letter from President & General Manager
Complimentary Cocktail Party for Eight
Personalized In-Suite Full-Liquor
Bar Set-Up
A Sumptuous In-Suite Caviar Service
Guaranteed Reservation Each Night in Specialty Restaurant of Your Choice
Complimentary 25-Minute Personal Training Session at the Canyon Ranch SpaClub® Fitness Center
24-Hour Room Service with Specialty Restaurant Selections During Dining Hours
Priority Online Shore Excursion Reservations
10% Discount on Premium Wine & Liquor
5% Discount on Regent Choice Shore Excursions, Hotel & Land Programs
Selection of Bed Pillow Styles
Selection of Fig & Tea Leaves Bath Salts
Regent Plush Bathrobes & Slippers
Cozy Sleep Shirt
Daily Canapés
Luxe Fruit Arrangement & Chocolate Leonidas
Tea Forte Set-Up
Personalized Stationery
Complimentary use of iPad®
iPhone® Docking Station to Accommodate All iPhone® Models
Complimentary Shore Excursion Bag
Delivery of Up to Three Daily Newspapers
In-Suite Blu-ray Player
World Atlas & Elegant Weather Clock
Binoculars, illy® Espresso Maker & Cashmere Blankets
Bath Scale
Vanity & Hair Dryer
Interactive Flat-Screen Television With Extensive Media Library, Complimentary Movies-on-Demand
Direct Dial Satellite Phone
Shoe Shine Service
Essentials Including Men's Unscented
Shaving Kit, Facial Wipes, Sewing Kit,
Emory Board, Stain Remover & Hand Sanitizer
Complimentary Tote Bag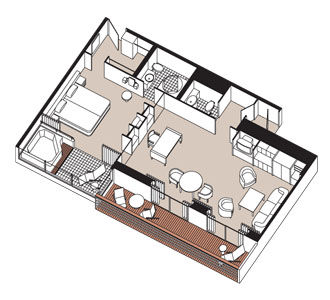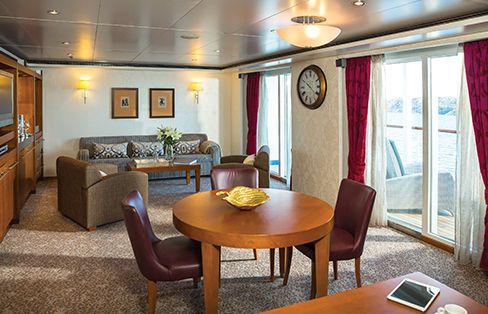 LAYOUT: 1 Spacious Bedroom With
European King-Sized Suite
Slumber Bed®

1 1/2 Marble Bathrooms

Spacious Living Room

Private Balcony

Walk-in Closet With Safe

Accommodates 4 Guests DIMENSIONS: Suite: 753 ft2 (70 m2)
Balcony: 123 ft2 (11 m2)
Suite measurements are approximate,
and those in same category may vary
in size. Furniture placement may be
different than as depicted in
photographs. HIGHLIGHTS:
FREE 1-Night Pre-Cruise Luxury Hotel Package
Including:
- FREE Ground Transfers
- FREE Breakfast
- FREE Porterage
FREE Unlimited WiFi*
FREE 15 Minutes of Ship-to-Shore Phone Time
Choice of Guerlain, Bottega Veneta
& L'Occitane® Mer & Mistral Soaps, Shampoos & Lotions
Guerlain Fragrance & Spongelle Buffer
Personal Butler
Access to Your Suite on Embarkation Day at 12:00 noon
Welcome Bottle of Veuve Clicquot
Champagne With Fresh Floral
Arrangement of Your Choice
Complimentary Pressing on First Night
VIP Status to Include Dinner with the Captain
Welcome Letter from President & General Manager
Complimentary Cocktail Party for Eight
Personalized In-Suite Full-Liquor
Bar Set-Up
A Sumptuous In-Suite Caviar Service
Guaranteed Reservation Each Night in Specialty Restaurant of Your Choice
Complimentary 25-Minute Personal Training Session at the Canyon Ranch SpaClub® Fitness Center
24-Hour Room Service with Specialty Restaurant Selections During Dining Hours
Priority Online Shore Excursion Reservations
10% Discount on Premium Wine & Liquor
5% Discount on Regent Choice Shore Excursions, Hotel & Land Programs
Selection of Bed Pillow Styles
Selection of Fig & Tea Leaves Bath Salts
Regent Plush Bathrobes & Slippers
Cozy Sleep Shirt
Daily Canapés
Luxe Fruit Arrangement & Chocolate Leonidas
Tea Forte Set-Up
Personalized Stationery
Complimentary use of iPad®
iPhone® Docking Station to Accommodate All iPhone® Models
Complimentary Shore Excursion Bag
Delivery of Up to Three Daily Newspapers
In-Suite Blu-ray Player
World Atlas & Elegant Weather Clock
Binoculars, illy® Espresso Maker & Cashmere Blankets
Bath Scale
Vanity & Hair Dryer
Interactive Flat-Screen Television With Extensive Media Library, Complimentary Movies-on-Demand
Direct Dial Satellite Phone
Shoe Shine Service
Essentials Including Men's Unscented
Shaving Kit, Facial Wipes, Sewing Kit,
Emory Board, Stain Remover & Hand Sanitizer
Complimentary Tote Bag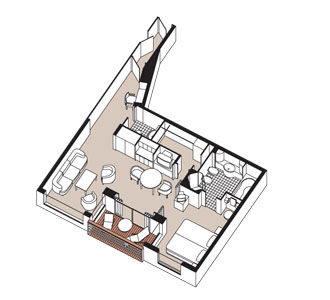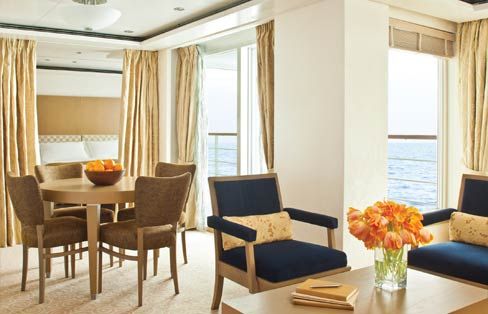 LAYOUT: 1 Spacious Bedroom With
European King-Sized Suite
Slumber Bed®

1 1/2 Marble Bathrooms

Spacious Living Room

Private Balcony

Walk-in Closet With Safe

Accommodates 4 Guests DIMENSIONS: Suite: 554 ft2 (52 m2)
Balcony: 50 ft2 (5 m2)
Suite measurements are approximate,
and those in same category may vary
in size. Furniture placement may be
different than as depicted in
photographs. HIGHLIGHTS:
FREE 1-Night Pre-Cruise Luxury Hotel Package
Including:
- FREE Ground Transfers
- FREE Breakfast
- FREE Porterage
FREE Unlimited WiFi*
FREE 15 Minutes of Ship-to-Shore Phone Time
Choice of Guerlain, Bottega Veneta
& L'Occitane® Mer & Mistral Soaps, Shampoos & Lotions
Personal Butler
Access to Your Suite on Embarkation Day at 1:00 pm
Welcome Bottle of Veuve Clicquot Champagne With Fresh Floral
Arrangement
Welcome Letter from President & General Manager
Complimentary Pressing on First Night
Luxe Fruit Arrangement Personalized In-Suite Mini-Bar Set-Up
A Sumptuous In-Suite Caviar Service
24-Hour Room Service
Priority Online Shore Excursion Reservations
10% Discount on Premium Wine & Liquor
5% Discount on Regent Choice Shore Excursions, Hotel & Land Programs
Selection of Bed Pillow Styles
Selection of Fig & Tea Leaves Bath Salts
Regent Plush Bathrobes & Slippers
Daily Canapés
Personalized Stationery
Complimentary use of iPad®
iPhone® Docking Station to Accommodate All iPhone® Models
Delivery of Up to Three Daily Newspapers
In-Suite Blu-ray Player
World Atlas & Elegant Weather Clock
Binoculars, illy® Espresso Maker & Cashmere Blankets
Bath Scale
Vanity & Hair Dryer
Interactive Flat-Screen Television With Extensive Media Library, Complimentary Movies-on-Demand
Direct Dial Satellite Phone
Shoe Shine Service
Essentials Including Men's Unscented
Shaving Kit, Facial Wipes, Sewing Kit,
Emory Board, Stain Remover & Hand Sanitizer
Complimentary Tote Bag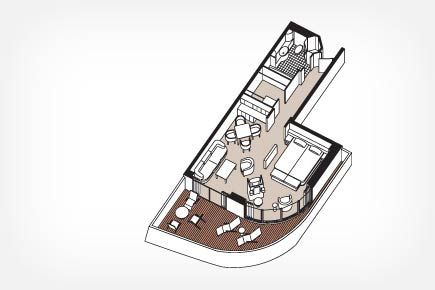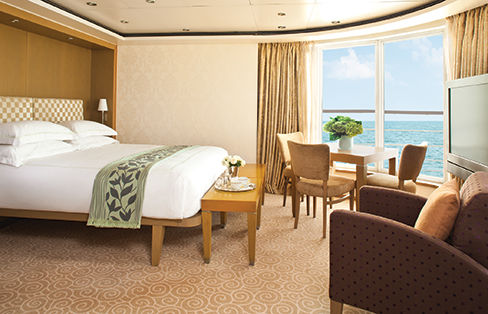 LAYOUT: European King-Sized Suite
Slumber Bed®

1 Marble Bathroom

Living Area

Private Balcony

Walk-in Closet With Safe

Accommodates 3 Guests DIMENSIONS: Suite: 441 ft2 (41 m2)
Balcony: 293 – 166 ft2 (27.2 – 15.4 m2)
Suite measurements are approximate,
and those in same category may vary
in size. Furniture placement may be
different than as depicted in
photographs. HIGHLIGHTS:
FREE 1-Night Pre-Cruise Luxury Hotel Package
Including:
- FREE Ground Transfers
- FREE Breakfast
- FREE Porterage
FREE Unlimited WiFi*
FREE 15 Minutes of Ship-to-Shore Phone Time
Choice of Guerlain, Bottega Veneta
& L'Occitane® Mer & Mistral Soaps, Shampoos & Lotions
Personal Butler
Access to Your Suite on Embarkation Day at 1:00 pm
Welcome Bottle of Champagne with
Fresh Floral Arrangement
Complimentary Pressing on First Night
Luxe Fruit Arrangement
In-Suite Mini-Bar Set-Up & Refill
24-Hour Room Service
Priority Online Shore Excursion Reservations
10% Discount on Premium Wine & Liquor
5% Discount on Regent Choice Shore Excursions, Hotel & Land Programs
Selection of Bed Pillow Styles
Selection of Fig & Tea Leaves Bath Salts
Regent Plush Bathrobes & Slippers
Daily Canapés
Personalized Stationery
Complimentary use of iPad®
iPhone® Docking Station to Accommodate All iPhone® Models
Elegant Weather Clock
Binoculars, illy® Espresso Maker & Cashmere Blankets
Vanity & Hair Dryer
Interactive Flat-Screen Television With Extensive Media Library, Complimentary Movies-on-Demand
Direct Dial Satellite Phone
Shoe Shine Service
Essentials Including Men's Unscented
Shaving Kit, Facial Wipes, Sewing Kit,
Emory Board, Stain Remover & Hand Sanitizer
Complimentary Tote Bag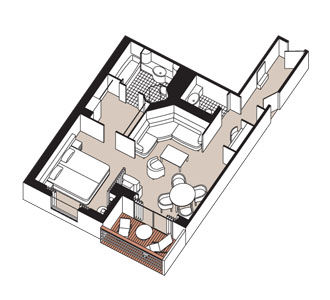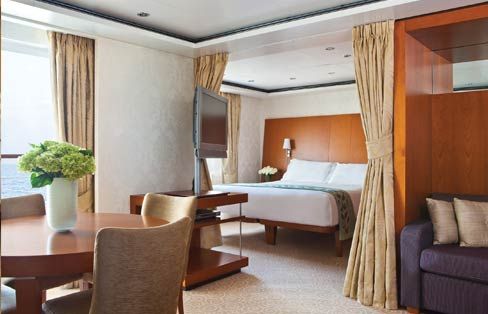 LAYOUT: 1 Spacious Bedroom With
European King-Sized Suite
Slumber Bed®

1 1/2 Marble Bathrooms

Spacious Living Area

Private Balcony

Walk-in Closet With Safe

Accommodates 3 Guests DIMENSIONS: Suite: 495 ft2 (46 m2)
Balcony: 50 ft2 (5 m2)
Suite measurements are approximate,
and those in same category may vary
in size. Furniture placement may be
different than as depicted in
photographs. HIGHLIGHTS:
FREE 1-Night Pre-Cruise Luxury Hotel Package
Including:
- FREE Ground Transfers
- FREE Breakfast
- FREE Porterage
FREE Unlimited WiFi*
FREE 15 Minutes of Ship-to-Shore Phone Time
Choice of Guerlain, Bottega Veneta
& L'Occitane® Mer & Mistral Soaps, Shampoos & Lotions
Personal Butler
Access to Your Suite on Embarkation Day at 1:00 pm
Welcome Bottle of Champagne with
Fresh Floral Arrangement
Complimentary Pressing on First Night
Luxe Fruit Arrangement In-Suite Mini-Bar Set-Up & Refill
24-Hour Room Service
Priority Online Shore Excursion Reservations
10% Discount on Premium Wine & Liquor
5% Discount on Regent Choice Shore Excursions, Hotel & Land Programs
Selection of Bed Pillow Styles
Selection of Fig & Tea Leaves Bath Salts
Regent Plush Bathrobes & Slippers
Daily Canapés
Personalized Stationery
Complimentary use of iPad®
iPhone® Docking Station to Accommodate All iPhone® Models
Elegant Weather Clock
Binoculars, illy® Espresso Maker & Cashmere Blankets
Vanity & Hair Dryer
Interactive Flat-Screen Television With Extensive Media Library, Complimentary Movies-on-Demand
Direct Dial Satellite Phone
Shoe Shine Service
Essentials Including Men's Unscented
Shaving Kit, Facial Wipes, Sewing Kit,
Emory Board, Stain Remover & Hand Sanitizer
Complimentary Tote Bag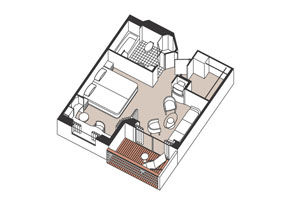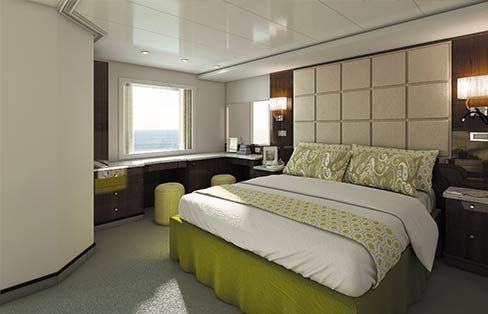 LAYOUT: European King-Sized Suite
Slumber Bed®

1 Marble Bathroom

Intimate Sitting Area

Private Balcony

Walk-in Closet With Safe

Accommodates 3 Guests DIMENSIONS: Suite: 320 ft2 (30 m2)
Balcony: 50 ft2 (5 m2)
Suite measurements are approximate,
and those in same category may vary
in size. Furniture placement may be
different than as depicted in
photographs. HIGHLIGHTS:
FREE 1-Night Pre-Cruise Luxury Hotel Package
Including:
- FREE Ground Transfers
- FREE Breakfast
- FREE Porterage
FREE Unlimited WiFi*
FREE 15 Minutes of Ship-to-Shore Phone Time
Guerlain & L'Occitane® Mer & Mistral Soaps, Shampoos & Lotions
Personal Butler
Welcome Bottle of Champagne with
Fresh Fruit Arrangement
Complimentary Pressing on First Night
In-Suite Mini-Bar Set-Up & Refill
24-Hour Room Service
Priority Online Shore Excursion Reservations
10% Discount on Premium Wine & Liquor
5% Discount on Regent Choice Shore Excursions, Hotel & Land Programs
Selection of Bed Pillow Styles
Regent Plush Bathrobes & Slippers
Daily Canapés
Personalized Stationery
Complimentary use of iPad®
iPhone® Docking Station to Accommodate All iPhone® Models
Binoculars, illy® Espresso Maker & Cashmere Blankets
Vanity & Hair Dryer
Interactive Flat-Screen Television With Extensive Media Library, Complimentary Movies-on-Demand
Direct Dial Satellite Phone
Shoe Shine Service
Essentials Including Men's Unscented
Shaving Kit, Facial Wipes, Sewing Kit,
Emory Board, Stain Remover & Hand Sanitizer
Complimentary Tote Bag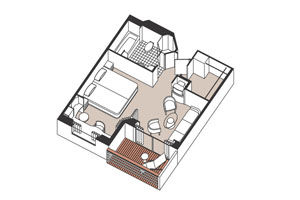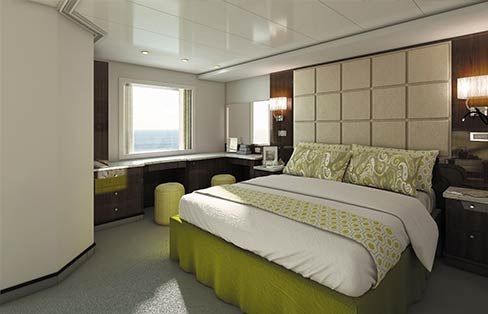 LAYOUT: European King-Sized Suite
Slumber Bed®

1 Marble Bathroom

Intimate Sitting Area

Private Balcony

Walk-in Closet With Safe

Accommodates 3 Guests DIMENSIONS: Suite: 320 ft2 (30 m2)
Balcony: 50 ft2 (5 m2)
Suite measurements are approximate,
and those in same category may vary
in size. Furniture placement may be
different than as depicted in
photographs. HIGHLIGHTS:
FREE 1-Night Pre-Cruise Luxury Hotel Package
Including:
- FREE Ground Transfers
- FREE Breakfast
- FREE Porterage
FREE Unlimited WiFi*
FREE 15 Minutes of Ship-to-Shore Phone Time
Guerlain & L'Occitane® Mer & Mistral Soaps, Shampoos & Lotions
Personal Butler
Welcome Bottle of Champagne with
Fresh Fruit Arrangement
Complimentary Pressing on First Night
In-Suite Mini-Bar Set-Up & Refill
24-Hour Room Service
Priority Online Shore Excursion Reservations
10% Discount on Premium Wine & Liquor
5% Discount on Regent Choice Shore Excursions, Hotel & Land Programs
Selection of Bed Pillow Styles
Regent Plush Bathrobes & Slippers
Daily Canapés
Personalized Stationery
Complimentary use of iPad®
iPhone® Docking Station to Accommodate All iPhone® Models
Binoculars, illy® Espresso Maker & Cashmere Blankets
Vanity & Hair Dryer
Interactive Flat-Screen Television With Extensive Media Library, Complimentary Movies-on-Demand
Direct Dial Satellite Phone
Shoe Shine Service
Essentials Including Men's Unscented
Shaving Kit, Facial Wipes, Sewing Kit,
Emory Board, Stain Remover & Hand Sanitizer
Complimentary Tote Bag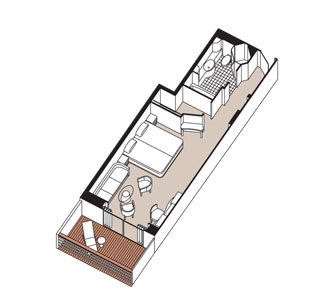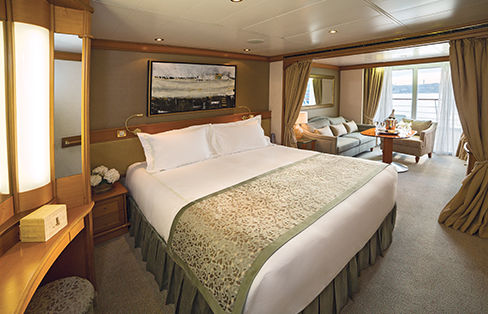 LAYOUT: European King-Sized Suite
Slumber Bed®

1 Marble Bathroom

Intimate Sitting Area

Private Balcony

Walk-in Closet With Safe

Accommodates 3 Guests DIMENSIONS: Suite: 306 ft2 (28 m2)
Balcony: 137-80 ft2 (12.7-7.4 m2)
Suite measurements are approximate,
and those in same category may vary
in size. Furniture placement may be
different than as depicted in
photographs. HIGHLIGHTS:
FREE 1-Night Pre-Cruise Luxury Hotel Package
Including:
- FREE Ground Transfers
- FREE Breakfast
- FREE Porterage
FREE Unlimited WiFi*
FREE 15 Minutes of Ship-to-Shore Phone Time
Guerlain & L'Occitane® Mer & Mistral Soaps, Shampoos & Lotions
Personal Butler
Welcome Bottle of Champagne with
Fresh Fruit Arrangement
Complimentary Pressing on First Night
In-Suite Mini-Bar Set-Up & Refill
24-Hour Room Service
Priority Online Shore Excursion Reservations
10% Discount on Premium Wine & Liquor
5% Discount on Regent Choice Shore Excursions, Hotel & Land Programs
Selection of Bed Pillow Styles
Regent Plush Bathrobes & Slippers
Daily Canapés
Personalized Stationery
Complimentary use of iPad®
iPhone® Docking Station to Accommodate All iPhone® Models
Binoculars, illy® Espresso Maker & Cashmere Blankets
Vanity & Hair Dryer
Interactive Flat-Screen Television With Extensive Media Library, Complimentary Movies-on-Demand
Direct Dial Satellite Phone
Shoe Shine Service
Essentials Including Men's Unscented
Shaving Kit, Facial Wipes, Sewing Kit,
Emory Board, Stain Remover & Hand Sanitizer
Complimentary Tote Bag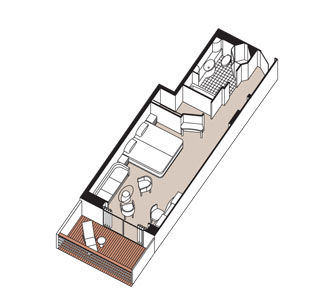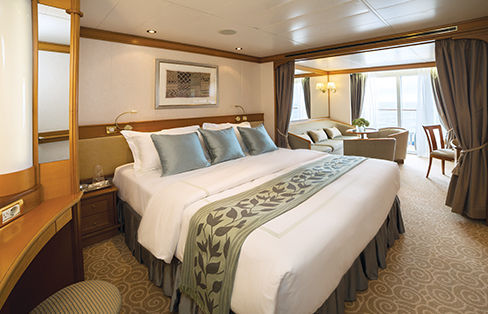 LAYOUT: European King-Sized Suite
Slumber Bed®

1 Marble Bathroom

Intimate Sitting Area

Private Balcony

Walk-in Closet With Safe

Accommodates 3 Guests DIMENSIONS: Suite: 306 ft2 (28 m2)
Balcony: 50 ft2 (5 m2)
Suite measurements are approximate,
and those in same category may vary
in size. Furniture placement may be
different than as depicted in
photographs. HIGHLIGHTS:
FREE 1-Night Pre-Cruise Luxury Hotel Package
Including:
- FREE Ground Transfers
- FREE Breakfast
- FREE Porterage
FREE Unlimited WiFi*
FREE 15 Minutes of Ship-to-Shore Phone Time
L'Occitane® Mer & Mistral Soaps, Shampoos & Lotions
Welcome Bottle of Champagne with
Fresh Fruit Arrangement
In-Suite Mini-Bar Set-Up & Refill
24-Hour Room Service
Priority Online Shore Excursion Reservations
10% Discount on Premium Wine & Liquor
5% Discount on Regent Choice Shore Excursions, Hotel & Land Programs
Regent Plush Bathrobes & Slippers
Binoculars, illy® Espresso Maker & Cashmere Blankets
Vanity & Hair Dryer
Interactive Flat-Screen Television With Extensive Media Library, Complimentary Movies-on-Demand
Direct Dial Satellite Phone
Shoe Shine Service
Complimentary Tote Bag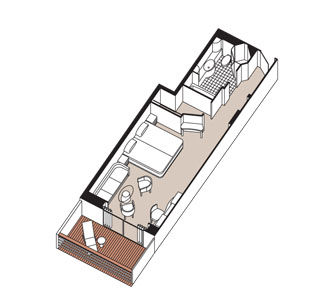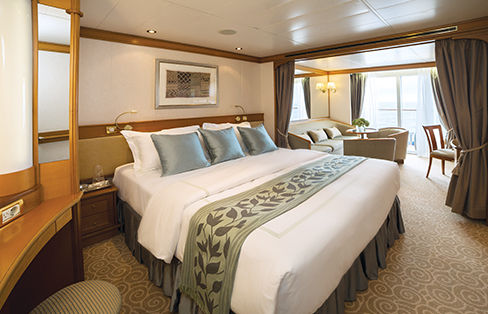 LAYOUT: European King-Sized Suite
Slumber Bed®

1 Marble Bathroom

Intimate Sitting Area

Private Balcony

Walk-in Closet With Safe

Accommodates 3 Guests DIMENSIONS: Suite: 306 ft2 (28 m2)
Balcony: 50 ft2 (5 m2)
Suite measurements are approximate,
and those in same category may vary
in size. Furniture placement may be
different than as depicted in
photographs. HIGHLIGHTS:
FREE 1-Night Pre-Cruise Luxury Hotel Package
Including:
- FREE Ground Transfers
- FREE Breakfast
- FREE Porterage
FREE Unlimited WiFi*
FREE 15 Minutes of Ship-to-Shore Phone Time
L'Occitane® Mer & Mistral Soaps, Shampoos & Lotions
Welcome Bottle of Champagne with
Fresh Fruit Arrangement
In-Suite Mini-Bar Set-Up & Refill
24-Hour Room Service
Priority Online Shore Excursion Reservations
10% Discount on Premium Wine & Liquor
5% Discount on Regent Choice Shore Excursions, Hotel & Land Programs
Regent Plush Bathrobes & Slippers
Vanity & Hair Dryer
Binoculars, illy® Espresso Maker & Cashmere Blankets
Interactive Flat-Screen Television With Extensive Media Library, Complimentary Movies-on-Demand
Direct Dial Satellite Phone
Shoe Shine Service
Complimentary Tote Bag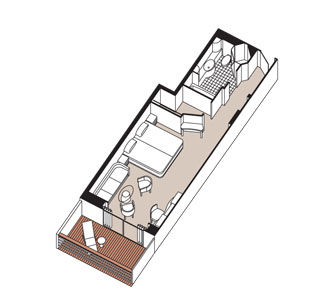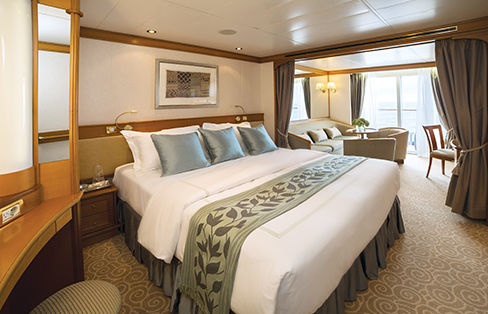 LAYOUT: European King-Sized Suite
Slumber Bed®

1 Marble Bathroom

Intimate Sitting Area

Private Balcony

Walk-in Closet With Safe

Accommodates 3 Guests DIMENSIONS: Suite: 306 ft2 (28 m2)
Balcony: 50 ft2 (5 m2)
Suite measurements are approximate,
and those in same category may vary
in size. Furniture placement may be
different than as depicted in
photographs. FREE Unlimited WiFi is
for one log-in per suite. HIGHLIGHTS:
FREE Unlimited WiFi*
Welcome Bottle of Champagne with
Fresh Fruit Arrangement
In-Suite Mini-Bar Set-Up & Refill
24-Hour Room Service
L'Occitane® Mer & Mistral Soaps, Shampoos & Lotions
Regent Plush Bathrobes & Slippers
Vanity & Hair Dryer
Interactive Flat-Screen Television With Extensive Media Library, Complimentary Movies-on-Demand
Direct Dial Satellite Phone
Shoe Shine Service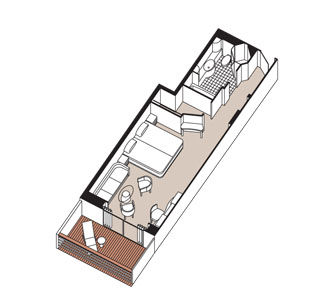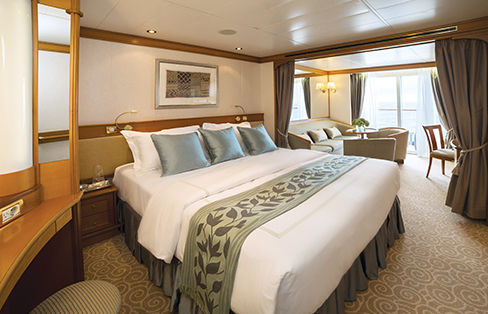 LAYOUT: European King-Sized Suite
Slumber Bed®

1 Marble Bathroom

Intimate Sitting Area

Private Balcony

Walk-in Closet With Safe

Accommodates 3 Guests DIMENSIONS: Suite: 306 ft2 (28 m2)
Balcony: 50 ft2 (5 m2)
Suite measurements are approximate,
and those in same category may vary
in size. Furniture placement may be
different than as depicted in
photographs. FREE Unlimited WiFi is
for one log-in per suite. HIGHLIGHTS:
FREE Unlimited WiFi*
Welcome Bottle of Champagne with
Fresh Fruit Arrangement
In-Suite Mini-Bar Set-Up & Refill
24-Hour Room Service
L'Occitane® Mer & Mistral Soaps, Shampoos & Lotions
Regent Plush Bathrobes & Slippers
Vanity & Hair Dryer
Interactive Flat-Screen Television With Extensive Media Library, Complimentary Movies-on-Demand
Direct Dial Satellite Phone
Shoe Shine Service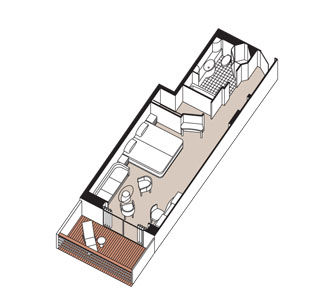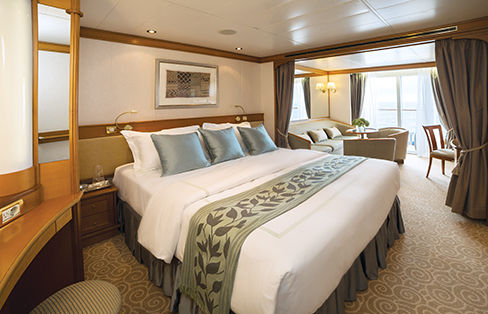 LAYOUT:
European King-Sized Suite
Slumber Bed®

1 Marble Bathroom

Intimate Sitting Area

Private Balcony

Walk-in Closet With Safe

Accommodates 3 Guests DIMENSIONS: Suite: 306 ft2 (28 m2)
Balcony: 50 ft2 (5 m2)
Suite measurements are approximate,
and those in same category may vary
in size. Furniture placement may be
different than as depicted in
photographs. FREE Unlimited WiFi is
for one log-in per suite. HIGHILGHTS:
FREE Unlimited WiFi*
Welcome Bottle of Champagne with
Fresh Fruit Arrangement
In-Suite Mini-Bar Set-Up & Refill
24-Hour Room Service
L'Occitane® Mer & Mistral Soaps, Shampoos & Lotions
Regent Plush Bathrobes & Slippers
Vanity & Hair Dryer
Interactive Flat-Screen Television With Extensive Media Library, Complimentary Movies-on-Demand
Direct Dial Satellite Phone
Shoe Shine Service