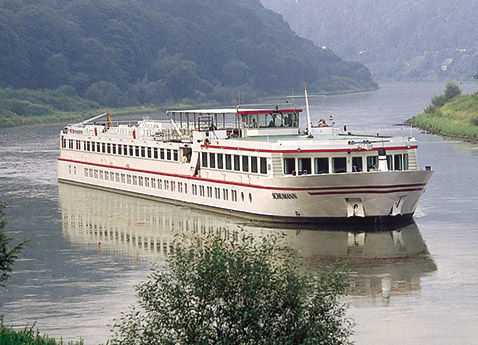 Refurbished in 2010 and 2011, these classic, intimate ships feature deluxe accommodations and streamlined Scandinavian interiors. Their customized hulls and engines are specially built to navigate the historic Elbe river.

Ship Profile & Stats
Maiden voyage: 1991
Refurbished: 2011
Length: 311 feet
Beam: 36.1 feet
Draft: 3 feet
Speed: 13.7 mph
Passenger capacity (dbl): 124
Crew nationality: European
Officer nationality: European
Dining nationality: European
Ship Amenities
Telephone
Flat-panel TV with CNBC, CNN, ESPN, FOX, National Geographic & more
Individual Climate Control
Bottled water replenished daily
Bathrobe & slippers upon request
Safe
Voltage: 220V & 115V in stateroom
Ship Facilities
Sun Deck
Restaurant
Lounge
Bar
Free wireless internet
Boutique
Laundry Service
Library
Filter results:
Currently we have no results for this ship, please click here to start a search and find something for you!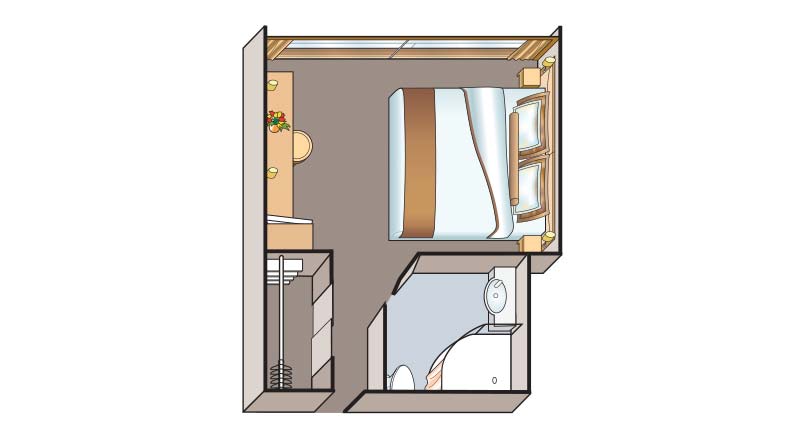 Stateroom size: 200 sq. ft.
Hotel-style beds 79 inches x 63 inches (with optional twin-bed configuration)
French balconies (floor-to-ceiling sliding glass doors)
Private bathroom with shower and premium bath products
Bathrobe and slippers available upon request
Telephone, refrigerator, safe, hair dryer & bottled water replenished daily
Individual climate control
Space under bed for storing suitcases
Roomy wardrobe with wooden hangers
Voltage: 220V and 115V in stateroom
TV with premium entertainment package including: CNBC, CNN, National Geographic, MGM Movies, Sky Cinema and "View From the Bridge"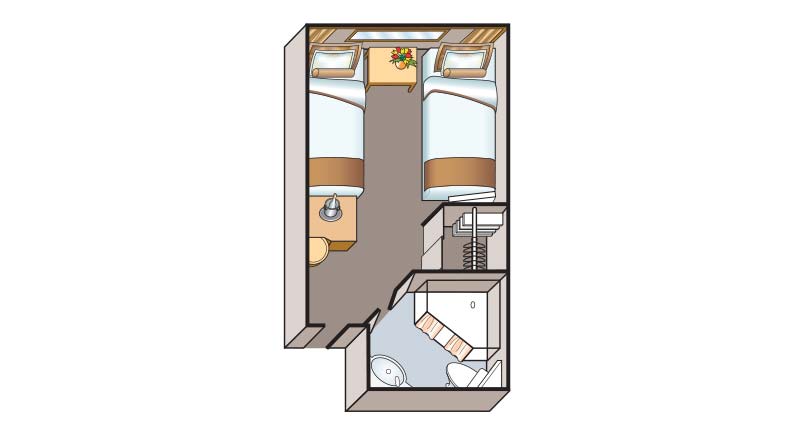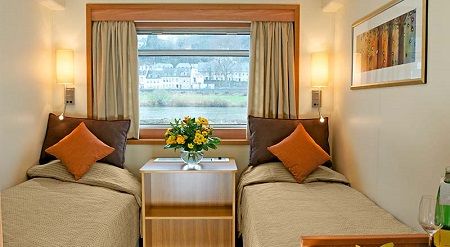 Stateroom size: 135 sq. ft.
Two standard-size single beds 77 inches x 31 inches
Large picture window 4.59 ft. x 2.95 ft. (can be opened)
Private bathroom with shower and premium bath products
Bathrobe and slippers available upon request
Telephone, safe, hair dryer & bottled water replenished daily
Individual climate control
Space under beds for storing suitcases
Roomy wardrobe with wooden hangers
Voltage: 220V and 115V in stateroom
TV with premium entertainment package including: CNBC, CNN, National Geographic, MGM Movies, Sky Cinema and "View From the Bridge"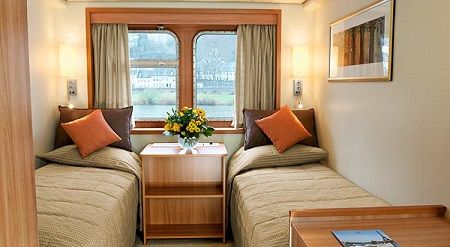 Stateroom size: 135 sq. ft.
Two standard-size single beds 77 inches x 31 inches
Picture window 2.95 ft. x 2.30 ft. (cannot be opened)
Private bathroom with shower and premium bath products
Bathrobe and slippers available upon request
Telephone, safe, hair dryer & bottled water replenished daily
Individual climate control
Space under beds for storing suitcases
Roomy wardrobe with wooden hangers
Voltage: 220V and 115V in stateroom
TV with premium entertainment package including: CNBC, CNN, National Geographic, MGM Movies, Sky Cinema and "View From the Bridge"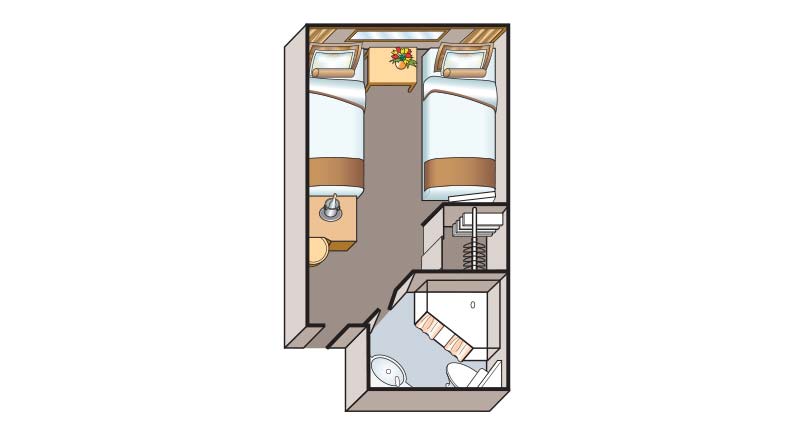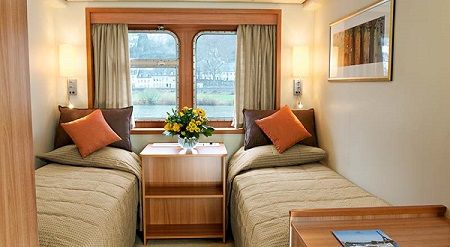 Stateroom size: 135 sq. ft.
Two standard-size single beds 77 inches x 31 inches
Picture window 2.95 ft. x 2.30 ft. (cannot be opened)
Private bathroom with shower and premium bath products
Bathrobe and slippers available upon request
Telephone, safe, hair dryer & bottled water replenished daily
Individual climate control
Space under beds for storing suitcases
Roomy wardrobe with wooden hangers
Voltage: 220V and 115V in stateroom
TV with premium entertainment package including: CNBC, CNN, National Geographic, MGM Movies, Sky Cinema and "View From the Bridge"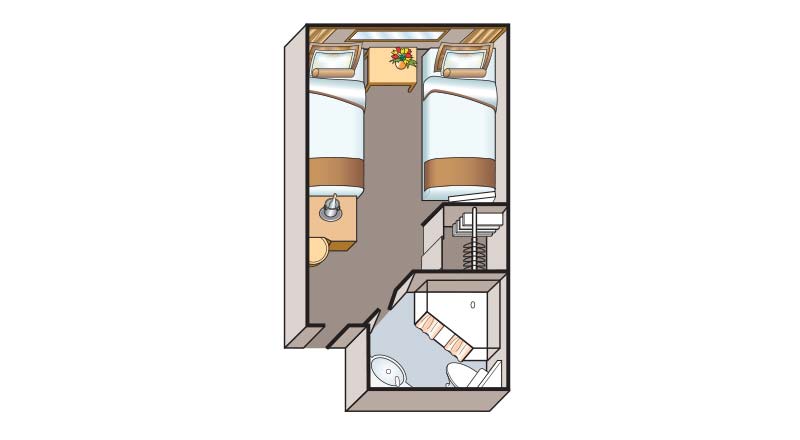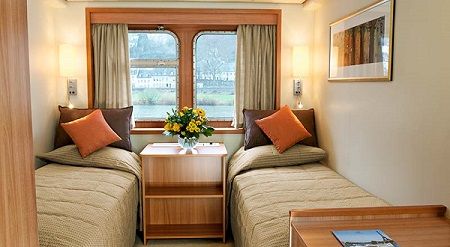 Stateroom size: 135 sq. ft.
Two standard-size single beds 77 inches x 31 inches
Picture window 2.95 ft. x 2.30 ft. (cannot be opened)
Private bathroom with shower and premium bath products
Bathrobe and slippers available upon request
Telephone, safe, hair dryer & bottled water replenished daily
Individual climate control
Space under beds for storing suitcases
Roomy wardrobe with wooden hangers
Voltage: 220V and 115V in stateroom
TV with premium entertainment package including: CNBC, CNN, National Geographic, MGM Movies, Sky Cinema and "View From the Bridge"