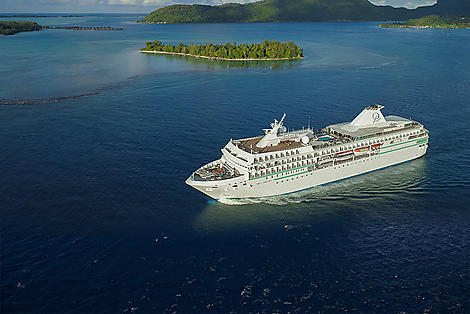 Le Paul Gauguin is an elegant luxury vessel, specially designed for navigation in Polynesian waters. Its shallow draft allows it to get in close to shallow lagoons and isolated islands, maximising stopover time. A true cocoon of comfort and elegance, the ship offers a warm and timeless atmosphere to its guests. Its 165 cabins and suites all have external views and are tastefully decorated. Quality materials such as precious woods, antique engravings and tiki details pay homage to Polynesian culture and contribute to the charm of life on board, making each trip unique.
Ship Profile & Stats
Refurbished: 2021
Length: 156 m
Beam: 22 m
Speed: 18 kts
Ship registration: France
Passenger capacity (dbl): 330
Filter results:
Currently we have no results for this ship, please click here to start a search and find something for you!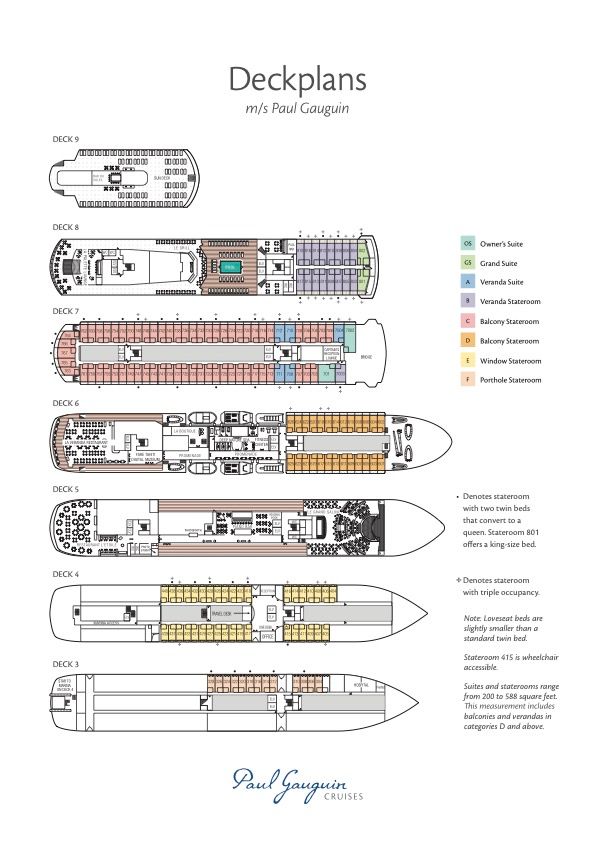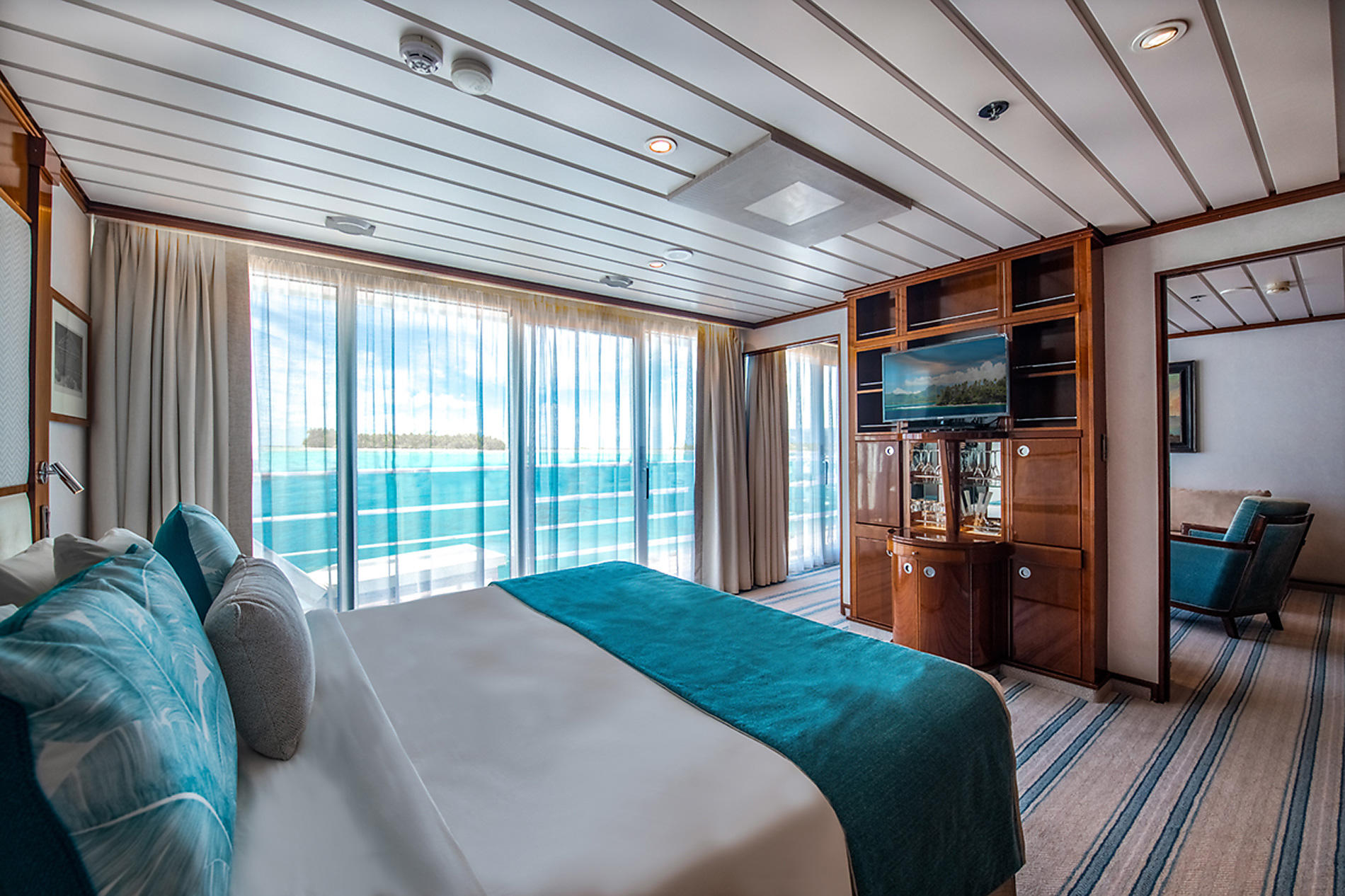 Services provided

24h room service
Inclusive Internet access Wi-Fi (availability dependent on navigation and latitude)
Individually-controlled air conditioning
Dressing room with shelves and closet
Dressing table and hairdryer
Algotherm top-of-the-line bath products
Minibar included
Nespresso coffee maker and boiler
Electronic safe
Direct line telephone
Bose Bluetooth speaker
Flat screen TV, international channels (availability dependent on navigation) and videos on demand
110V American (two flat pins)/220V European (round sockets with two round pins)
One ADA stateroom

In addition to the common services provided to all our suites and staterooms:

Private return transfer
Butler service
Fruit composition and floral arrangement upon arrival
A bedroom with one queen-size bed (160 x 200 cm) or two single beds (80 x 200 cm) and TV
A lounge with sofa bed (180 x 130 cm), two armchairs and TV
A four-seater dining table and a bar
A bathroom with bath
A one-hour treatment for one person in the well-being space, chosen from the facial and body treatments on offer
Two panoramic sliding bay window
A private 7 m² balcony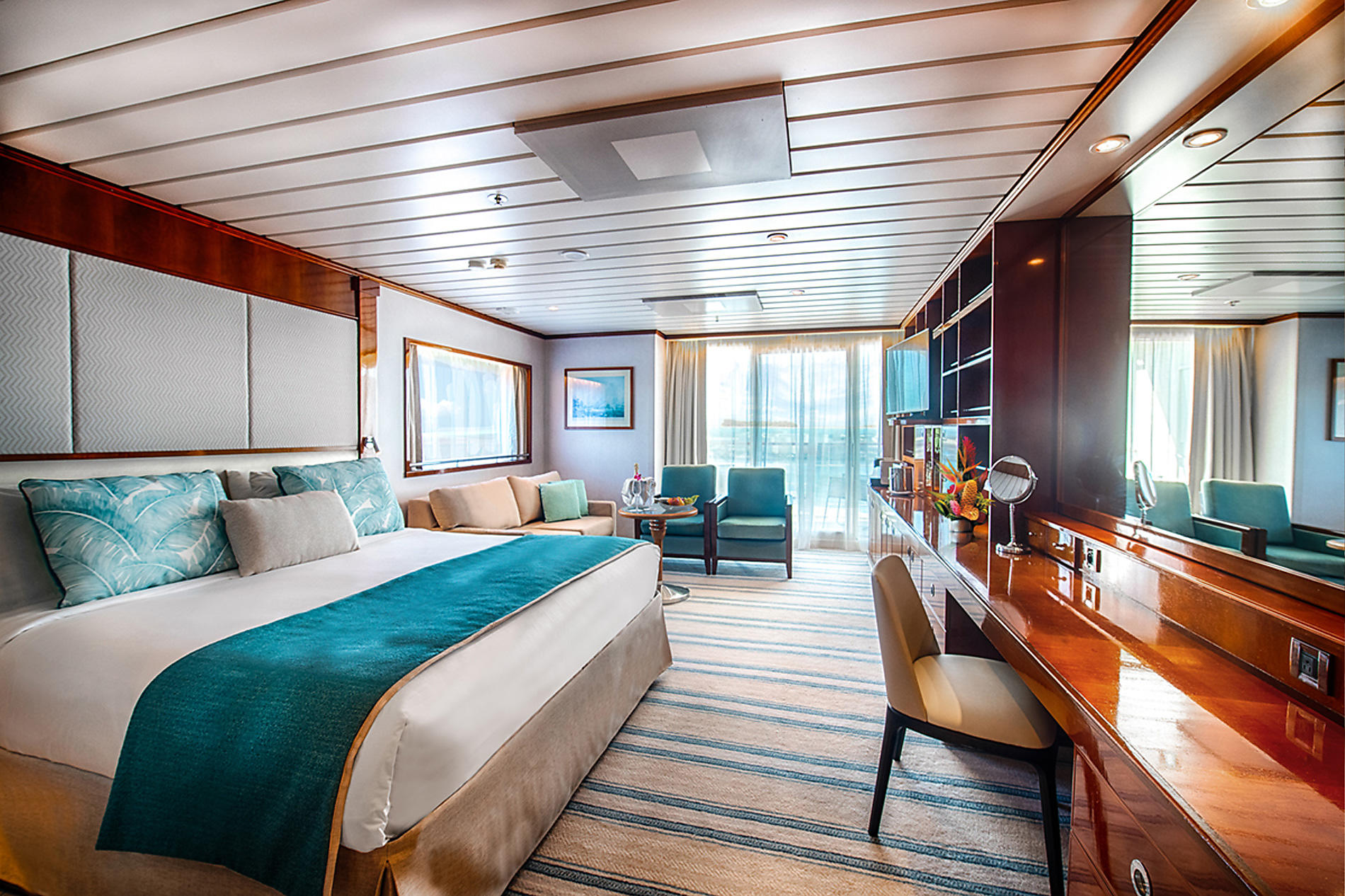 Services provided

24h room service
Inclusive Internet access Wi-Fi (availability dependent on navigation and latitude)
Individually-controlled air conditioning
Dressing room with shelves and closet
Dressing table and hairdryer
Algotherm top-of-the-line bath products
Minibar included
Nespresso coffee maker and boiler
Electronic safe
Direct line telephone
Bose Bluetooth speaker
Flat screen TV, international channels (availability dependent on navigation) and videos on demand
110V American (two flat pins)/220V European (round sockets with two round pins)
One ADA stateroom

In addition to the common services provided to all our suites and staterooms:

Butler service
Fruit composition and floral arrangement upon arrival
One king-size bed (180 x 200 cm) or two single beds (90 x 200 cm)
A lounge area with sofa bed (180 x 130 cm), two armchairs and TV
A bathroom with bath
A panoramic sliding bay window
A private 18 m² balcony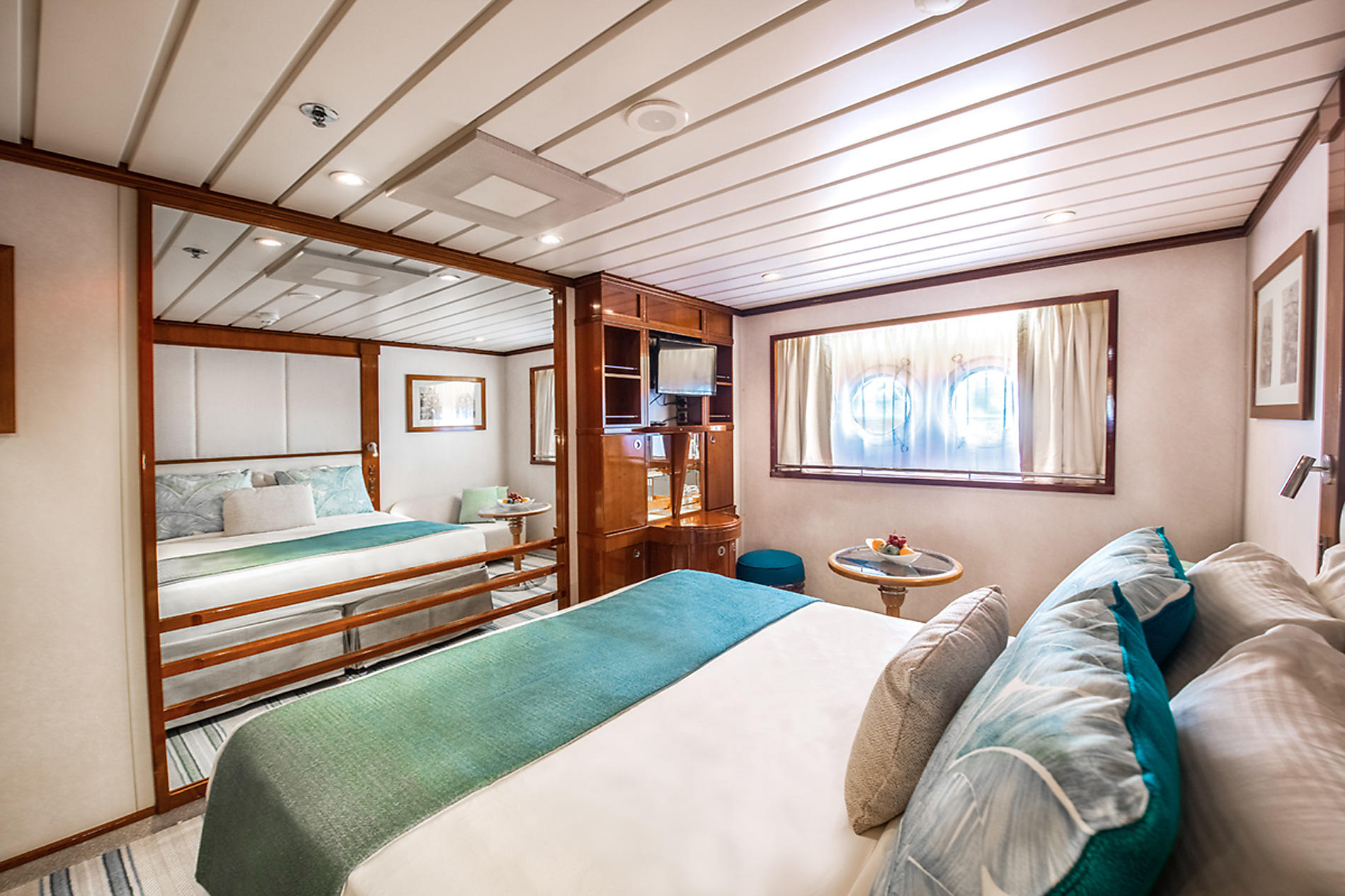 Services provided

24h room service
Inclusive Internet access Wi-Fi (availability dependent on navigation and latitude)
Individually-controlled air conditioning
Dressing room with shelves and closet
Dressing table and hairdryer
Algotherm top-of-the-line bath products
Minibar included
Nespresso coffee maker and boiler
Electronic safe
Direct line telephone
Bose Bluetooth speaker
Flat screen TV, international channels (availability dependent on navigation) and videos on demand
110V American (two flat pins)/220V European (round sockets with two round pins)
One ADA stateroom

In addition to the common services provided to all our suites and staterooms:

Fruit composition and floral arrangement upon arrival
One queen-size (160 x 200 cm) or two single beds (80 x 200 cm)
A lounge area with sofa and TV
A bathroom with bath
Two round portholes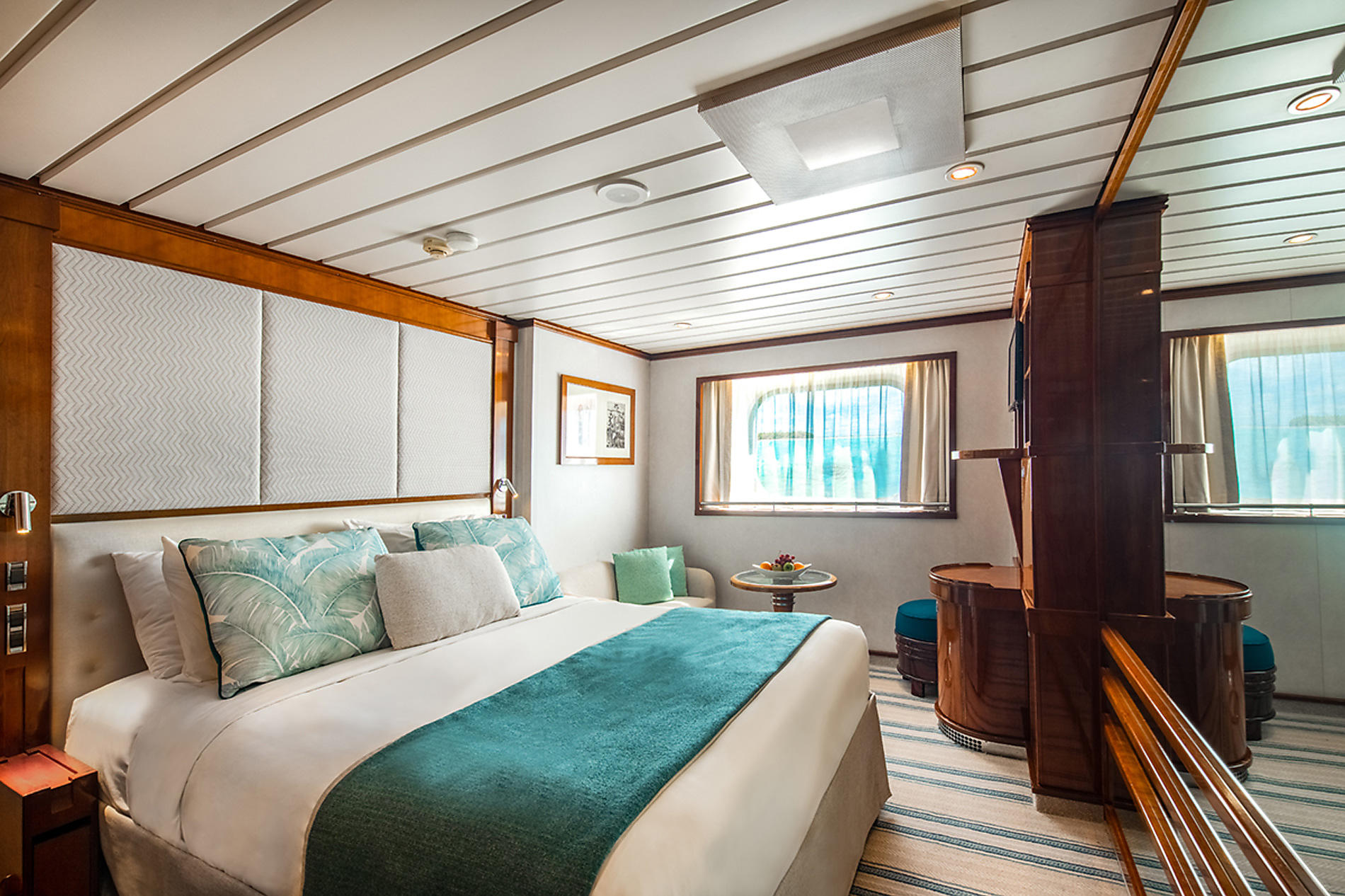 Services provided

24h room service
Inclusive Internet access Wi-Fi (availability dependent on navigation and latitude)
Individually-controlled air conditioning
Dressing room with shelves and closet
Dressing table and hairdryer
Algotherm top-of-the-line bath products
Minibar included
Nespresso coffee maker and boiler
Electronic safe
Direct line telephone
Bose Bluetooth speaker
Flat screen TV, international channels (availability dependent on navigation) and videos on demand
110V American (two flat pins)/220V European (round sockets with two round pins)
One ADA stateroom

In addition to the common services provided to all our suites and staterooms:

Fruit composition and floral arrangement upon arrival
One queen-size (160 x 200 cm) or two single beds (80 x 200 cm)
A lounge area with sofa and TV
A bathroom with bath
A panoramic window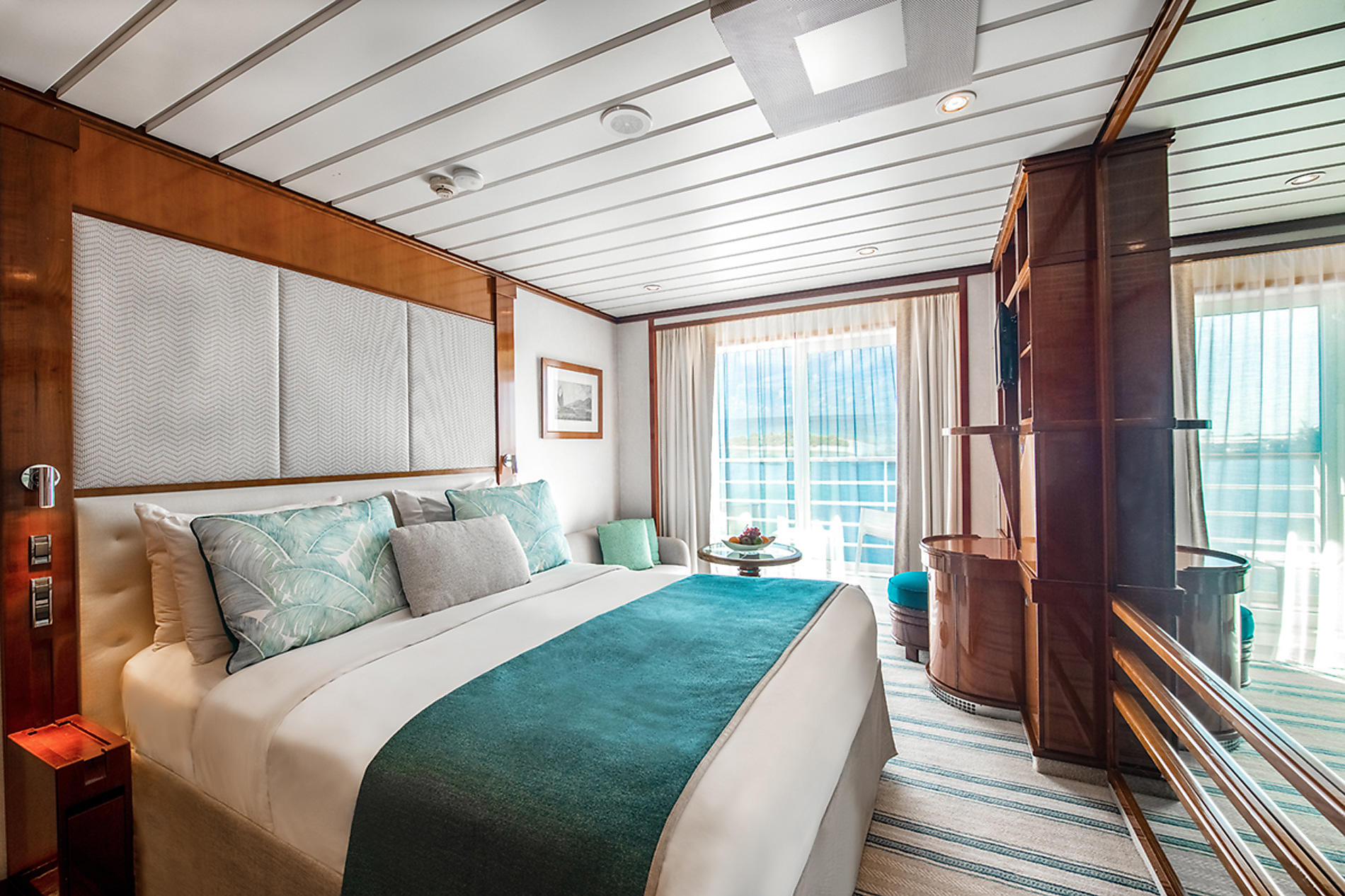 Services provided

24h room service
Inclusive Internet access Wi-Fi (availability dependent on navigation and latitude)
Individually-controlled air conditioning
Dressing room with shelves and closet
Dressing table and hairdryer
Algotherm top-of-the-line bath products
Minibar included
Nespresso coffee maker and boiler
Electronic safe
Direct line telephone
Bose Bluetooth speaker
Flat screen TV, international channels (availability dependent on navigation) and videos on demand
110V American (two flat pins)/220V European (round sockets with two round pins)
One ADA stateroom

In addition to the common services provided to all our suites and staterooms:

Fruit composition and floral arrangement upon arrival
One queen-size (160 x 200 cm) or two single beds (80 x 200 cm)
A lounge area with sofa bed (75 x 200 cm) and TV
A bathroom with bath
A panoramic sliding bay window
A private 3 m² balcony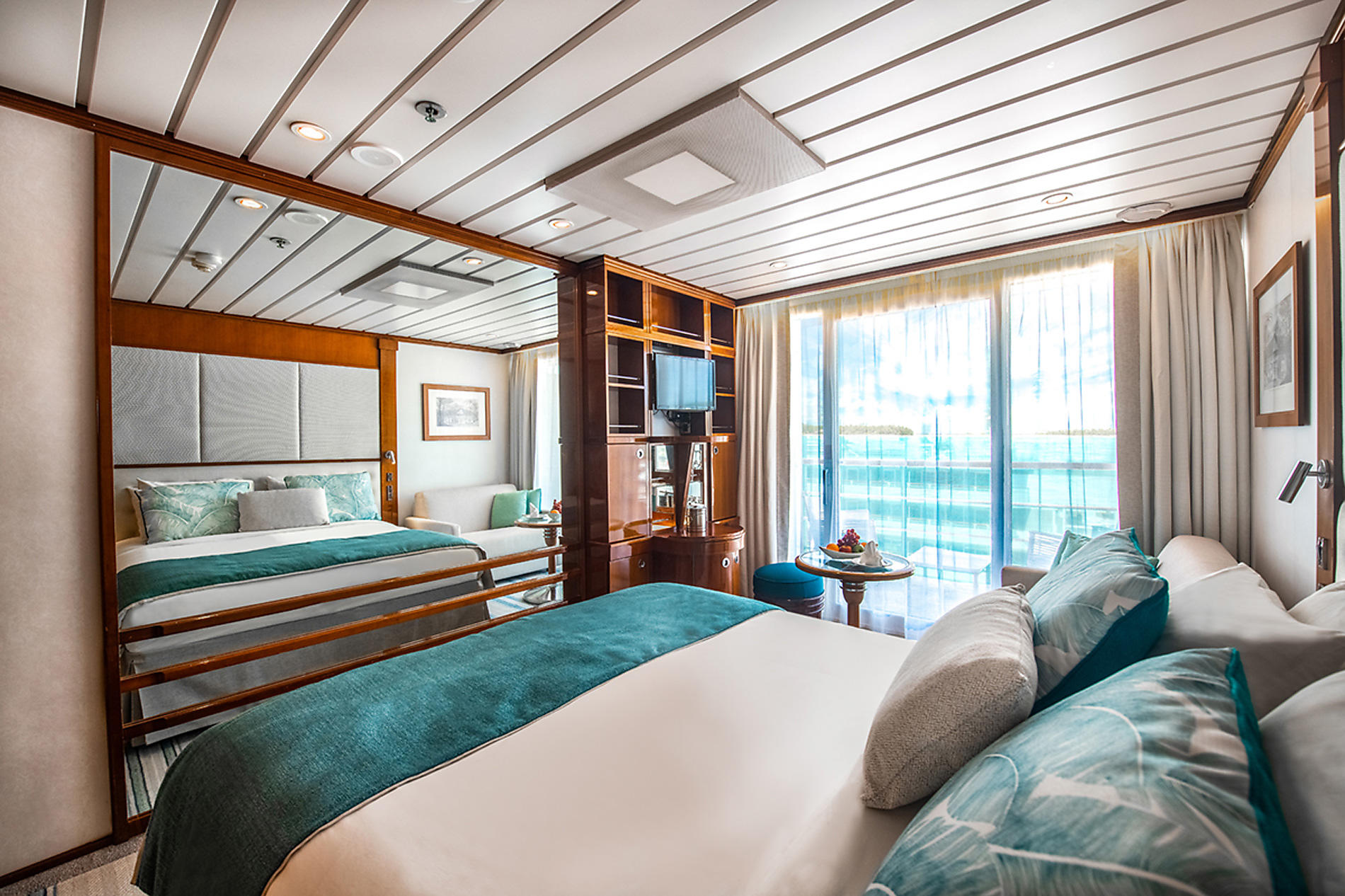 Services provided

24h room service
Inclusive Internet access Wi-Fi (availability dependent on navigation and latitude)
Individually-controlled air conditioning
Dressing room with shelves and closet
Dressing table and hairdryer
Algotherm top-of-the-line bath products
Minibar included
Nespresso coffee maker and boiler
Electronic safe
Direct line telephone
Bose Bluetooth speaker
Flat screen TV, international channels (availability dependent on navigation) and videos on demand
110V American (two flat pins)/220V European (round sockets with two round pins)
One ADA stateroom

In addition to the common services provided to all our suites and staterooms:

Fruit composition and floral arrangement upon arrival
A king-size (180 x 200 cm) or queen-size bed (160 x 200) or two single beds (90 x 200 cm or 80 x 200 cm)
A lounge area with sofa and TV
A bathroom with shower or bath
A panoramic sliding bay window
A private 3 m² balcony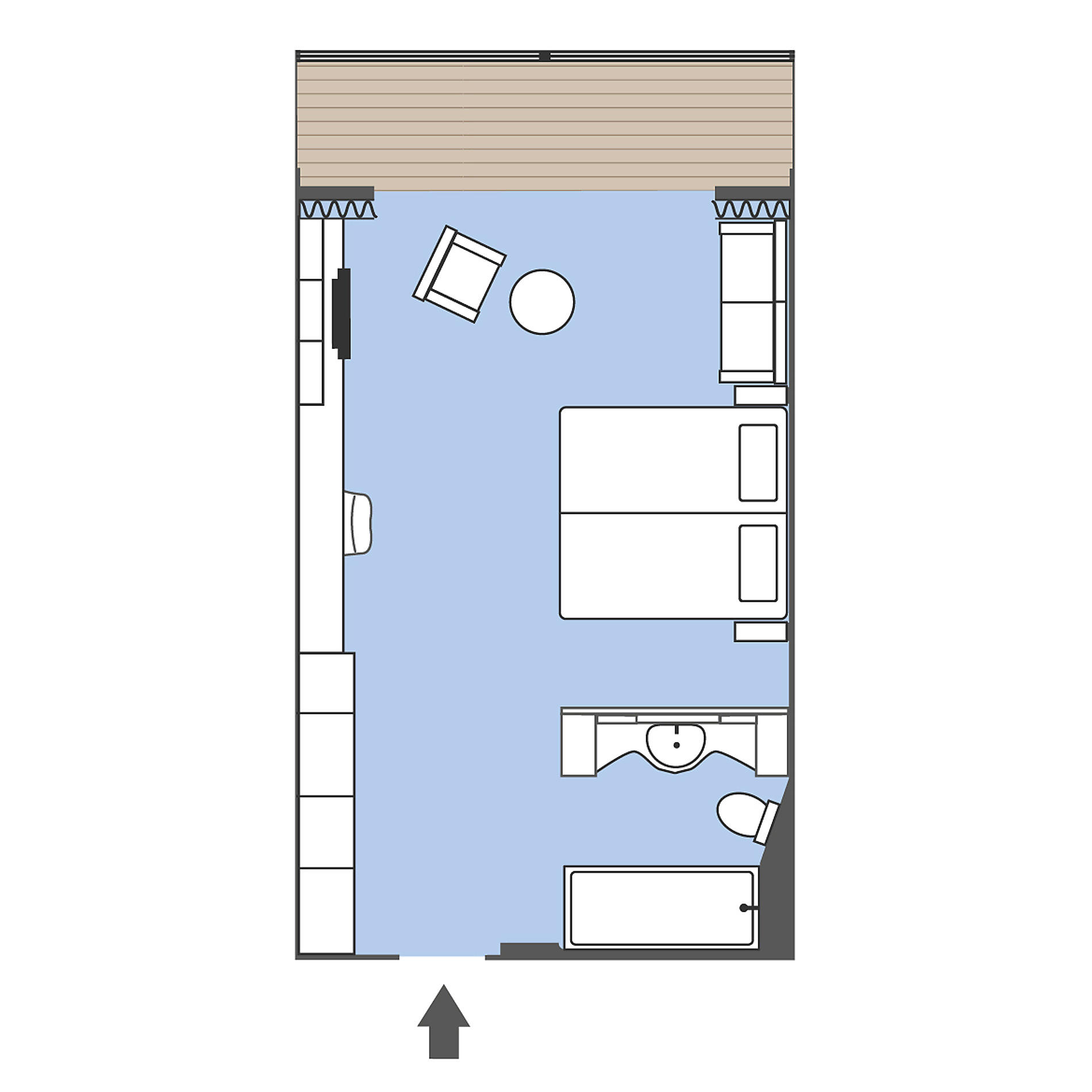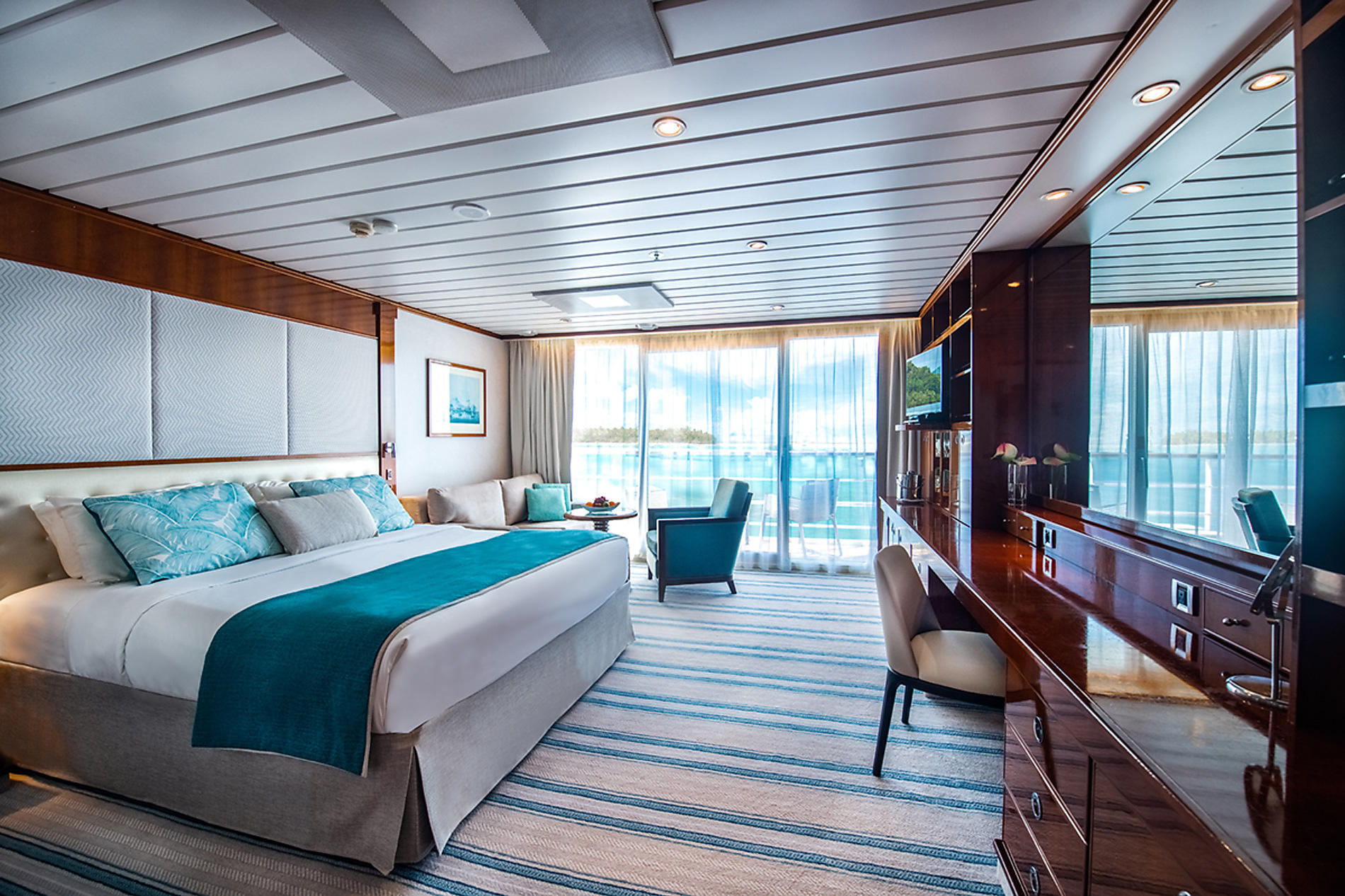 Services provided

24h room service
Inclusive Internet access Wi-Fi (availability dependent on navigation and latitude)
Individually-controlled air conditioning
Dressing room with shelves and closet
Dressing table and hairdryer
Algotherm top-of-the-line bath products
Minibar included
Nespresso coffee maker and boiler
Electronic safe
Direct line telephone
Bose Bluetooth speaker
Flat screen TV, international channels (availability dependent on navigation) and videos on demand
110V American (two flat pins)/220V European (round sockets with two round pins)
One ADA stateroom

In addition to the common services provided to all our suites and staterooms:

Butler service
Fruit composition and floral arrangement upon arrival
A king-size (180 x 200 cm) or queen-size bed (160 x 200) or two single beds (90 x 200 cm or 80 x 200 cm)
A lounge area with sofa bed (180 x 130 cm), armchair and TV
A bathroom with bath
A panoramic sliding bay window
A private 5 m² balcony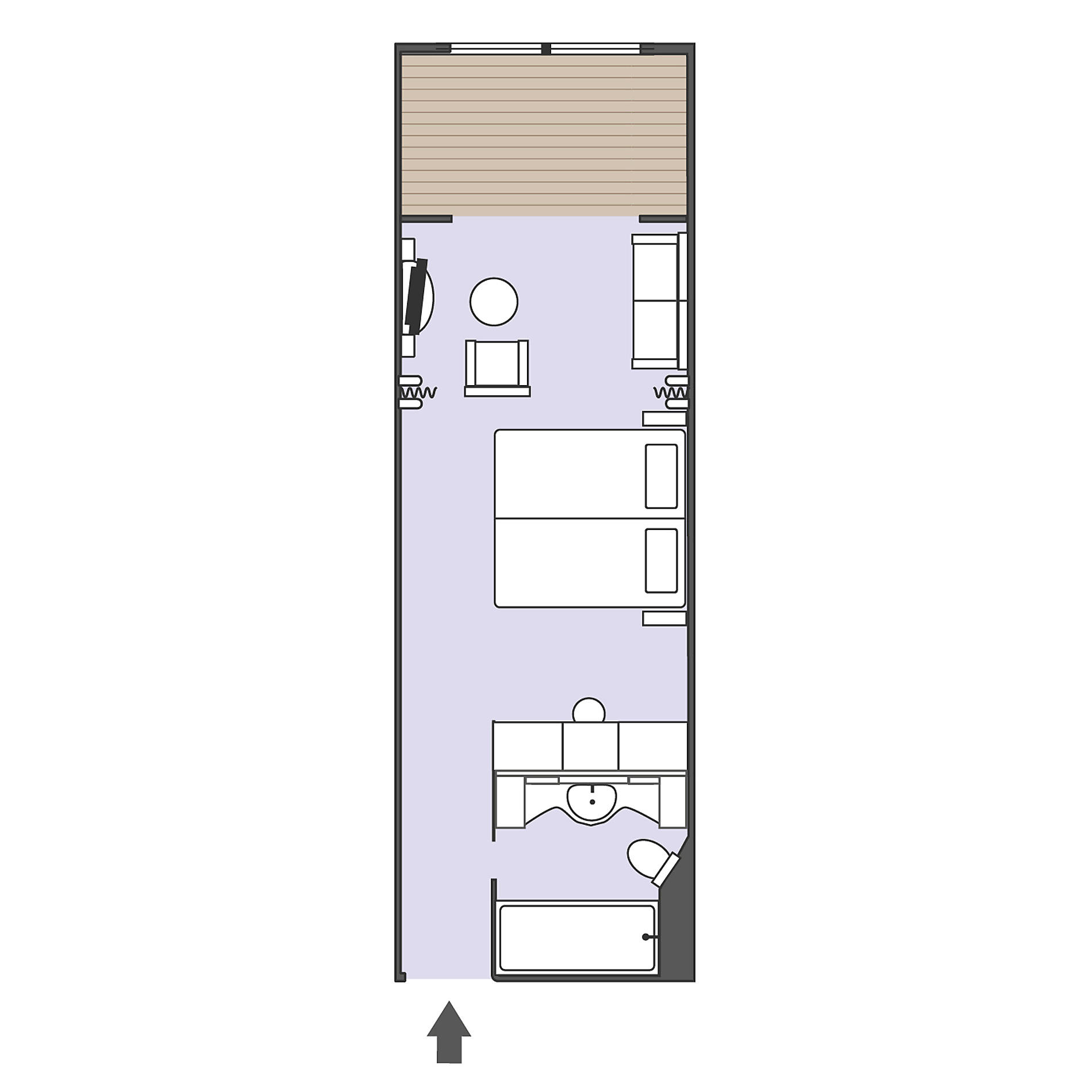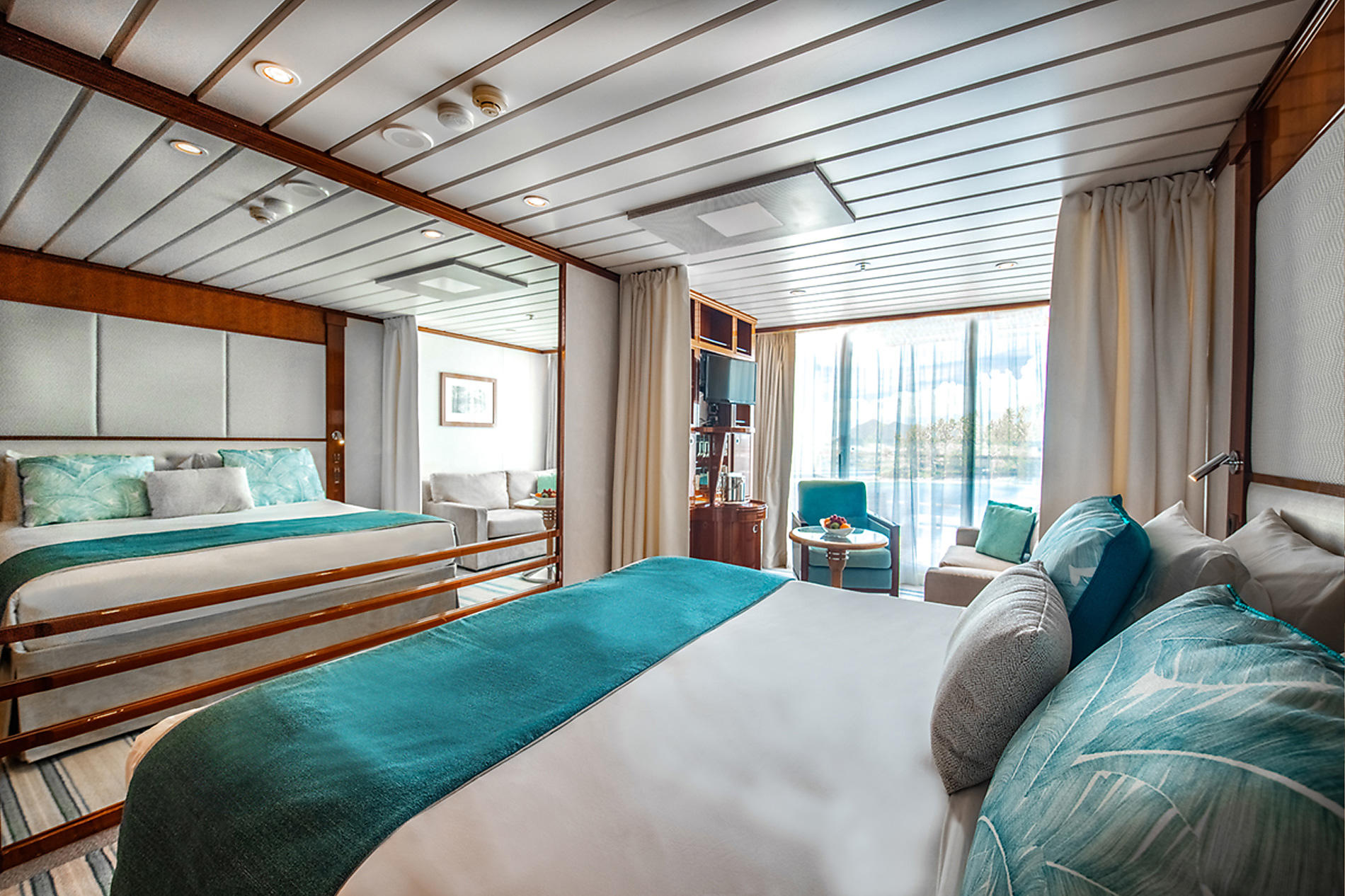 Services provided

24h room service
Inclusive Internet access Wi-Fi (availability dependent on navigation and latitude)
Individually-controlled air conditioning
Dressing room with shelves and closet
Dressing table and hairdryer
Algotherm top-of-the-line bath products
Minibar included
Nespresso coffee maker and boiler
Electronic safe
Direct line telephone
Bose Bluetooth speaker
Flat screen TV, international channels (availability dependent on navigation) and videos on demand
110V American (two flat pins)/220V European (round sockets with two round pins)
One ADA stateroom

In addition to the common services provided to all our suites and staterooms:

Butler service
Fruit composition and floral arrangement upon arrival
A king-size (180 x 200 cm) or queen-size bed (160 x 200) or two single beds (90 x 200 cm or 80 x 200 cm)
A lounge area with sofa bed (180 x 130 cm), armchair and TV
A bathroom with shower or bath
A panoramic sliding bay window
A private 5 m² balcony