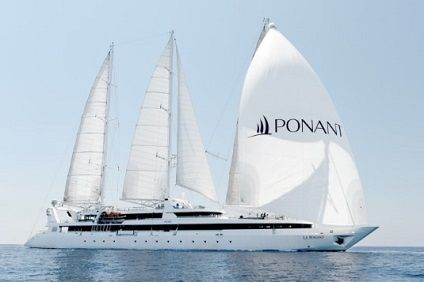 Something almost poetic takes place when you step onboard this spectacular three-master. The sparkle of the sea, the gentle kiss of the breeze on your skin, the lapping of the waves, the rustling of the wind in the sails, the scent of the fig trees as you approach the coast, the gourmet dishes showcasing local products and offering a voyage within a voyage; with all your senses fully awakened and alert, it's now time for a real holiday, a holiday that will stay with you forever. It's almost as if time stands still aboard this incredible luxury yacht.

Free as a bird…
PONANT's iconic and freshly refitted three-master now offers over 16 staterooms & suites and embodies a simple philosophy: the freedom to do or not to do.

Onboard Le Ponant, like on dry land, everyone is free to set their own pace. Some may decide to read a book on the Sun Deck or sip a cocktail while contemplating the distant horizon, or take a stand up paddleboard or kayak and head out to enjoy an even more immersive experience amongst the blue of the waves. Others will disembark to go exploring by bicycle or make the most of the soft light of dusk in the quaint streets of a pedestrianised harbour. Or perhaps others will opt to settle down comfortably in a little isolated cove or on a deserted beach accessible only from the sea.

One crew member per guest, a dedicated chef preparing fine gastronomic food showcasing the local culinary heritage, delightful ports of call and enchanting experiences: the luxury onboard is first and foremost a luxury of the senses and the emotions.

Experience,
explore and share life at sea
On this three-master, you live and breathe the experience of the sea each day more than on any other ship. A voyage aboard Le Ponant is a shared communal experience based on a common passion for sailing, travel, exploring new horizons and enjoying unique new experiences. The must-see sights are experienced differently here, and secluded spots far off the beaten track shared enthusiastically with others.

Sharing: a central tenet of a voyage aboard this iconic yacht. Because to step aboard is to join the PONANT adventure, to see the wonderful spectacle of sailing and navigation from behind the scenes, and to share a unique experience with just a few other privileged guests.

Serene and leisurely relaxation, discovery and exploration, experiencing the local culture or discussing sailing and navigation with a member of the crew: all the itineraries and ports-of-call have been designed and selected to provide a surprising and charmingly enchanting experience. And when child-friendly cruises take place twice each year, Le Ponant shares this same taste for discovery and exploration with them too, through a range of meaningful activities designed with children in mind.
Ship Profile & Stats
Length: 88m
Passenger capacity (dbl): 32
Filter results:
Currently we have no results for this ship, please click here to start a search and find something for you!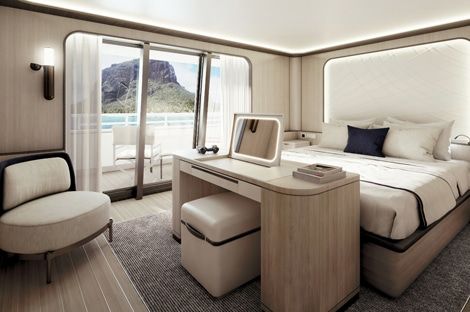 49 m²

Individually controlled air conditioning
Double bed (180 cm x 200 cm) or twin single beds (90 cm x 200 cm), depending on the cabin; adjoining cabins available (for child-friendly cruises)
Mini bar
Flat screen TV, satellite channels
Bose™ Bluetooth Speaker
Desk with writing supplies
Electronic safe
Selection of Dyptique Paris bath products
Dressing table and hairdryer
Direct phone line via satellite
110/220 volt outlets
24-hour room service
Unlimited free Wi-Fi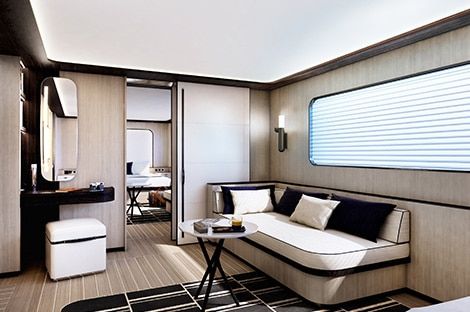 21 m²

Individually controlled air conditioning
Double bed (180 cm x 200 cm) or twin single beds (90 cm x 200 cm), depending on the cabin; adjoining cabins available (for child-friendly cruises)
Mini bar
Flat screen TV, satellite channels
Bose™ Bluetooth Speaker
Desk with writing supplies
Electronic safe
Selection of Dyptique Paris bath products
Dressing table and hairdryer
Direct phone line via satellite
110/220 volt outlets
24-hour room service
Unlimited free Wi-Fi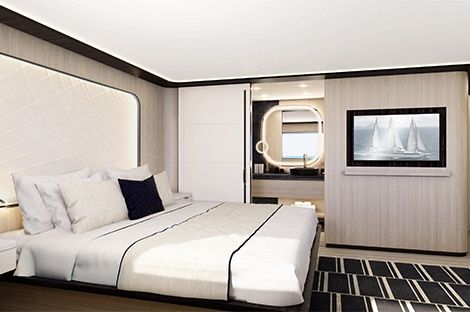 14 m²

Individually controlled air conditioning
Double bed (180 cm x 200 cm) or twin single beds (90 cm x 200 cm), depending on the cabin; adjoining cabins available (for child-friendly cruises)
Mini bar
Flat screen TV, satellite channels
Bose™ Bluetooth Speaker
Desk with writing supplies
Electronic safe
Selection of Dyptique Paris bath products
Dressing table and hairdryer
Direct phone line via satellite
110/220 volt outlets
24-hour room service
Unlimited free Wi-Fi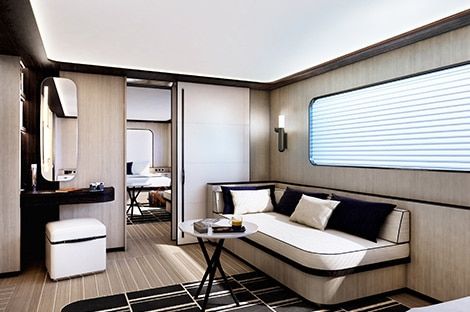 16 m²

Individually controlled air conditioning
Double bed (180 cm x 200 cm) or twin single beds (90 cm x 200 cm), depending on the cabin; adjoining cabins available (for child-friendly cruises)
Mini bar
Flat screen TV, satellite channels
Bose™ Bluetooth Speaker
Desk with writing supplies
Electronic safe
Selection of Dyptique Paris bath products
Dressing table and hairdryer
Direct phone line via satellite
110/220 volt outlets
24-hour room service
Unlimited free Wi-Fi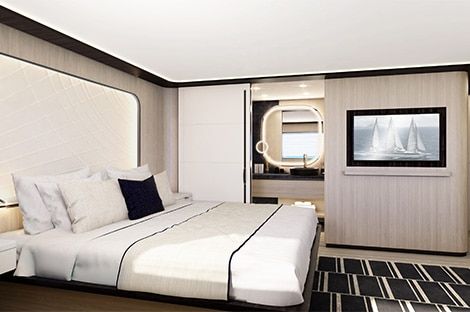 27 m²

Individually controlled air conditioning
Double bed (180 cm x 200 cm) or twin single beds (90 cm x 200 cm), depending on the cabin; adjoining cabins available (for child-friendly cruises)
Mini bar
Flat screen TV, satellite channels
Bose™ Bluetooth Speaker
Desk with writing supplies
Electronic safe
Selection of Dyptique Paris bath products
Dressing table and hairdryer
Direct phone line via satellite
110/220 volt outlets
24-hour room service
Unlimited free Wi-Fi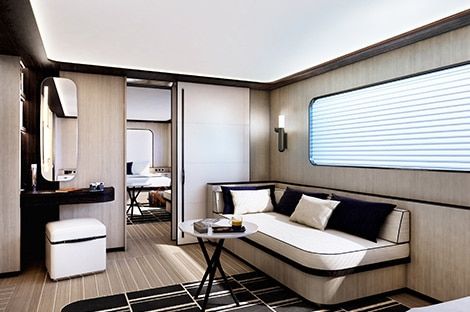 30 m²

Individually controlled air conditioning
Double bed (180 cm x 200 cm) or twin single beds (90 cm x 200 cm), depending on the cabin; adjoining cabins available (for child-friendly cruises)
Mini bar
Flat screen TV, satellite channels
Bose™ Bluetooth Speaker
Desk with writing supplies
Electronic safe
Selection of Dyptique Paris bath products
Dressing table and hairdryer
Direct phone line via satellite
110/220 volt outlets
24-hour room service
Unlimited free Wi-Fi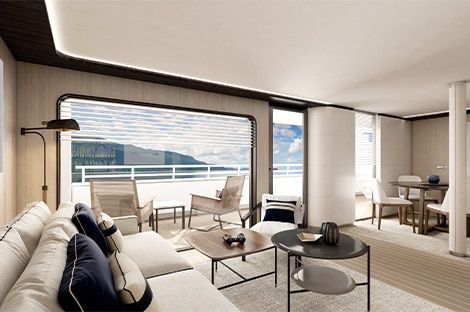 47 m²

Individually controlled air conditioning
Double bed (180 cm x 200 cm) or twin single beds (90 cm x 200 cm), depending on the cabin; adjoining cabins available (for child-friendly cruises)
Mini bar
Flat screen TV, satellite channels
Bose™ Bluetooth Speaker
Desk with writing supplies
Electronic safe
Selection of Dyptique Paris bath products
Dressing table and hairdryer
Direct phone line via satellite
110/220 volt outlets
24-hour room service
Unlimited free Wi-Fi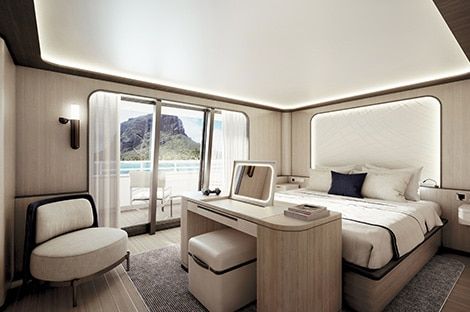 10 m²

Individually controlled air conditioning
Double bed (180 cm x 200 cm) or twin single beds (90 cm x 200 cm), depending on the cabin; adjoining cabins available (for child-friendly cruises)
Mini bar
Flat screen TV, satellite channels
Bose™ Bluetooth Speaker
Desk with writing supplies
Electronic safe
Selection of Dyptique Paris bath products
Dressing table and hairdryer
Direct phone line via satellite
110/220 volt outlets
24-hour room service
Unlimited free Wi-Fi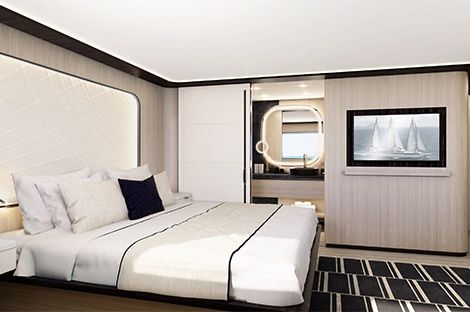 16 m²

Individually controlled air conditioning
Double bed (180 cm x 200 cm) or twin single beds (90 cm x 200 cm), depending on the cabin; adjoining cabins available (for child-friendly cruises)
Mini bar
Flat screen TV, satellite channels
Bose™ Bluetooth Speaker
Desk with writing supplies
Electronic safe
Selection of Dyptique Paris bath products
Dressing table and hairdryer
Direct phone line via satellite
110/220 volt outlets
24-hour room service
Unlimited free Wi-Fi