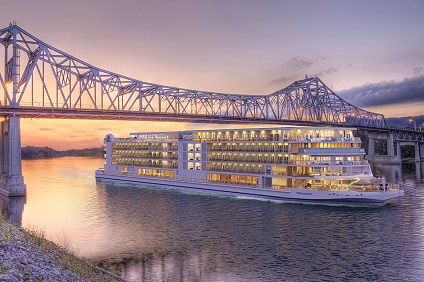 Hosting 386 guests in 193 all outside staterooms, the new state-of-the-art Viking Mississippi is inspired by our award-winning Viking Longships® and ocean ships and will feature clean Scandinavian design, as well as public spaces that are familiar to guests but that have been reimagined for Mississippi River voyages. Purpose-built for the Mississippi, the ship's cutting-edge design, expansive windows and comfortable amenities will make it the first truly modern cruise ship in the region.
Ship Profile & Stats
Maiden voyage: 2021
Passenger capacity (dbl): 386
Ship Amenities
Free Wi-Fi (connection speed may vary)
42" flat-screen, interactive LCD TV with intuitive remote & complimentary Movies On Demand
110/120 volt US-standard outlets with USB ports
Mini-bar with soft drinks, water & snacks
Safe
Hair Dryer
Plush robes & slippers
Purified water refilled daily
24-hour room service
Ship Facilities
Aquavit Terrace
Sun Terrace
Infinity Plunge Pool
Al Fresco Dining
River Cafe
Explorers' Lounge
Bar
The Bow
Self-service launderettes and laundry service
Filter results:
Currently we have no results for this ship, please click here to start a search and find something for you!




Size including private veranda: 657–1,024 sq ft
11:00 AM embarkation
11:00 AM priority stateroom access
King-size Viking Explorer Bed (with optional twin-bed configuration); luxury linens & pillows
Free Wi-Fi (connection speed may vary)
Two 42" flat-screen, interactive LCD TVs with intuitive remote & complimentary Movies On Demand
110/120 volt US-standard outlets with USB ports
Mini-bar with alcoholic beverages, soft drinks, water & snacks (replenished once daily); security safe; hair dryer
Large private bathroom with spacious glass-enclosed shower, double-sink vanity, heated bathroom floor & anti-fog mirror
Premium Freyja® toiletries; plush robes & slippers
Purified water refilled daily
Stateroom steward & twice-daily housekeeping
24-hour room service
Spacious closet & drawers
Complimentary Silver Spirits Beverage Package, laundry, pressing & shoe shine services
Welcome bottle of champagne
In-suite binoculars, coffee brewer & traditional Marius-weave blanket
Well-appointed living room & dining area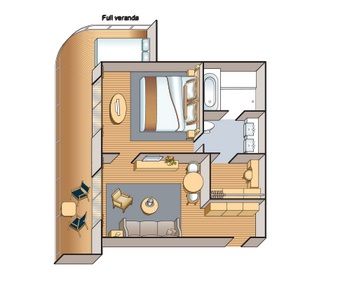 Size including private veranda: 657–1,024 sq ft 11:00 AM embarkation 11:00 AM priority stateroom access King-size Viking Explorer Bed (with optional twin-bed configuration); luxury linens & pillows Free Wi-Fi (connection speed may vary) Two 42" flat-screen, interactive LCD TVs with intuitive remote & complimentary Movies On Demand 110/120 volt US-standard outlets with USB ports Mini-bar with alcoholic beverages, soft drinks, water & snacks (replenished once daily); security safe; hair dryer Large private bathroom with spacious glass-enclosed shower, double-sink vanity, heated bathroom floor & anti-fog mirror Premium Freyja® toiletries; plush robes & slippers Purified water refilled daily Stateroom steward & twice-daily housekeeping 24-hour room service Spacious closet & drawers Complimentary Silver Spirits Beverage Package, laundry, pressing & shoe shine services Welcome bottle of champagne In-suite binoculars, coffee brewer & traditional Marius-weave blanket Well-appointed living room & dining area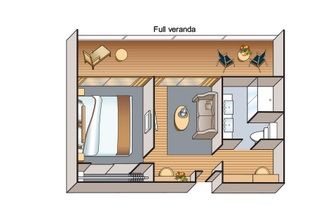 Size including private veranda: 425 sq ft
11:00 AM embarkation
11:00 AM priority stateroom access
King-size Viking Explorer Bed (with optional twin-bed configuration); luxury linens & pillows
Free Wi-Fi (connection speed may vary)
Two 42" flat-screen, interactive LCD TVs with intuitive remote & complimentary Movies On Demand
110/120 volt US-standard outlets with USB ports
Mini-bar with alcoholic beverages, soft drinks, water & snacks (replenished once daily); security safe; hair dryer
Large private bathroom with spacious glass-enclosed shower, double-sink vanity, heated bathroom floor & anti-fog mirror
Premium Freyja® toiletries; plush robes & slippers
Purified water refilled daily
Stateroom steward & twice-daily housekeeping
24-hour room service
Spacious closet & drawers
Complimentary laundry, pressing & shoe shine services
Welcome bottle of champagne
In-suite binoculars, coffee brewer & traditional Marius-weave blanket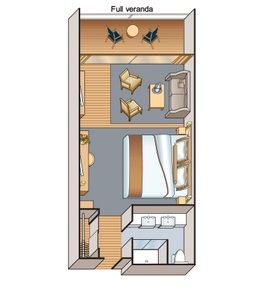 Size including private veranda: 400 sq ft
11:00 AM embarkation
11:00 AM priority stateroom access
King-size Viking Explorer Bed (with optional twin-bed configuration); luxury linens & pillows
Free Wi-Fi (connection speed may vary)
Two 42" flat-screen, interactive LCD TVs with intuitive remote & complimentary Movies On Demand
110/120 volt US-standard outlets with USB ports
Mini-bar with alcoholic beverages, soft drinks, water & snacks (replenished once daily); security safe; hair dryer
Large private bathroom with spacious glass-enclosed shower, double-sink vanity, heated bathroom floor & anti-fog mirror
Premium Freyja® toiletries; plush robes & slippers
Purified water refilled daily
Stateroom steward & twice-daily housekeeping
24-hour room service
Spacious closet & drawers
Complimentary laundry, pressing & shoe shine services
Welcome bottle of champagne
In-suite binoculars, coffee brewer & traditional Marius-weave blanket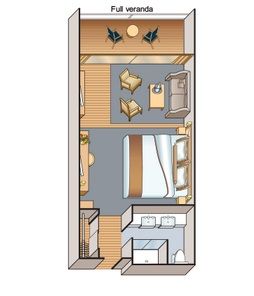 Size including private veranda: 400 sq ft 11:00 AM embarkation 11:00 AM priority stateroom access King-size Viking Explorer Bed (with optional twin-bed configuration); luxury linens & pillows Free Wi-Fi (connection speed may vary) Two 42" flat-screen, interactive LCD TVs with intuitive remote & complimentary Movies On Demand 110/120 volt US-standard outlets with USB ports Mini-bar with alcoholic beverages, soft drinks, water & snacks (replenished once daily); security safe; hair dryer Large private bathroom with spacious glass-enclosed shower, double-sink vanity, heated bathroom floor & anti-fog mirror Premium Freyja® toiletries; plush robes & slippers Purified water refilled daily Stateroom steward & twice-daily housekeeping 24-hour room service Spacious closet & drawers Complimentary laundry, pressing & shoe shine services Welcome bottle of champagne In-suite binoculars, coffee brewer & traditional Marius-weave blanket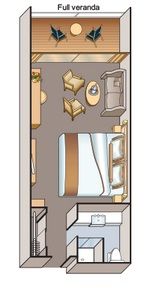 Size including private veranda: 336 sq ft
11:00 AM embarkation
1:00 PM stateroom access
King-size Viking Explorer Bed (with optional twin-bed configuration); luxury linens & pillows
Free Wi-Fi (connection speed may vary)
42" flat-screen, interactive LCD TV with intuitive remote & complimentary Movies On Demand
110/120 volt US-standard outlets with USB ports
Mini-bar with alcoholic beverages, soft drinks, water & snacks (replenished once daily); security safe; hair dryer
Large private bathroom with spacious glass-enclosed shower, heated bathroom floor & anti-fog mirror
Premium Freyja® toiletries; plush robes & slippers
Purified water refilled daily
Stateroom steward & twice-daily housekeeping
24-hour room service
Spacious closet & drawers
Complimentary pressing & shoe shine services
Welcome bottle of champagne
In-suite binoculars, coffee brewer & traditional Marius-weave blanket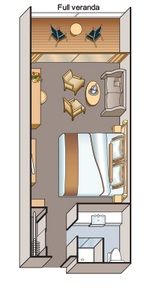 Size including private veranda: 336 sq ft 11:00 AM embarkation 1:00 PM stateroom access King-size Viking Explorer Bed (with optional twin-bed configuration); luxury linens & pillows Free Wi-Fi (connection speed may vary) 42" flat-screen, interactive LCD TV with intuitive remote & complimentary Movies On Demand 110/120 volt US-standard outlets with USB ports Mini-bar with alcoholic beverages, soft drinks, water & snacks (replenished once daily); security safe; hair dryer Large private bathroom with spacious glass-enclosed shower, heated bathroom floor & anti-fog mirror Premium Freyja® toiletries; plush robes & slippers Purified water refilled daily Stateroom steward & twice-daily housekeeping 24-hour room service Spacious closet & drawers Complimentary pressing & shoe shine services Welcome bottle of champagne In-suite binoculars, coffee brewer & traditional Marius-weave blanket
Size including private veranda: 268 sq ft
11:00 AM embarkation
2:00 PM stateroom access
King-size Viking Explorer Bed (with optional twin-bed configuration); luxury linens & pillows
Free Wi-Fi (connection speed may vary)
42" flat-screen, interactive LCD TV with intuitive remote & complimentary Movies On Demand
110/120 volt US-standard outlets with USB ports
Mini-bar with soft drinks, water & snacks (replenished once daily); security safe; hair dryer
Large private bathroom with spacious glass-enclosed shower, heated bathroom floor & anti-fog mirror
Premium Freyja® toiletries; plush robes & slippers
Purified water refilled daily
Stateroom steward & twice-daily housekeeping
24-hour room service
Spacious closet & drawers
In-suite binoculars, coffee brewer & traditional Marius-weave blanket
Size including private veranda: 268 sq ft 11:00 AM embarkation 2:00 PM stateroom access King-size Viking Explorer Bed (with optional twin-bed configuration); luxury linens & pillows Free Wi-Fi (connection speed may vary) 42" flat-screen, interactive LCD TV with intuitive remote & complimentary Movies On Demand 110/120 volt US-standard outlets with USB ports Mini-bar with soft drinks, water & snacks (replenished once daily); security safe; hair dryer Large private bathroom with spacious glass-enclosed shower, heated bathroom floor & anti-fog mirror Premium Freyja® toiletries; plush robes & slippers Purified water refilled daily Stateroom steward & twice-daily housekeeping 24-hour room service Spacious closet & drawers In-suite binoculars, coffee brewer & traditional Marius-weave blanket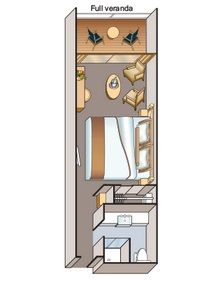 Size including private veranda: 268 sq ft 11:00 AM embarkation 2:00 PM stateroom access King-size Viking Explorer Bed (with optional twin-bed configuration); luxury linens & pillows Free Wi-Fi (connection speed may vary) 42" flat-screen, interactive LCD TV with intuitive remote & complimentary Movies On Demand 110/120 volt US-standard outlets with USB ports Mini-bar with soft drinks, water & snacks (replenished once daily); security safe; hair dryer Large private bathroom with spacious glass-enclosed shower, heated bathroom floor & anti-fog mirror Premium Freyja® toiletries; plush robes & slippers Purified water refilled daily Stateroom steward & twice-daily housekeeping 24-hour room service Spacious closet & drawers In-suite binoculars, coffee brewer & traditional Marius-weave blanket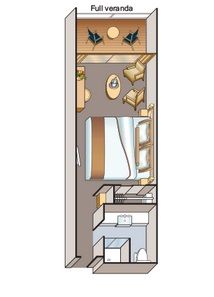 Size including private veranda: 268 sq ft 11:00 AM embarkation 2:00 PM stateroom access King-size Viking Explorer Bed (with optional twin-bed configuration); luxury linens & pillows Free Wi-Fi (connection speed may vary) 42" flat-screen, interactive LCD TV with intuitive remote & complimentary Movies On Demand 110/120 volt US-standard outlets with USB ports Mini-bar with soft drinks, water & snacks (replenished once daily); security safe; hair dryer Large private bathroom with spacious glass-enclosed shower, heated bathroom floor & anti-fog mirror Premium Freyja® toiletries; plush robes & slippers Purified water refilled daily Stateroom steward & twice-daily housekeeping 24-hour room service Spacious closet & drawers In-suite binoculars, coffee brewer & traditional Marius-weave blanket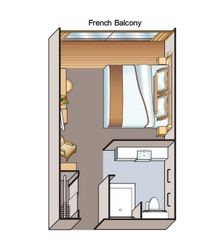 Stateroom Size: 301 sq ft
11:00 AM embarkation
2:00 PM stateroom access
King-size Viking Explorer Bed (with optional twin-bed configuration); luxury linens & pillows
Free Wi-Fi (connection speed may vary)
42" flat-screen, interactive LCD TV with intuitive remote & complimentary Movies On Demand
110/120 volt US-standard outlets with USB ports
Mini-bar with soft drinks, water & snacks (replenished once daily); security safe; hair dryer
Large private bathroom with spacious glass-enclosed shower, heated bathroom floor & anti-fog mirror
Premium Freyja® toiletries; plush robes & slippers
Purified water refilled daily
Stateroom steward & twice-daily housekeeping
24-hour room service
Spacious closet & drawers
In-suite binoculars, coffee brewer & traditional Marius-weave blanket
This stateroom is wheelchair accessible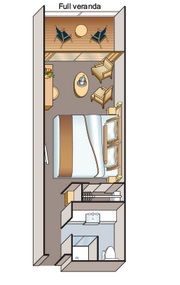 Size including private veranda: 268 sq ft
11:00 AM embarkation
3:00 PM stateroom access
King-size Viking Explorer Bed (with optional twin-bed configuration); luxury linens & pillows
Free Wi-Fi (connection speed may vary)
42" flat-screen, interactive LCD TV with intuitive remote & complimentary Movies On Demand
110/120 volt US-standard outlets with USB ports
Mini-bar with soft drinks, water & snacks; security safe; hair dryer
Large private bathroom with spacious glass-enclosed shower, heated bathroom floor & anti-fog mirror
Premium Freyja® toiletries; plush robes & slippers
Purified water refilled daily
Stateroom steward & twice-daily housekeeping
24-hour room service
Spacious closet & drawers