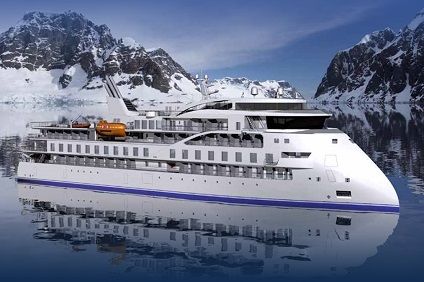 Experience an innovative design that brings a new level of responsible travel. Built for exploration in earth's most fragile places, M/V Ocean Victory uses the cleanest available fuel, offers unique access to wilderness waters, and provides an unparalleled platform for discovery.

Whatever your mood, whatever your taste, there's a place to make your day perfect. Put your feet up in the lounge with a 360 degree view. Relax in the Spa after a day in the Zodiac. Take a swim or treat yourself to a soak in the heated whirlpool tub on deck. The possibilities are endless.

Every taste is a treat. From locally sourced seafood so fresh you can almost hear the splash, to hand-crafted desserts and accompaniments, each meal will be your favorite. And special requests are our pleasure because your meal is always prepared to order, just for you.

Your stateroom is your spacious, luxurious retreat in the middle of the world's most beautiful wilderness. Almost all have panoramic balconies — and every single one has an expansive ocean view. From fine linens to pampering amenities, this is your home at sea.
Ship Profile & Stats
Maiden voyage: 2021
Length: 342 ft
Ship registration: Bahamas
Passenger capacity (dbl): 186
Ship Facilities
Voyager Library
Ocean Boutique
Bar
Main Restaurant
Panarama Speciality Restaurant
Viewing Platform
Pool
Outdoor Bistro
Observation Lounge
Explorer Bar Lounge
Activity Platform
Lecture Room
Polar Spa
Medical Centre
Fitness Room
Jacuzzi
Filter results:
Currently we have no results for this ship, please click here to start a search and find something for you!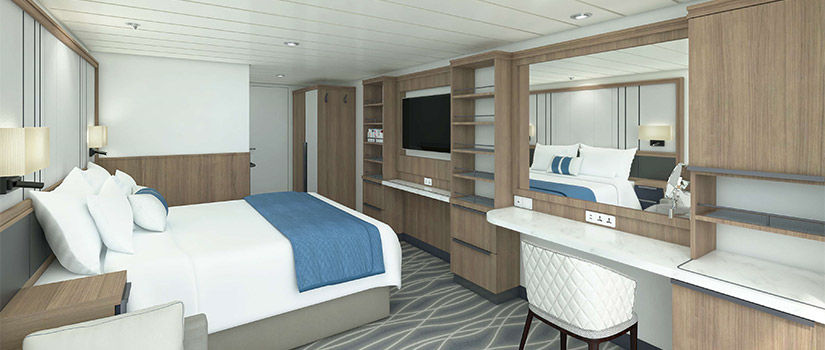 Premium Suite with Private Balcony
Private bath with spacious shower and beautiful finishes
Complimentary designer amenities
Large storage spaces for luggage, clothing, and personal items
Hair dryer
Mini refrigerator
Bathrobes and slippers
In room safe
Onboard laundry service
Your personal water bottle for use at refillable stations throughout the ship
Panoramic view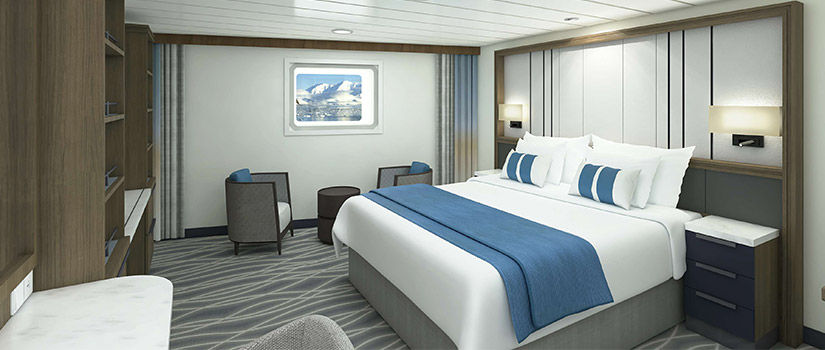 Deluxe Suite with Private Balcony
Private bath with spacious shower and beautiful finishes
Complimentary designer amenities
Large storage spaces for luggage, clothing, and personal items
Hair dryer
Mini refrigerator
Bathrobes and slippers
In room safe
Onboard laundry service
Your personal water bottle for use at refillable stations throughout the ship
Panoramic view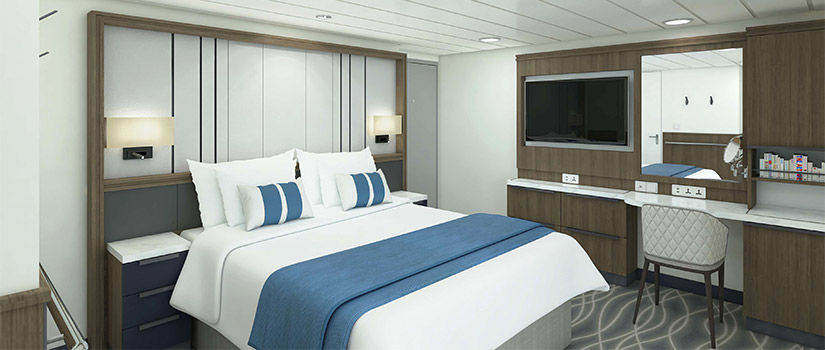 Private Balcony Suite
Private bath with spacious shower and beautiful finishes
Complimentary designer amenities
Large storage spaces for luggage, clothing, and personal items
Hair dryer
Mini refrigerator
Bathrobes and slippers
In room safe
Onboard laundry service
Your personal water bottle for use at refillable stations throughout the ship
Panoramic view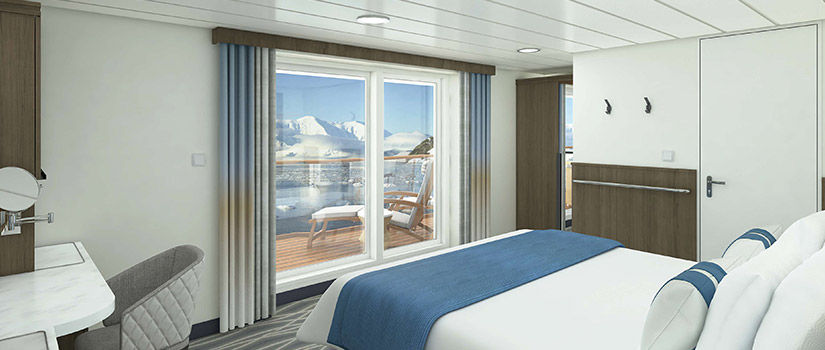 Private Balcony Suite
Private bath with spacious shower and beautiful finishes
Complimentary designer amenities
Large storage spaces for luggage, clothing, and personal items
Hair dryer
Mini refrigerator
Bathrobes and slippers
In room safe
Onboard laundry service
Your personal water bottle for use at refillable stations throughout the ship
Panoramic view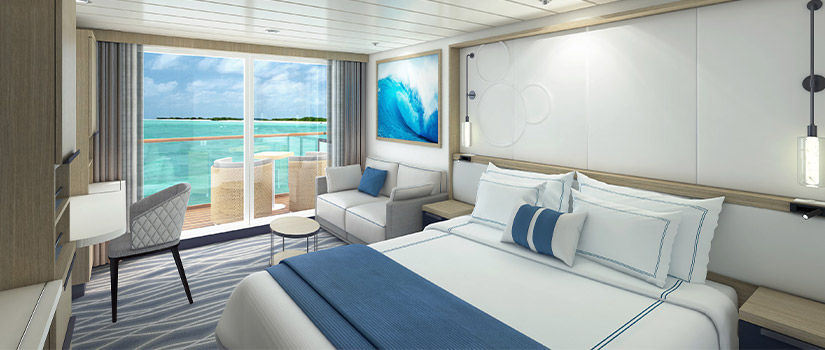 Deluxe Stateroom with Private Balcony
Private bath with spacious shower and beautiful finishes
Complimentary designer amenities
Large storage spaces for luggage, clothing, and personal items
Hair dryer
Mini refrigerator
Bathrobes and slippers
In room safe
Onboard laundry service
Your personal water bottle for use at refillable stations throughout the ship
Panoramic view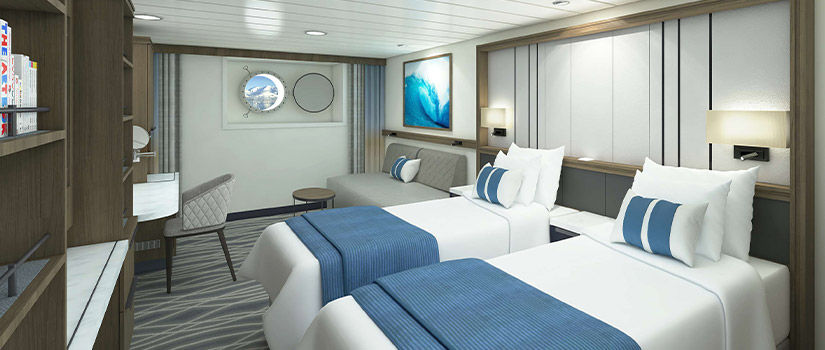 Deluxe Stateroom with Private Balcony
Private bath with spacious shower and beautiful finishes
Complimentary designer amenities
Large storage spaces for luggage, clothing, and personal items
Hair dryer
Mini refrigerator
Bathrobes and slippers
In room safe
Onboard laundry service
Your personal water bottle for use at refillable stations throughout the ship
Panoramic view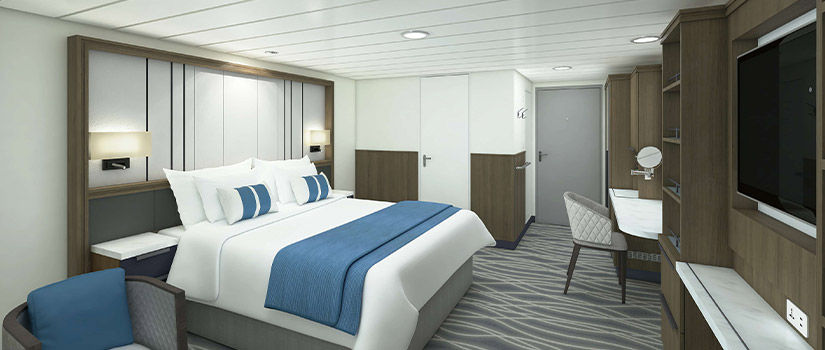 Stateroom with Private Balcony
Private bath with spacious shower and beautiful finishes
Complimentary designer amenities
Large storage spaces for luggage, clothing, and personal items
Hair dryer
Mini refrigerator
Bathrobes and slippers
In room safe
Onboard laundry service
Your personal water bottle for use at refillable stations throughout the ship
Panoramic view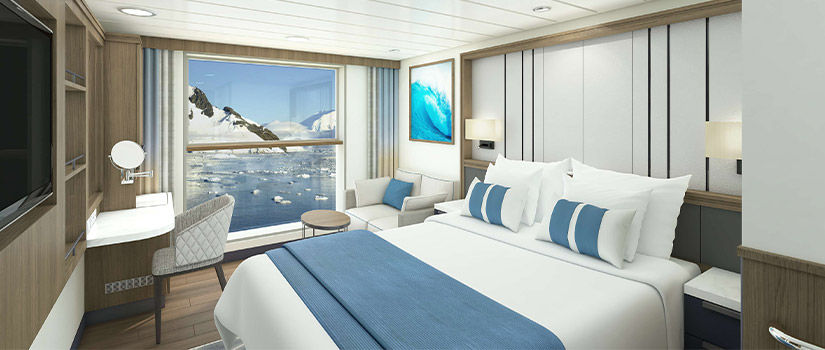 Stateroom with Private Balcony
Private bath with spacious shower and beautiful finishes
Complimentary designer amenities
Large storage spaces for luggage, clothing, and personal items
Hair dryer
Mini refrigerator
Bathrobes and slippers
In room safe
Onboard laundry service
Your personal water bottle for use at refillable stations throughout the ship
Panoramic view