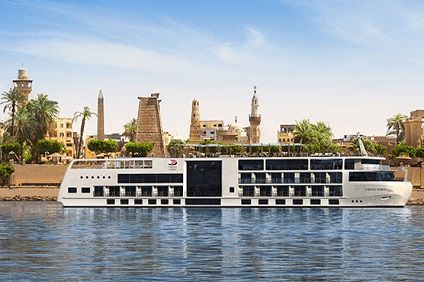 Specifically built to navigate the Nile River, our Egypt ships have been designed to international standards of comfort and elegance. With French balconies, hotel-style beds in every spacious stateroom and public areas bathed in light, these new vessels are the most sophisticated river ships sailing the region.

Owned and operated by Viking, Viking Osiris is a brand new vessel, the most upscale ship in Egypt. Specifically built to navigate the Nile, she is a state-of-the-art vessel—designed in the clean, elegant Scandinavian aesthetic for which Viking is known. Accommodating just 82 guests, she offers the ultimate in comfort.
Ship Profile & Stats
Maiden voyage: 2020
Passenger capacity (dbl): 82
Ship Amenities
Bottled water replenished daily
Individual Climate Control
Hair Dryer
Refrigerator
Safe
Telephone
110/220 volt outlets & USB ports
40" flat-screen TV
Ship Facilities
Laundry Service
Free Wi-Fi
Shop
Library
Restaurant
Viking Lounge & Bar
Aquavit Terrace & Lounge
Pool
Sun Deck
Filter results:
Currently we have no results for this ship, please click here to start a search and find something for you!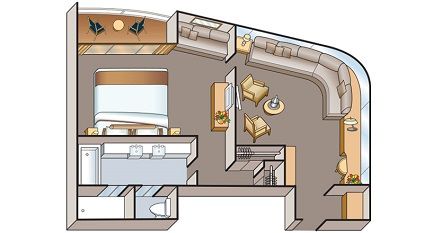 Suite size: 525 sq ft
River-view suite with spacious, separate sitting room & floor-to-ceiling sliding glass door opening to a full-size veranda in the sleeping quarters
Hotel-style bed 79 in x 63 in (with optional twin-bed configuration); luxury linens & pillows
Free Wi-Fi (connection speed may vary)
Two 40" flat-screen TVs with infotainment system featuring Movies On Demand, plus CNBC, CNN, FOX, National Geographic & more
110/220 volt outlets & USB ports
Telephone, safe, refrigerator, hair dryer & individual climate control
Private bathroom with spacious glass-enclosed shower & anti-fog mirror
Premium Freyja® toiletries; plush robes & slippers available upon request
Bottled water replenished daily
Stateroom steward & twice-daily housekeeping
Space under bed for storing suitcases
Roomy wardrobe with wooden hangers
Complimentary Silver Spirits beverage package, Viking Air Plus services, laundry service, room service (during breakfast) & shoe shine service
Private airport transfers
Sparkling wine; mini-bar with wine, beer & soft drinks (replenished daily); daily fruit basket
Binoculars, coffee brewer & cashmere blanket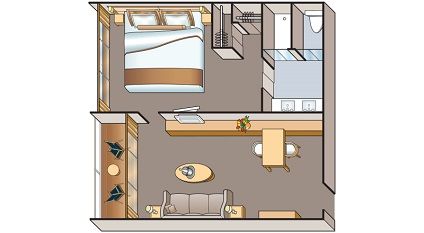 Suite size: 409 sq ft
River-view suite with full-size veranda off the spacious, separate sitting room & floor-to-ceiling sliding glass door, known as a French balcony, in the sleeping quarters
Hotel-style bed 79 in x 63 in (with optional twin-bed configuration); luxury linens & pillows
Free Wi-Fi (connection speed may vary)
40" flat-screen TV with infotainment system featuring Movies On Demand, plus CNBC, CNN, FOX, National Geographic & more
110/220 volt outlets & USB ports
Telephone, safe, refrigerator, hair dryer & individual climate control
Private bathroom with spacious glass-enclosed shower & anti-fog mirror
Premium Freyja® toiletries; plush robes & slippers available upon request
Bottled water replenished daily
Stateroom steward & twice-daily housekeeping
Space under bed for storing suitcases
Roomy wardrobe with wooden hangers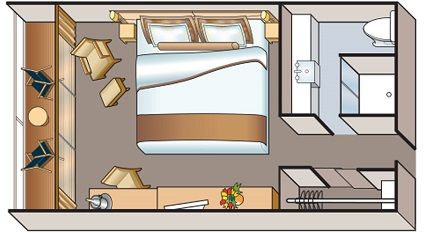 Stateroom size: 239 sq ft
River-view stateroom with floor-to-ceiling sliding glass door opening to a full-size veranda
Hotel-style bed 79 in x 63 in (with optional twin-bed configuration); luxury linens & pillows
Free Wi-Fi (connection speed may vary)
40" flat-screen TV with infotainment system featuring Movies On Demand, plus CNBC, CNN, FOX, National Geographic & more
110/220 volt outlets & USB ports
Telephone, safe, refrigerator, hair dryer & individual climate control
Private bathroom with spacious glass-enclosed shower & anti-fog mirror
Premium Freyja® toiletries; plush robes & slippers available upon request
Bottled water replenished daily
Stateroom steward & twice-daily housekeeping
Space under bed for storing suitcases
Roomy wardrobe with wooden hangers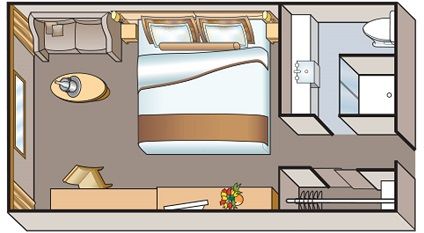 Stateroom size: 232 sq ft
River-view stateroom with half-height picture window
Hotel-style bed 79 in x 63 in (with optional twin-bed configuration); luxury linens & pillows
Free Wi-Fi (connection speed may vary)
40" flat-screen TV with infotainment system featuring Movies On Demand, plus CNBC, CNN, FOX, National Geographic & more
110/220 volt outlets & USB ports
Telephone, safe, refrigerator, hair dryer & individual climate control
Private bathroom with spacious glass-enclosed shower & anti-fog mirror
Premium Freyja® toiletries; plush robes & slippers available upon request
Bottled water replenished daily
Stateroom steward & twice-daily housekeeping
Space under bed for storing suitcases
Roomy wardrobe with wooden hangers