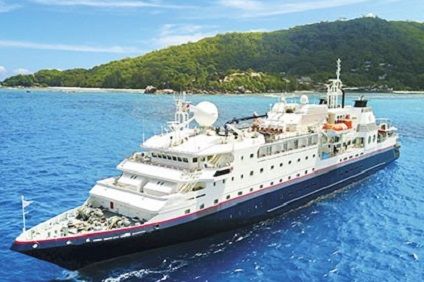 The MV La Belle des Océans (formerly Silver Discoverer) is the second maritime vessel of the CroisiEurope fleet and will sail from Singapore to Quebec during a series of repositioning cruises before reaching its final destination along the Saint Lawrence River and Lake Ontario.

This luxurious, high-capacity ship has 7 decks, is 103 m long and 15 m wide and will allow you to discover new and innovative routes in optimal conditions. Its capacity is 120 passengers thanks to its 60 spacious suites, all with exterior views, including 9 with private balconies.

Ship Profile & Stats
Maiden voyage: 1989
Refurbished: 2016
Length: 103 m
Beam: 15 m
Passenger capacity (dbl): 120
Ship Amenities
Safe
Flat-Screen Television
Refrigerator
Hair Dryer
Phone
110-volts outlets only
Unlimited standard WiFi
Ship Facilities
Spa
Ocean Lounge & Bar
Swimming Pool
Grill Restaurant
Day Lounge Bar
Sun Deck
Fitness Centre
Beauty Salon
Restaurant
Filter results:
Currently we have no results for this ship, please click here to start a search and find something for you!





(DECK 6)
38 m²

AMMENITIES:

Storage draws
Marbled bathroom with walk-in shower
Fitted wardrobe with personal safe
Writing desk
Flat-screen TV
Refrigerator
Hair dryer
Phone
110-volts outlets only
Unlimited standard WiFi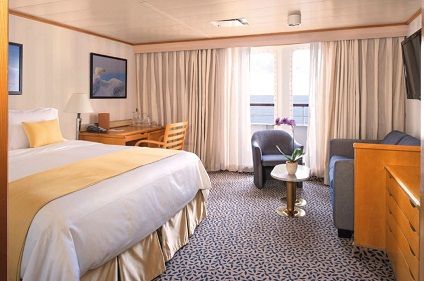 (DECK 6)
26 m²

AMMENITIES:

Storage draws
Marbled bathroom with walk-in shower
Fitted wardrobe with personal safe
Writing desk
Flat-screen TV
Refrigerator
Hair dryer
Phone
110-volts outlets only
Unlimited standard WiFi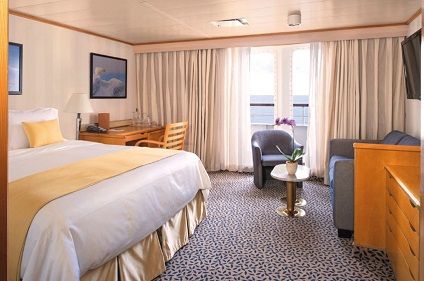 (DECK 6)
26 m²

AMMENITIES:

Storage draws
Marbled bathroom with walk-in shower
Fitted wardrobe with personal safe
Writing desk
Flat-screen TV
Refrigerator
Hair dryer
Phone
110-volts outlets only
Unlimited standard WiFi

(DECK 6)
25 m²

AMMENITIES:

Storage draws
Marbled bathroom with walk-in shower
Fitted wardrobe with personal safe
Writing desk
Flat-screen TV
Refrigerator
Hair dryer
Phone
110-volts outlets only
Unlimited standard WiFi

(DECK 5) 17 m²

AMMENITIES:

Storage draws
Marbled bathroom with walk-in shower
Fitted wardrobe with personal safe
Writing desk
Flat-screen TV
Refrigerator
Hair dryer
Phone
110-volts outlets only
Unlimited standard WiFi

(DECK 4) 17 m²

AMMENITIES:

Storage draws
Marbled bathroom with walk-in shower
Fitted wardrobe with personal safe
Writing desk
Flat-screen TV
Refrigerator
Hair dryer
Phone
110-volts outlets only
Unlimited standard WiFi

(DECK 3) 17 m²

AMMENITIES:

Storage draws
Marbled bathroom with walk-in shower
Fitted wardrobe with personal safe
Writing desk
Flat-screen TV
Refrigerator
Hair dryer
Phone
110-volts outlets only
Unlimited standard WiFi