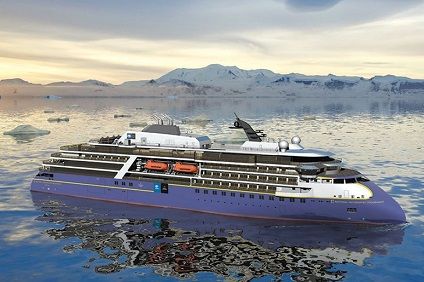 National Geographic Endurance is a next-generation expedition ship, purpose-built for polar navigation. A fully stabilized, highly strengthened, ice-class Polar Code PC5 (Category A) vessel, it is designed to navigate polar passages year-round, and safely explore unchartered waters, while providing exceptional comfort. Its patented X-BOW® is key to its design; its powerful wave-slicing action provides an extremely smooth ride in even adverse conditions, and even reduces spray on deck, for superior observation. She carries a full suite of expedition tools and offers a variety of experience-enhancing amenities.
Ship Profile & Stats
Maiden voyage: Apr 2020
Passenger capacity (dbl): 126
Ship Amenities
Individual Climate Control
Hair Dryer
Tablets USB/mobile device docking
Flat screen television
Wi-Fi connections
Ship Facilities
Observation Deck
Observation Lounge
Bistro
Bistro Bar
Sauna & Spa
Yoga Studio
Infinity Edge Swimming Pool
Gym
Lift(s)
Lounge
Restaurant
Medical Centre
Mudroom / Lockers
Kayak Storage
Zodiac Boarding
Filter results:
Currently we have no results for this ship, please click here to start a search and find something for you!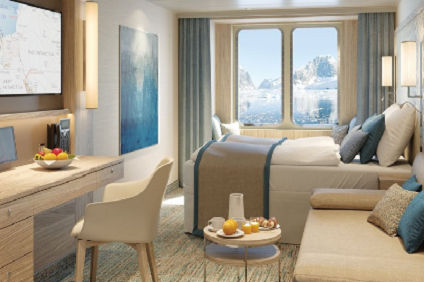 Cabins have two portholes, balcony and temperature controls. Bathrooms are modern and stocked with botanically inspired hair products, soap, and shower gel, plus a hairdryer. Cabins are equipped with expedition command centers with tablets and USB/mobile device docking, TVs, Wi-Fi connections, and hair dryers.

Cabins are located on Bridge Deck—Large Balcony Suite with large balcony, sofa bed, bathtub, walk-in closet 430 square ft. #700-707, 712, 714-717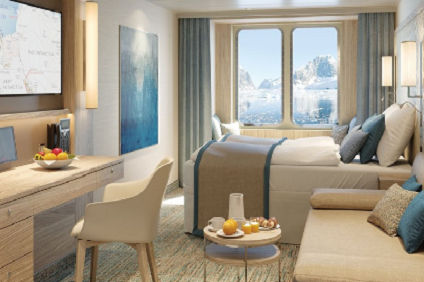 Cabins have two portholes, balcony and temperature controls. Bathrooms are modern and stocked with botanically inspired hair products, soap, and shower gel, plus a hairdryer. Cabins are equipped with expedition command centers with tablets and USB/mobile device docking, TVs, Wi-Fi connections, and hair dryers.

Cabins are located on ridge Deck—Junior Balcony Suite with large balcony, sofa bed 344 square ft. #710
Cabins have two portholes, balcony and temperature controls. Bathrooms are modern and stocked with botanically inspired hair products, soap, and shower gel, plus a hairdryer. Cabins are equipped with expedition command centers with tablets and USB/mobile device docking, TVs, Wi-Fi connections, and hair dryers.

Cabins are located on Bridge Deck—Suite with balcony and sofa 205 square ft. #708, 709, 711, 713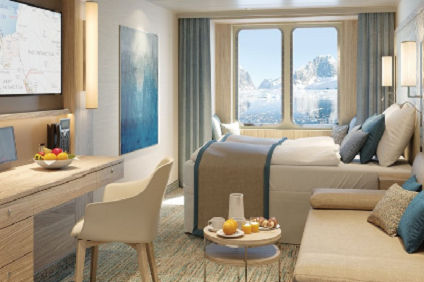 Cabins have two portholes, balcony and temperature controls. Bathrooms are modern and stocked with botanically inspired hair products, soap, and shower gel, plus a hairdryer. Cabins are equipped with expedition command centers with tablets and USB/mobile device docking, TVs, Wi-Fi connections, and hair dryers.

Cabins are located on Lounge Deck—Suite with balcony and sofa, 205 square ft. #608, 610, 612, 613-623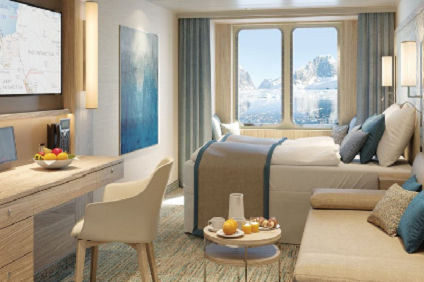 Cabins have two portholes, balcony and temperature controls. Bathrooms are modern and stocked with botanically inspired hair products, soap, and shower gel, plus a hairdryer. Cabins are equipped with expedition command centers with tablets and USB/mobile device docking, TVs, Wi-Fi connections, and hair dryers.

Cabins are located on Main Deck—Suite with balcony and sofa 205 square ft. #512-524
Cabins have two portholes, balcony and temperature controls. Bathrooms are modern and stocked with botanically inspired hair products, soap, and shower gel, plus a hairdryer. Cabins are equipped with expedition command centers with tablets and USB/mobile device docking, TVs, Wi-Fi connections, and hair dryers.

Cabins are located on Main Deck—Suite with balcony and sofa 140 square ft. #504-510, 513
Cabins have two portholes, balcony and temperature controls. Bathrooms are modern and stocked with botanically inspired hair products, soap, and shower gel, plus a hairdryer. Cabins are equipped with expedition command centers with tablets and USB/mobile device docking, TVs, Wi-Fi connections, and hair dryers.

Cabins are located on Lounge Deck—Suite with balcony and sofa 140 square ft. #604, 606, 609, 611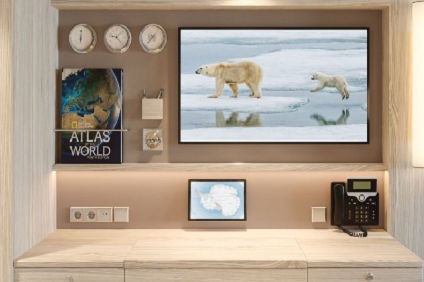 Cabins are located on Fore Deck with two large windows, Alcove seating, Relax chair 205 square ft. #410, 412, 414, 416-419, 421-427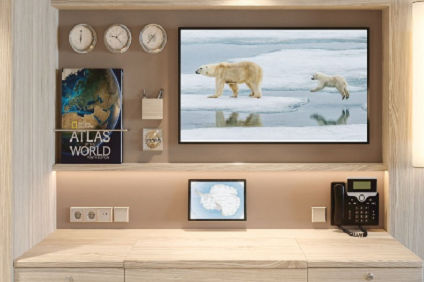 Cabins are located on Fore Deck with two large windows, Alcove seating, Relax chair 183 square ft. #406, 408, 411, 413, 415