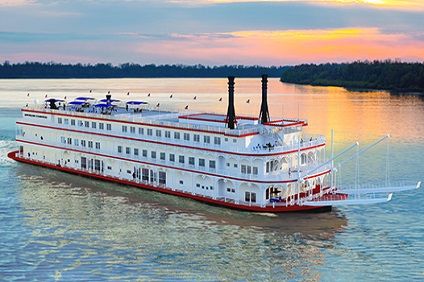 The newest gem in the American Queen Steamboat Company's riverboat fleet, American Countess welcomes 245 passengers along the Tennessee, Ohio, Cumberland, and Mississippi rivers. Her sleek, contemporary design offers plenty of open space for gathering and sharing the fun, and you'll love the great forward-facing windows and the portside bar with an 80-foot view.

Savor fresh, regional cuisine in the Grand Dining Room with its custom Italian fabrics and rich walnut accents, the floor to ceiling windows offering panoramic views of the shoreline morning, noon and night. Work out in the contemporary gym with its brand new equipment and a dramatic river backdrop. Relax or watch your flat-screen TV in the inviting surroundings of your stateroom with premium linens and plush bedding. Or make your way to the Card Room, Library or Theater for a friendly game, a new best-seller or live award-winning entertainment.

Be one of the first to experience her elegant décor as she makes her way down the mighty Mississippi from the Big Easy to the Home of the Blues.

Ship Profile & Stats
Maiden voyage: 1995
Refurbished: 2020
Length: 361 feet
Ship registration: USA
Passenger capacity (dbl): 245
Passenger space:
Crew nationality: American
Officer nationality: American
Dining nationality: American
Ship Amenities
Private Bathroom with shower
Flat screen television
24-Hour Room Service
Ship Facilities
Grand Dining Room
The Library
Grand Lobby
Card Room
The Theatre
River Grill
Chart Room
Fitness Centre
Perks Spa
10 Bikes
37 Walking Sticks
Filter results:
Currently we have no results for this ship, please click here to start a search and find something for you!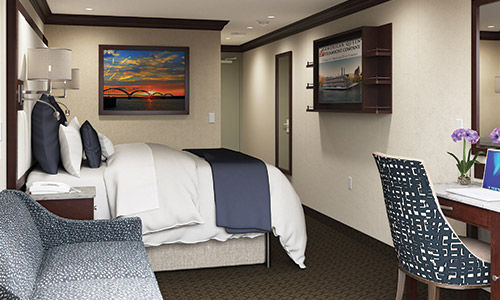 These suites offer the perfect respite from a busy day on the river. Settle in at your desk or relax on the couch, open the doors to your veranda, and peacefully watch the riverbanks of America's heartland drift by.

Note: Information provided here is a general representation of the category. Actual room configurations, features and amenities may vary slightly.

255 sq. ft. with 40-sq.-ft. private veranda
Queen bed or two single beds
Full bathroom with shower
Furnished lounge area with sofa and desk
Sliding doors open to veranda
Interior access
Cabin Deck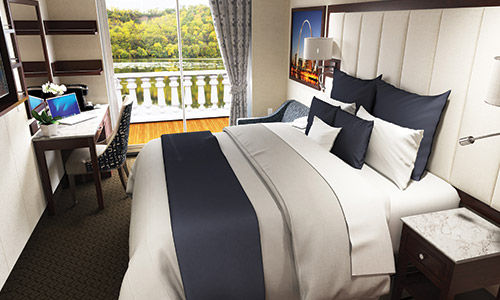 Start your morning on the river by opening sliding doors to enjoy fresh air and our gentle drifting past the picturesque landscapes. Indulge in some snacks on the deck outside your stateroom, socialize with fellow guests, or just enjoy a luxurious day of lounging.

Note: Information provided here is a general representation of the category. Actual room configurations, features and amenities may vary slightly.

220 sq. ft. with open veranda
Queen bed or two single beds
Full bathroom with shower
Furnished lounge area with sofa and desk
Sliding doors open to veranda
Interior and exterior access
Observation Deck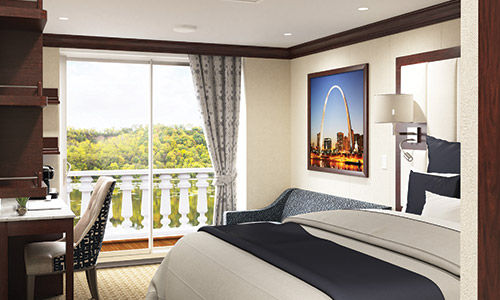 This intimate accommodation provides solace and solitude between exploring the vessel and venturing onshore. You will want for nothing in this home away from home on the water, with its deck access and convenient location.

Note: Information provided here is a general representation of the category. Actual room configurations, features and amenities may vary slightly.

180 sq. ft. with open veranda
Single bed
Full bathroom with shower
Furnished lounge area with sofa and desk
Sliding doors open to deck
Interior access
Observation Deck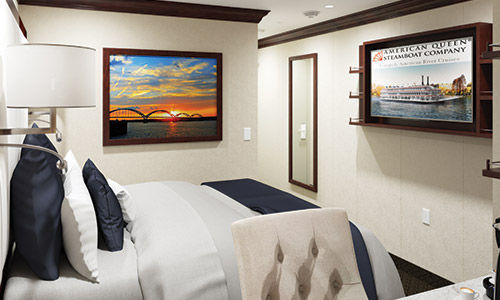 Our Interior Staterooms invite you to relax and unwind in modern comfort. These spaces offer a tranquil retreat in which you can feel at home on the river and prepare for exciting days brimming with fun activities.

Note: Information provided here is a general representation of the category. Actual room configurations, features and amenities may vary slightly.

170 sq. ft.
Queen bed or two single beds
Full bathroom with shower
Writing desk with chair
Interior access
Cabin and Observation Decks