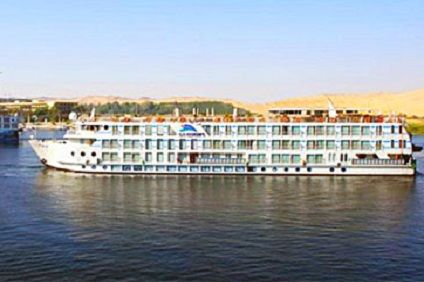 The Viking-operated MS Antares is a classic ship, your floating oasis as you immerse yourself in ancient Egypt. Specifically built to navigate the Nile, she is a spacious, state-of-the-art vessel with a refined, understated ambiance. Her spa facilities, Sun Deck, pool and revitalizing amenities provide a serene haven from which to explore this culturally rich destination. Accommodating just 62 guests, MS Antares offers the ultimate in comfort and relaxation.

Ship Profile & Stats
Passenger capacity (dbl): 62
Ship Amenities
Bottled water replenished daily
Plush Robes & Slippers on Request
Individual Climate Control
220 volt outlets
55" flat-screen LCD TV featuring CNN, CBC, MBC2, BEIN Sport & individual DVD and CD player
Hair Dryer
Refrigerator
Safe
Telephone
Ship Facilities
Laundry Service
Wi-Fi
Sun Deck
Pool
Spa
Gym
Hair Salon
Library
Shop
Bar
Lounge
Restaurant
Filter results:
Currently we have no results for this ship, please click here to start a search and find something for you!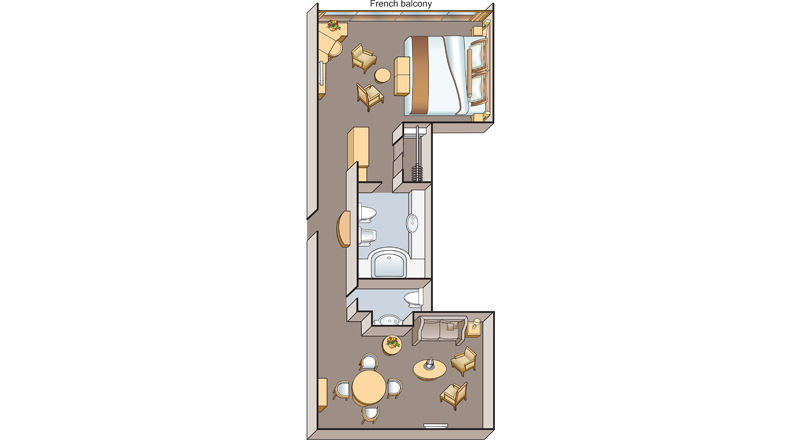 Stateroom size: 829 sq ft
River-view suite with spacious, separate sitting room & floor-to-ceiling sliding glass door, known as a French balcony offering views from both, port and starboard sides
Hotel-style bed (with optional twin-bed configuration); luxury linens & pillows
Free Wi-Fi (connection speed may vary)
55" flat-screen LCD TV featuring CNN, CBC, MBC2, BEIN Sport & individual DVD and CD player
220 volt outlets
Telephone, safe, refrigerator, hair dryer & individual climate control
Private bathroom with jet shower and jetted bathtub
Premium toiletries; plush robes & slippers available upon request
Bottled water replenished daily
Stateroom steward & twice-daily housekeeping
Roomy wardrobe with wooden hangers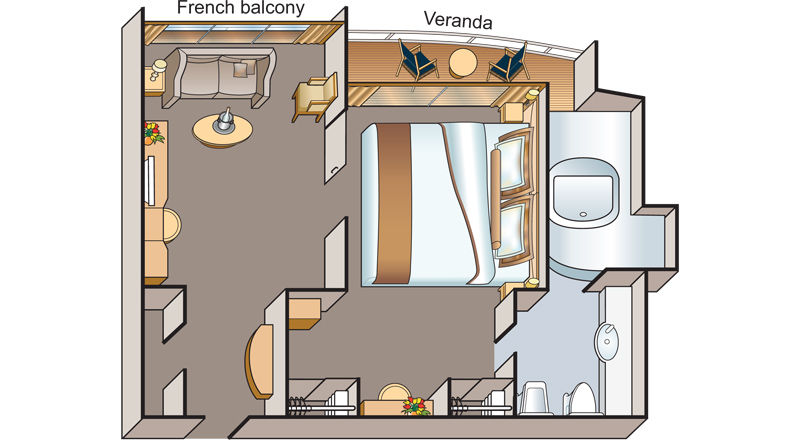 Stateroom size: 592 sq ft
River-view suite with floor-to-ceiling sliding glass door, known as a French balcony off the spacious, separate sitting room & full-size veranda in the sleeping quarters
Hotel-style bed (with optional twin-bed configuration); luxury linens & pillows
Free Wi-Fi (connection speed may vary)
55" flat-screen LCD TV featuring CNN, CBC, MBC2, BEIN Sport & individual DVD and CD player
220 volt outlets
Telephone, safe, refrigerator, hair dryer & individual climate control
Private bathroom with jet shower and jetted bathtub
Premium toiletries; plush robes & slippers available upon request
Bottled water replenished daily
Stateroom steward & twice-daily housekeeping
Roomy wardrobe with wooden hangers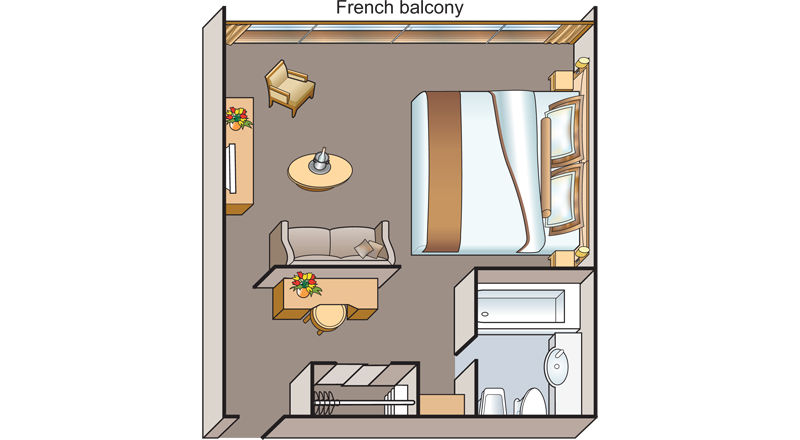 Stateroom size: 430 sq ft
River-view stateroom with with floor-to-ceiling sliding glass door to create a French balcony
Hotel-style bed (with optional twin-bed configuration); luxury linens & pillows
Free Wi-Fi (connection speed may vary)
55" flat-screen LCD TV featuring CNN, CBC, MBC2, BEIN Sport & individual DVD and CD player
220 volt outlets
Telephone, safe, refrigerator, hair dryer & individual climate control
Private bathroom with jet shower and jetted bathtub
Premium toiletries; plush robes & slippers available upon request
Bottled water replenished daily
Stateroom steward & twice-daily housekeeping
Roomy wardrobe with wooden hangers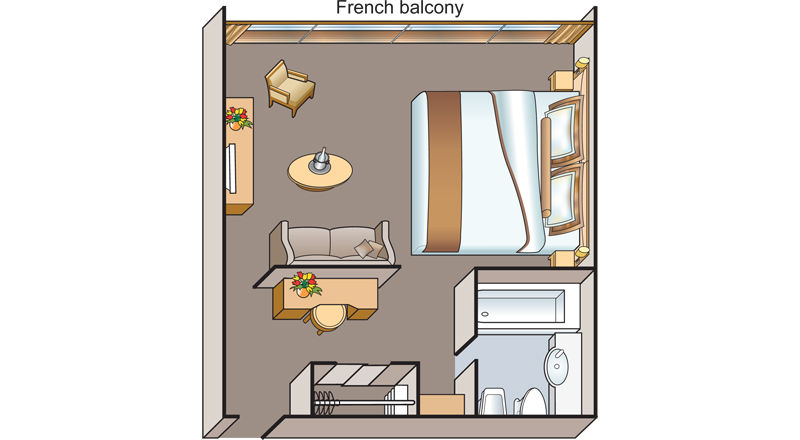 Stateroom size: 430 sq ft
River-view stateroom with with floor-to-ceiling sliding glass door to create a French balcony
Hotel-style bed (with optional twin-bed configuration); luxury linens & pillows
Free Wi-Fi (connection speed may vary)
55" flat-screen LCD TV featuring CNN, CBC, MBC2, BEIN Sport & individual DVD and CD player
220 volt outlets
Telephone, safe, refrigerator, hair dryer & individual climate control
Private bathroom with jet shower and jetted bathtub
Premium toiletries; plush robes & slippers available upon request
Bottled water replenished daily
Stateroom steward & twice-daily housekeeping
Roomy wardrobe with wooden hangers


Stateroom size: 430 sq ft
River-view stateroom with with floor-to-ceiling sliding glass door to create a French balcony
Hotel-style bed (with optional twin-bed configuration); luxury linens & pillows
Free Wi-Fi (connection speed may vary)
55" flat-screen LCD TV featuring CNN, CBC, MBC2, BEIN Sport & individual DVD and CD player
220 volt outlets
Telephone, safe, refrigerator, hair dryer & individual climate control
Private bathroom with jet shower and jetted bathtub
Premium toiletries; plush robes & slippers available upon request
Bottled water replenished daily
Stateroom steward & twice-daily housekeeping
Roomy wardrobe with wooden hangers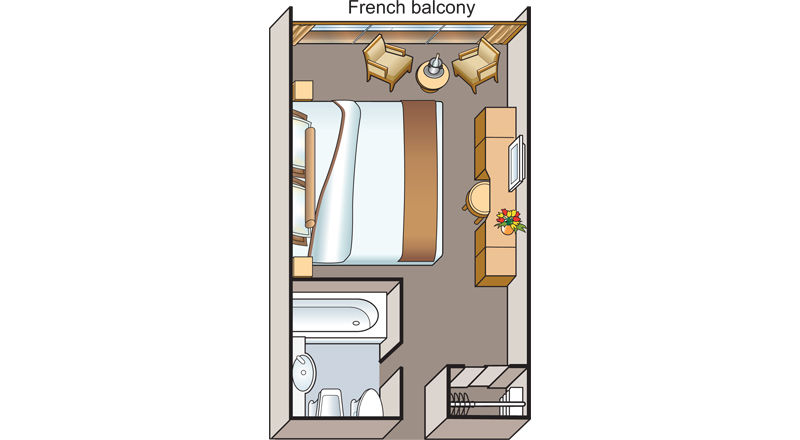 Stateroom size: 290 sq ft
River-view stateroom with with floor-to-ceiling sliding glass door to create a French balcony
Hotel-style bed (with optional twin-bed configuration); luxury linens & pillows
Free Wi-Fi (connection speed may vary)
55" flat-screen LCD TV featuring CNN, CBC, MBC2, BEIN Sport & individual DVD and CD player
220 volt outlets
Telephone, safe, refrigerator, hair dryer & individual climate control
Private bathroom with jet shower and jetted bathtub
Premium toiletries; plush robes & slippers available upon request
Bottled water replenished daily
Stateroom steward & twice-daily housekeeping
Roomy wardrobe with wooden hangers