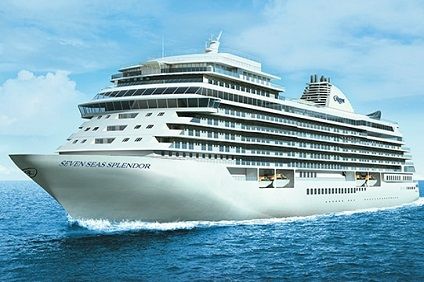 Seven Seas Splendor - luxury perfected.

Building on our long tradition of being the most inclusive luxury experience in the world, we are creating something beyond all expectations. We are yet again elevating a new standard for luxury by striving for the ultimate achievement — perfection.

In our pursuit to exceed your expectations, we are creating a work of art, from bow to stern. No expense, no effort and no detail is being spared in the design of our new ship. In the smallest details you will find care and meticulousness, and across opulent restaurants, spacious suites and sumptuous lounges, witness the majesty of expert craftsmanship and excellence in design.

Intricate marble patterns and soaring ceilings topped by sparkling chandeliers adorn your path throughout this exquisite ship. These inspired spaces foster a new level of sophisticated ambience that perfectly showcases everything Regent Seven Seas Cruises® has to offer. Wherever you turn, you will be enveloped in timeless elegance, absolute comfort and graceful hospitality, as you set off on journeys to explore awe-inspiring destinations around the world.

Your senses will be enchanted by sumptuous décor and unique art that perfectly flow from one area to the next. Similar to how you would happen upon an inviting café on an afternoon stroll, Coffee Connection is one of the spaces that once you discover, you will find yourself returning to again and again. Plus, with our NEW alfresco area, you may even sip your cappuccino while taking in the views. And this is just the beginning.

At every turn, Seven Seas Splendor™ exudes excellence, comfort, and grace; the perfect way to arrive at the places you've always dreamed of exploring.
Ship Profile & Stats
Maiden voyage: February 2020
Tonnage: 55,254
Length: 735 ft
Beam: 102 ft
Draft: 23 ft
Speed: 19.5 knots
Ship registration: Marshall Islands
Passenger capacity (dbl): 750
Crew nationality: International
Officer nationality: European
Ship Amenities
Interactive Flat-Screen Television
Direct-Dial Satellite Phone
Hair Dryer
Regent Plush Bathrobes and Slippers
Personalized In-Suite Mini-Bar Set-Up
Ship Facilities
Coffee Connection
Pacific Rim
Chartreuse
Prime 7
Compass Rose
Sette Mari At La Veranda
Constellation Theatre
Boutiques
Splendor Lounge
Casino
Business Centre
Meridian Lounge
Spa
Infinity Pool
Gym
Jogging Track
Sports Deck
Shuffle Board
Bocce Court
Golf Net
Paddle Tennis Court
Pool Grill
Pool Bar
Swimning Pool
Culinary Arts Kitchen
Library
Card Room
Observation Lounge
Connoisseur Club
The Study
Filter results:
Currently we have no results for this ship, please click here to start a search and find something for you!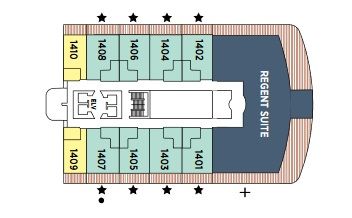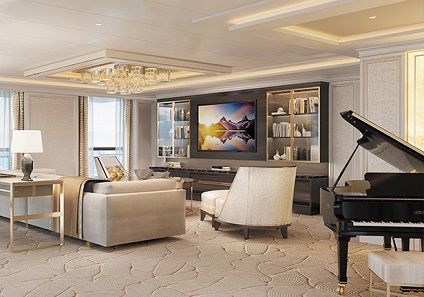 LAYOUT:
Private Balcony - Among the Largest at Sea
2 Spacious Bedrooms
Spacious Living Room With Sitting Area
2 1/2 Marble and Stone Detailed
Bathrooms
Private In-suite Spa with Sauna,
Steam Room and Jetted Tub
3 Walk-in Closets, 2 Safes

HIGHLIGHTS:
FREE 1-Night Pre-Cruise Hotel Package Including:
- FREE Ground Transfers
- FREE Breakfast
- FREE Porterage
FREE Unlimited WiFi includes up to four logins, four devices, per suite*
FREE Personal Car and Guide to Explore Ashore*
FREE Unlimited In-Suite Spa Services*
FREE Unlimited Laundry and Dry Cleaning*
Personal Butler
Luxurious Bath Amenities
Daily Canapés
Personalized In-Suite Full-Liquor
Bar Set-Up
Priority boarding on embarkation day with suite access at Noon
Interactive Flat-Screen Television and Direct-Dial Satellite Phone
Vanity and Hair Dryer
Regent Plush Bathrobes and Slippers
Priority Online Shore Excursions and Dining Reservations
10% Discount on Premium Wine and Liquor
5% Discount on Regent Choice Shore Excursions, Hotel and Land Programs

DIMENSIONS:
Suite: 3,026 ft2 (281.1 m2)
Balcony: 1,417 ft2 (131.6 m2)
Suite measurements are approximate,
and furniture placement may be
different than as depicted in
photographs. Driver may serve as
the personalized guide or another
guide will be provided.
In-Suite Spa Service is subject to
availability based on the treatment.
Private Sedan transfers apply per
household up to 100 miles. Credit
will not be provided if the services
are declined.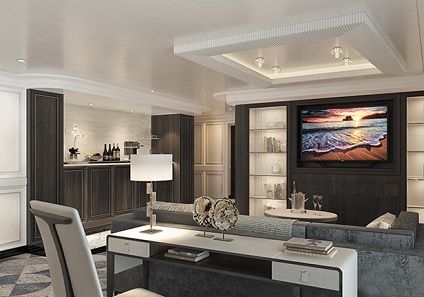 LAYOUT:
Private Balcony - Among the Largest at Sea
2 Spacious Bedrooms with European King-Sized Elite Slumber™ Bed
Spacious Living Room With Sitting Area
2 Marble and Stone Detailed Bathrooms
Walk-in Closet With Safe

DIMENSIONS
Suite: 1,114-1,064 ft2 (103.5 – 98.8 m2)
Balcony: 994-831 ft2 (92.3-77.2 m2)
Suite measurements are approximate,
and those in same category may vary
in size. Furniture placement may be
different than as depicted in
photographs.

HIGHLIGHTS:
FREE 1-Night Pre-Cruise Hotel Package Including:
- FREE Ground Transfers
- FREE Breakfast
- FREE Porterage
FREE Unlimited WiFi includes up to four logins, four devices, per suite*
Personal Butler
Luxurious Bath Amenities
Interactive Flat-Screen Television and Direct-Dial Satellite Phone
Vanity and Hair Dryer
Regent Plush Bathrobes and Slippers
Daily Canapés
Personalized In-Suite Mini-Bar
Set-Up
Priority boarding on embarkation day with suite access at Noon
Priority Online Shore Excursions and Dining Reservations
10% Discount on Premium Wine and Liquor
5% Discount on Regent Choice Shore Excursions, Hotel and Land Programs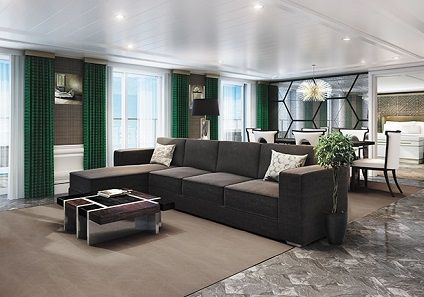 LAYOUT:
Private Balcony - Among the Largest at Sea
1 Spacious Bedroom with European King-Sized Elite Slumber™ Bed
Spacious Living Room With Sitting Area
2 Marble and Stone Detailed Bathrooms
Walk-in Closet With Safe

DIMENSIONS:
Suite: 1,013 – 854 ft2 (94.1 – 79.3 m2)
Balcony: 916 – 277 ft2 (85.1 – 25.7 m2)
Suite measurements are approximate,
and those in same category may vary
in size. Furniture placement may be
different than as depicted in
photographs.

HIGHLIGHTS:
FREE 1-Night Pre-Cruise Hotel Package Including:
- FREE Ground Transfers
- FREE Breakfast
- FREE Porterage
FREE Unlimited WiFi includes up to four logins, four devices, per suite*
Personal Butler
Luxurious Bath Amenities
Interactive Flat-Screen Television and Direct-Dial Satellite Phone
Vanity and Hair Dryer
Regent Plush Bathrobes and Slippers
Daily Canapés
Personalized In-Suite Mini-Bar
Set-Up
Priority boarding on embarkation day with suite access at Noon
Priority Online Shore Excursions and Dining Reservations
10% Discount on Premium Wine and Liquor
5% Discount on Regent Choice Shore Excursions, Hotel and Land Programs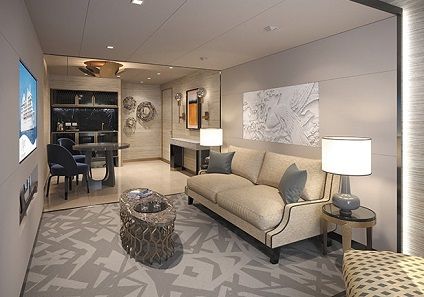 LAYOUT:
Private Balcony - Among the Largest at Sea
1 Spacious Bedroom with European King-Sized Elite Slumber™ Bed
Spacious Living Room With Sitting Area
1 1/2 Marble and Stone Detailed Bathrooms
Walk-in Closet With Safe

DIMENSIONS:
Suite: 655 ft2 (60.8 m2)
Balcony: 263 – 166 ft2 (24.4 – 15.4 m2)
Suite measurements are approximate,
and those in same category may vary
in size. Furniture placement may be
different than as depicted in
photographs.

HIGHLIGHTS:
FREE 1-Night Pre-Cruise Hotel Package Including:
- FREE Ground Transfers
- FREE Breakfast
- FREE Porterage
FREE Unlimited WiFi includes up to four logins, four devices, per suite*
Personal Butler
Luxurious Bath Amenities
Interactive Flat-Screen Television and Direct-Dial Satellite Phone
Vanity and Hair Dryer
Regent Plush Bathrobes and Slippers
Daily Canapés
Personalized In-Suite Mini-Bar
Set-Up
Priority boarding on Embarkation Day with Suite Access at 1:00 pm
Priority Online Shore Excursions and Dining Reservations
10% Discount on Premium Wine and Liquor
5% Discount on Regent Choice Shore Excursions, Hotel and Land Programs

LAYOUT:
Private Balcony - Among the Largest at Sea
1 Spacious Bedroom with European King-Sized Elite Slumber™ Bed
Spacious Living Room With Sitting Area
1 1/2 Marble and Stone Detailed Bathrooms
Walk-in Closet With Safe

DIMENSIONS:
Suite: 655 – 577 ft2 (60.8 – 53.6 m2)
Balcony: 237 – 166 ft2 (22.1 – 15.4 m2)
Suite measurements are approximate,
and those in same category may vary
in size. Furniture placement may be
different than as depicted in
photographs.

HIGHLIGHTS:
FREE 1-Night Pre-Cruise Hotel Package Including:
- FREE Ground Transfers
- FREE Breakfast
- FREE Porterage
FREE Unlimited WiFi includes up to four logins, four devices, per suite*
Personal Butler
Luxurious Bath Amenities
Interactive Flat-Screen Television and Direct-Dial Satellite Phone
Vanity and Hair Dryer
Regent Plush Bathrobes and Slippers
Daily Canapés
Personalized In-Suite Mini-Bar
Set-Up
Priority boarding on Embarkation Day with Suite Access at 1:00 pm
Priority Online Shore Excursions and Dining Reservations
10% Discount on Premium Wine and Liquor
5% Discount on Regent Choice Shore Excursions, Hotel and Land Programs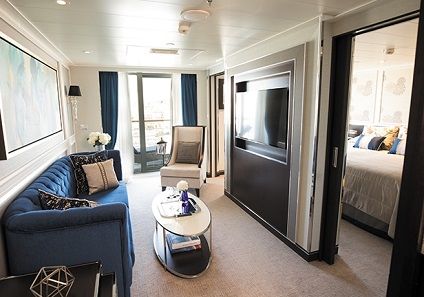 LAYOUT:
Private Balcony - Among the Largest at Sea
European King-Sized Elite Slumber™ Bed
Spacious Living Room With Sitting Area
1 Marble and Stone Detailed Bathroom
Walk-in Closet With Safe

DIMENSIONS:
Suite: 448 ft2 (41.6 m2)
Balcony: 176 – 111 ft2 (16.3 – 10.3 m2)
Suite measurements are approximate,
and those in same category may vary
in size. Furniture placement may be
different than as depicted in
photographs.

HIGHLIGHTS:
FREE 1-Night Pre-Cruise Hotel Package Including:
- FREE Ground Transfers
- FREE Breakfast
- FREE Porterage
FREE Unlimited WiFi includes up to four logins, four devices, per suite*
Personal Butler
Luxurious Bath Amenities
Interactive Flat-Screen Television and Direct-Dial Satellite Phone
Vanity and Hair Dryer
Regent Plush Bathrobes and Slippers
Daily Canapés
Personalized In-Suite Mini-Bar
Set-Up
Priority Online Shore Excursions and Dining Reservations
10% Discount on Premium Wine and Liquor
5% Discount on Regent Choice Shore Excursions, Hotel and Land Programs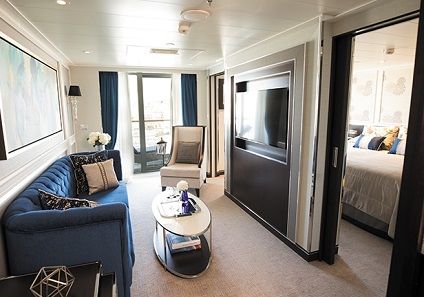 LAYOUT:
Private Balcony - Among the Largest at Sea
European King-Sized Elite Slumber™ Bed
Spacious Living Room With Sitting Area
1 Marble and Stone Detailed Bathroom
Walk-in Closet With Safe

DIMENSIONS:
Suite: 448 ft2 (41.6 m2)
Balcony: 176 – 111 ft2 (16.3 – 10.3 m2)
Suite measurements are approximate,
and those in same category may vary
in size. Furniture placement may be
different than as depicted in
photographs.

HIGHLIGHTS:
FREE 1-Night Pre-Cruise Hotel Package Including:
- FREE Ground Transfers
- FREE Breakfast
- FREE Porterage
FREE Unlimited WiFi includes up to four logins, four devices, per suite*
Personal Butler
Luxurious Bath Amenities
Interactive Flat-Screen Television and Direct-Dial Satellite Phone
Vanity and Hair Dryer
Regent Plush Bathrobes and Slippers
Daily Canapés
Personalized In-Suite Mini-Bar
Set-Up
Priority Online Shore Excursions and Dining Reservations
10% Discount on Premium Wine and Liquor
5% Discount on Regent Choice Shore Excursions, Hotel and Land Programs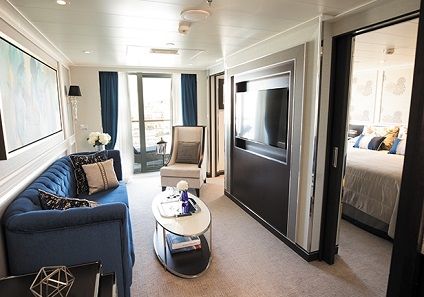 LAYOUT:
Private Balcony - Among the Largest at Sea
European King-Sized Elite Slumber™ Bed
Spacious Living Room With Sitting Area
1 Marble and Stone Detailed Bathroom
Walk-in Closet With Safe

DIMENSIONS:
Suite: 448 ft2 (41.6 m2)
Balcony: 194 – 111 ft2 (18.2 – 10.3 m2)
Suite measurements are approximate,
and those in same category may vary
in size. Furniture placement may be
different than as depicted in
photographs.

HIGHLIGHTS:
FREE 1-Night Pre-Cruise Hotel Package Including:
- FREE Ground Transfers
- FREE Breakfast
- FREE Porterage
FREE Unlimited WiFi includes up to four logins, four devices, per suite*
Personal Butler
Luxurious Bath Amenities
Interactive Flat-Screen Television and Direct-Dial Satellite Phone
Vanity and Hair Dryer
Regent Plush Bathrobes and Slippers
Daily Canapés
Personalized In-Suite Mini-Bar
Set-Up
Priority Online Shore Excursions and Dining Reservations
10% Discount on Premium Wine and Liquor
5% Discount on Regent Choice Shore Excursions, Hotel and Land Programs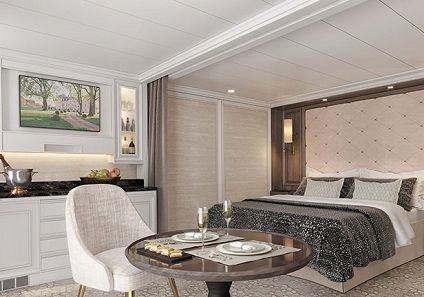 LAYOUT:
Private Balcony - Among the Largest at Sea
European King-Sized Elite Slumber™ Bed
Spacious Living Room With Sitting Area
1 Marble and Stone Detailed Bathroom
Walk-in Closet With Safe

DIMENSIONS:
Suite: 332 ft2 (30.8 m2)
Balcony: 132 – 83 ft2 (12.2 – 7.7 m2)
Suite measurements are approximate,
and those in same category may vary
in size. Furniture placement may be
different than as depicted in
photographs.

HIGHLIGHTS:
FREE 1-Night Pre-Cruise Hotel Package Including:
- FREE Ground Transfers
- FREE Breakfast
- FREE Porterage
FREE Unlimited WiFi includes up to four logins, four devices, per suite*
Luxurious Bath Amenities
Interactive Flat-Screen Television and Direct-Dial Satellite Phone
Vanity and Hair Dryer
Regent Plush Bathrobes and Slippers
Personalized In-Suite Mini-Bar
Set-Up
Priority Online Shore Excursions and Dining Reservations
10% Discount on Premium Wine and Liquor
5% Discount on Regent Choice Shore Excursions, Hotel and Land Programs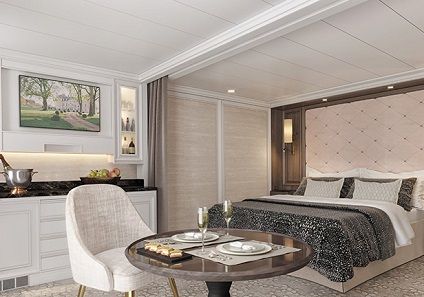 LAYOUT:
Private Balcony - Among the Largest at Sea
European King-Sized Elite Slumber™ Bed
Spacious Living Room With Sitting Area
1 Marble and Stone Detailed Bathroom
Walk-in Closet With Safe

DIMENSIONS:
Suite: 332 ft2 (30.8 m2)
Balcony: 132 - 115 ft2 (12.2 - 10.6 m2)
Suite measurements are approximate,
and those in same category may vary
in size. Furniture placement may be
different than as depicted in
photographs.

HIGHLIGHTS:
FREE 1-Night Pre-Cruise Hotel Package Including:
- FREE Ground Transfers
- FREE Breakfast
- FREE Porterage
FREE Unlimited WiFi includes up to four logins, four devices, per suite*
Luxurious Bath Amenities
Interactive Flat-Screen Television and Direct-Dial Satellite Phone
Vanity and Hair Dryer
Regent Plush Bathrobes and Slippers
Personalized In-Suite Mini-Bar
Set-Up
Priority Online Shore Excursions and Dining Reservations
10% Discount on Premium Wine and Liquor
5% Discount on Regent Choice Shore Excursions, Hotel and Land Programs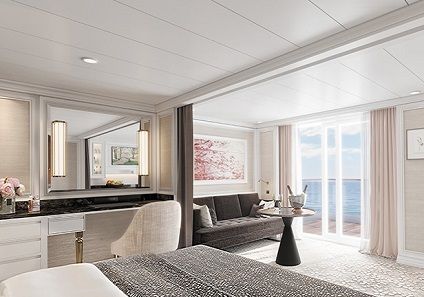 LAYOUT:
Private Balcony
European King-Sized Elite Slumber™ Bed
Spacious Living Room With Sitting Area
1 Marble and Stone Detailed Bathroom
Walk-in Closet With Safe

DIMENSIONS:
Suite: 332 ft2 (30.8 m2)
Balcony: 132 – 83 ft2 (12.2 – 7.7 m2)
Suite measurements are approximate,
and those in same category may vary
in size. Furniture placement may be
different than as depicted in
photographs.

HIGHLIGHTS:
FREE Unlimited WiFi includes one log-in, one device, per suite*
Luxurious Bath Amenities
Interactive Flat-Screen Television and Direct-Dial Satellite Phone
Vanity and Hair Dryer
Regent Plush Bathrobes and Slippers
Personalized In-Suite Mini-Bar
Set-Up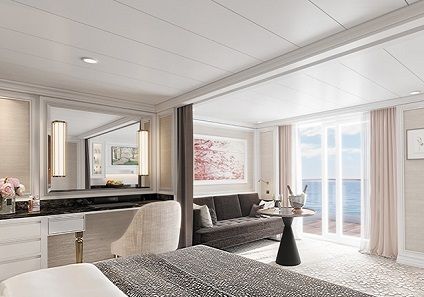 LAYOUT:
Private Balcony
European King-Sized Elite Slumber™ Bed
Spacious Living Room With Sitting Area
1 Marble and Stone Detailed Bathroom
Walk-in Closet With Safe

DIMENSIONS:
Suite: 332 ft2 (30.8 m2)
Balcony: 115 - 83 ft2 (12.2 - 7.7 m2)
Suite measurements are approximate,
and those in same category may vary
in size. Furniture placement may be
different than as depicted in
photographs.

HIGHLIGHTS:
FREE Unlimited WiFi includes one log-in, one device, per suite*
Luxurious Bath Amenities
Interactive Flat-Screen Television and Direct-Dial Satellite Phone
Vanity and Hair Dryer
Regent Plush Bathrobes and Slippers
Personalized In-Suite Mini-Bar
Set-Up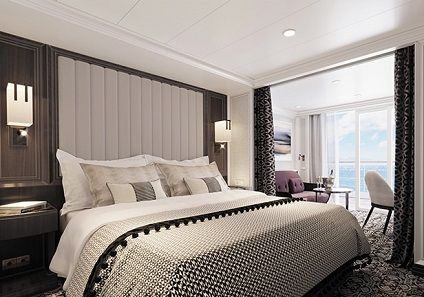 LAYOUT:
Private Balcony
European Queen Size Elite Slumber™ Bed
Spacious Living Room With Sitting Area
1 Marble and Stone Detailed Bathroom
Built-in Closet With Safe

DIMENSIONS:
Suite: 253 ft2 (23.5 m2)
Balcony: 88 ft2 (8 m2)
Suite measurements are approximate,
and those in same category may vary
in size. Furniture placement may be
different than as depicted in
photographs.

HIGHLIGHTS:
FREE Unlimited WiFi includes one log-in, one device, per suite*
Luxurious Bath Amenities
Interactive Flat-Screen Television and Direct-Dial Satellite Phone
Vanity and Hair Dryer
Regent Plush Bathrobes and Slippers
Personalized In-Suite Mini-Bar
Set-Up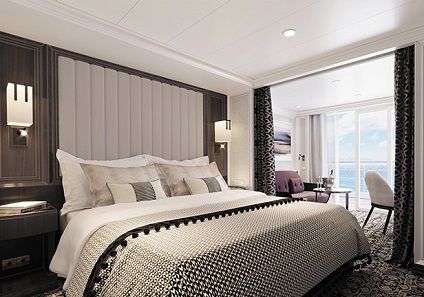 LAYOUT:
Private Balcony
European Queen Size Elite Slumber™ Bed
Spacious Living Room With Sitting Area
1 Marble and Stone Detailed Bathroom
Built-in Closet With Safe

DIMENSIONS:
Suite: 253 ft2 (23.5 m2)
Balcony: 108 – 55 ft2 (10 – 5 m2)
Suite measurements are approximate,
and those in same category may vary
in size. Furniture placement may be
different than as depicted in
photographs.

HIGHLIGHTS:
FREE Unlimited WiFi includes one log-in, one device, per suite*
Luxurious Bath Amenities
Interactive Flat-Screen Television and Direct-Dial Satellite Phone
Vanity and Hair Dryer
Regent Plush Bathrobes and Slippers
Personalized In-Suite Mini-Bar
Set-Up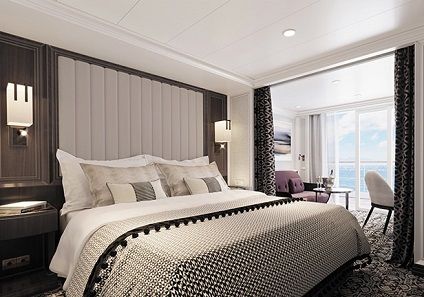 LAYOUT:
Private Balcony
European Queen Size Elite Slumber™ Bed
Spacious Living Room With Sitting Area
1 Marble and Stone Detailed Bathroom
Built-in Closet With Safe

DIMENSIONS:
Suite: 219 ft2 (20 m2)
Balcony: 88 ft2 (8 m2)
Suite measurements are approximate,
and those in same category may vary
in size. Furniture placement may be
different than as depicted in
photographs.

HIGHLIGHTS:
FREE Unlimited WiFi includes one log-in, one device, per suite*
Luxurious Bath Amenities
Interactive Flat-Screen Television and Direct-Dial Satellite Phone
Vanity and Hair Dryer
Regent Plush Bathrobes and Slippers
Personalized In-Suite Mini-Bar
Set-Up