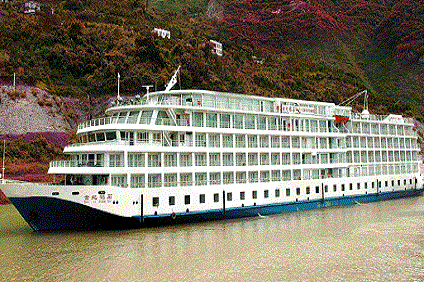 In designing our ships, we sacrificed additional cabins to offer more recreational choices and spaces, much more than other river cruise ships. So whatever your interests are , we have catered to them on board because what we believe is the comfort and entertainment of the journey is just as important as the destination.

Atrium Lobby
5-Story Grand and Classical Atrium Lobby with a transparent canopy that allows sunshine speading over each corner of the cruise.
This is a brandnew and innovative design first introduced by Century Cruises to Yangtze river cruises in 2005.

Spacious Observation Lounge
The main lounge is a large, tasteful area where passengers can enjoy a drink and take in the splendor of the waterways. During the evening, it features a variety of entertainment and music performances reflecting local customs and traditions.

Panoramic Restaurant
The fine dining restaurant offers an intimate atmosphere, succulent food with the kind of style and grace only found in world-class establishments.

A La Carte Restaurant
Sophisticated and Elegent A La Carte Restaurant with a specific western kitchen facilities providing you authentic home style cuisine. It is a place with luxury and dignity to your taste.

The Sun Deck
Absorb the 360° panorama from the ship's Sun Deck in comfortable lounge chairs. Unlike most other river cruises, an additional lounge bar is situated on the Sun Deck, truly a wonderful way to rejuvenate your spirits.

Fitness Center and Massage
The fitness center will provide you adequate exercise opportunities, complete with weights, a treadmill.
Massage is also available by appointment, including full body, head and shoulders, and foot massage.

The Library
A peaceful area, the on-board library is comprised of comfortable couches and shelves containing books to suit all tastes.

Internet Cafe
Internet is accessible in our Internet Cafe with 24 hrs available.
Ship Profile & Stats
Maiden voyage: 2008
Tonnage: 7142
Length: 110 m
Beam: 16.8 m
Draft: 2.6 m
Speed: 26 km/h
Passenger capacity (dbl): 264
Ship Amenities
Hair Dryer
Safety Box
Satellite Television
Ship Facilities
Internet Cafe
Library
Health Clinic
Fitness Centre and Massage
Sun Deck
A La Carte Restaurant
Panoramic Restaurant
Observation Lounge
Filter results:
Currently we have no results for this ship, please click here to start a search and find something for you!