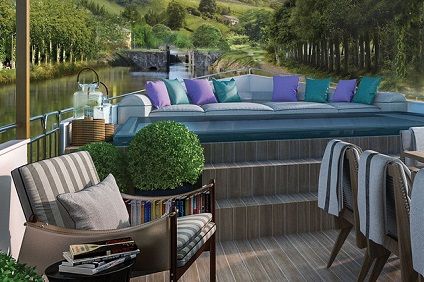 Soak up the scenery of Alsace aboard Belmond Lilas launching in 2017.

Step in and discover the casual, welcoming atmosphere of Belmond Lilas. Vibrant colours reflect the barge's namesake lilacs and the rich wines of Alsace. Natural linens, handcrafted ironwork and timber wood furnishings add to the rustic charm.

Four generous cabins offer king or twin beds, hosting up to eight guests. Soak up the sun while relaxing in the heated pool on deck, or relax in the shade under the canopy. Sit down to a sensational dinner in the formal dining room. Savour lunch in the lounge, with full-width doors that open up for an alfresco atmosphere.

Journey to the grand city of Strasbourg, soaking up the postcard-perfect views en-route. Experience the unique Arzviller boat lift, a marvel of engineering which lifts and lowers boats an impressive 148 feet.

Belmond Lilas is available for private hire.
Ship Profile & Stats
Maiden voyage: 2017
Length: 39 m
Beam: 5.05 m
Passenger capacity (dbl): 8
Ship Facilities
Heated Pool
Dining Room
Lounge
Sun Deck
Filter results:
Currently we have no results for this ship, please click here to start a search and find something for you!