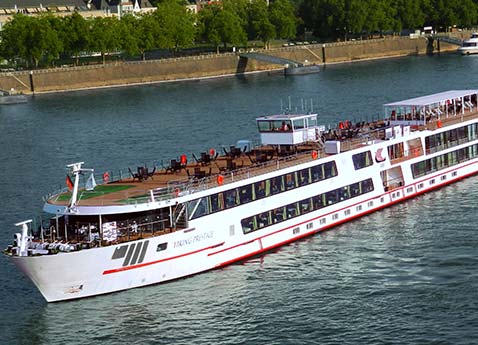 Built in 2009 and 2011, the award-winning Viking Legend and Viking Prestige host just 188 guests on some of our most popular itineraries. These sleek vessels offer deluxe accommodations, streamlined Scandinavian interiors and sweeping river views, plus hybrid engines.
Ship Profile & Stats
Maiden voyage: 2011
Passenger capacity (dbl): 188
Crew nationality: European
Officer nationality: European
Dining nationality: European
Ship Amenities
Bathrobe & slippers upon request
Sony 26" flat-panel TV with video on demand plus CNBC, CNN, ESPN, FOX, National Geographic & more
Telephone
Safe
Refrigerator
Hair Dryer
Individual Climate Control
Bottled water replenished daily
Voltage: 220V & 115V in stateroom
Ship Facilities
Lounge
Restaurant
Aquavit Terrace
Sun Deck
Bar
Library
Boutique
Free wireless internet
Laundry Service
Filter results:
Currently we have no results for this ship, please click here to start a search and find something for you!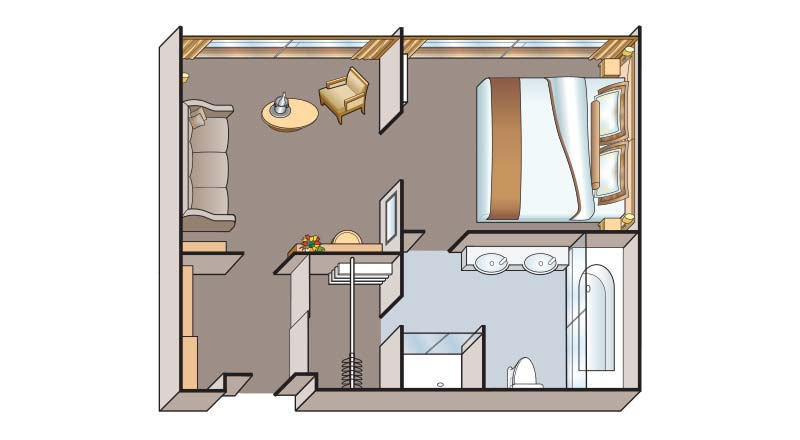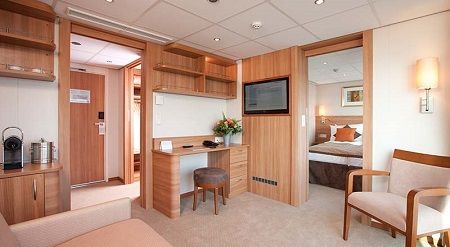 Suite size: 337 sq. ft.
Hotel-style beds 79 inches x 63 inches (with optional twin-bed configuration)
French balconies (floor-to-ceiling sliding glass doors)
Large private bathroom with bathtub, shower and premium bath products
Bathrobe and slippers available upon request
Telephone, refrigerator, safe, hair dryer & bottled water replenished daily
Individual climate control
Sofa in seating area
Space under bed for storing suitcases
Walk-in closet with wooden hangers
Voltage: 220V and 115V in stateroom
Two Sony 32-inch flat-panel TVs with premium entertainment package including: CNBC, CNN, National Geographic, MGM Movies, Sky Cinema, videos on demand and "View From the Bridge"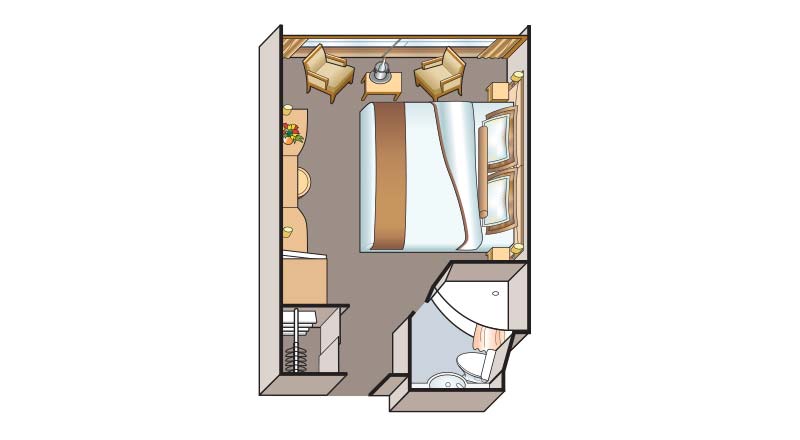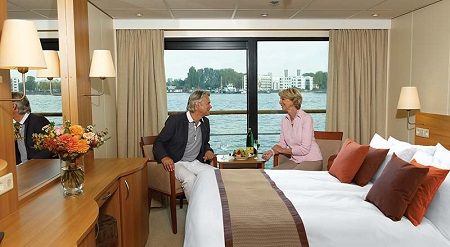 Stateroom size: 170 sq. ft.
Hotel-style beds 79 inches x 63 inches (with optional twin-bed configuration)
French balconies (floor-to-ceiling sliding glass doors)
Private bathroom with shower and premium bath products
Bathrobe and slippers available upon request
Telephone, refrigerator, safe, hair dryer & bottled water replenished daily
Individual climate control
Space under bed for storing suitcases
Roomy wardrobe with wooden hangers
Voltage: 220V and 115V in stateroom
Sony 32-inch flat-panel TV with premium entertainment package including: CNBC, CNN, National Geographic, MGM Movies, Sky Cinema, videos on demand and "View From the Bridge"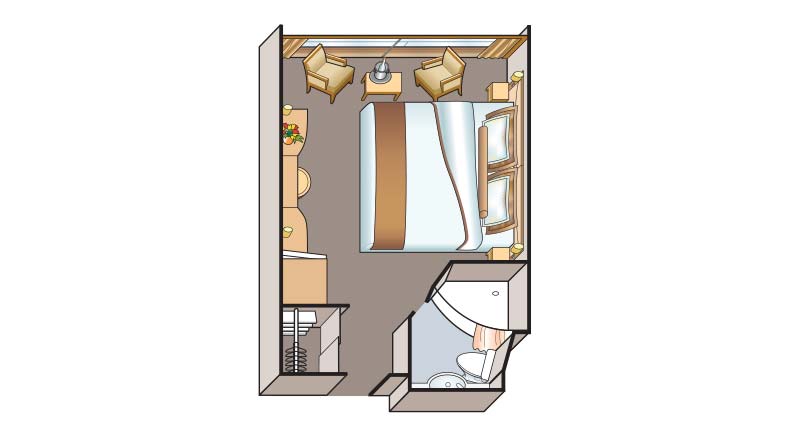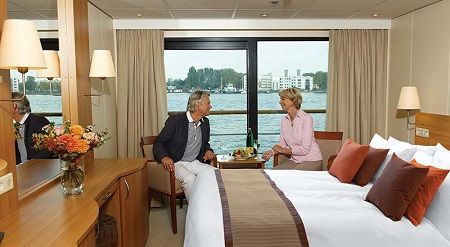 Stateroom size: 170 sq. ft.
Hotel-style beds 79 inches x 63 inches (with optional twin-bed configuration)
French balconies (floor-to-ceiling sliding glass doors)
Private bathroom with shower and premium bath products
Bathrobe and slippers available upon request
Telephone, refrigerator, safe, hair dryer & bottled water replenished daily
Individual climate control
Space under bed for storing suitcases
Roomy wardrobe with wooden hangers
Voltage: 220V and 115V in stateroom
Sony 32-inch flat-panel TV with premium entertainment package including: CNBC, CNN, National Geographic, MGM Movies, Sky Cinema, videos on demand and "View From the Bridge"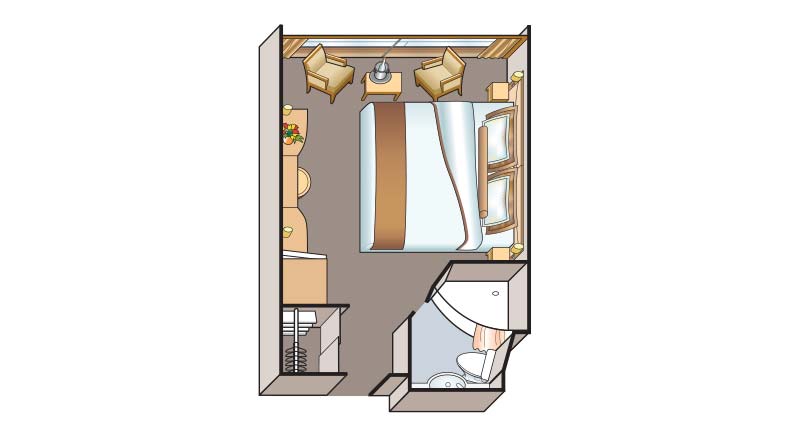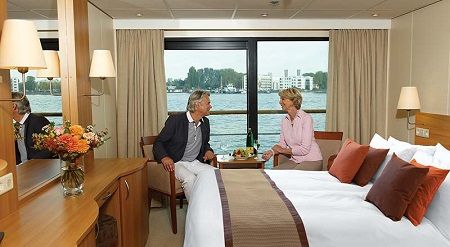 Stateroom size: 170 sq. ft.
Hotel-style beds 79 inches x 63 inches (with optional twin-bed configuration)
French balconies (floor-to-ceiling sliding glass doors)
Private bathroom with shower and premium bath products
Bathrobe and slippers available upon request
Telephone, refrigerator, safe, hair dryer & bottled water replenished daily
Individual climate control
Space under bed for storing suitcases
Roomy wardrobe with wooden hangers
Voltage: 220V and 115V in stateroom
Sony 32-inch flat-panel TV with premium entertainment package including: CNBC, CNN, National Geographic, MGM Movies, Sky Cinema, videos on demand and "View From the Bridge"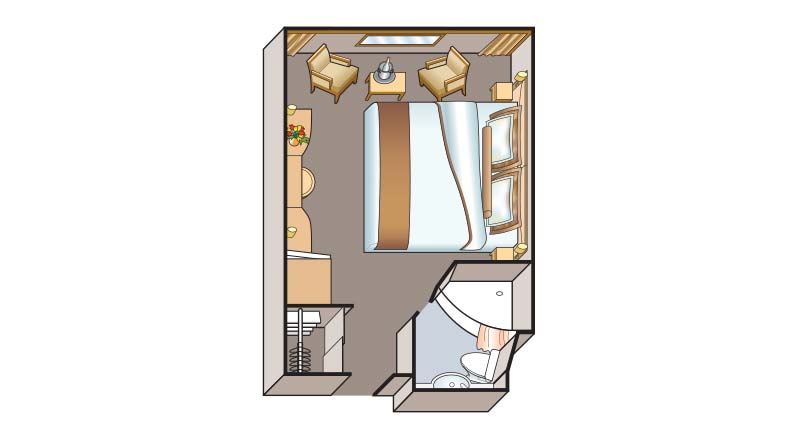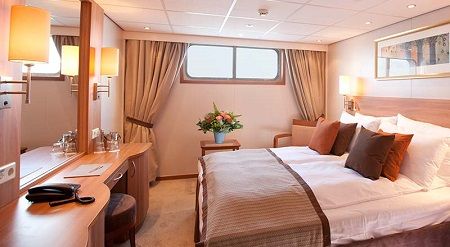 Stateroom size: 170 sq. ft.
Hotel-style beds 79 inches x 63 inches (with optional twin-bed configuration)
Half-high picture window 4.76 ft. x 2.13 ft. (cannot be opened)
Private bathroom with shower and premium bath products
Bathrobe and slippers available upon request
Telephone, refrigerator, safe, hair dryer & bottled water replenished daily
Individual climate control
Space under bed for storing suitcases
Roomy wardrobe with wooden hangers
Voltage: 220V and 115V in stateroom
Sony 32-inch flat-panel TV with premium entertainment package including: CNBC, CNN, National Geographic, MGM Movies, Sky Cinema, videos on demand and "View From the Bridge"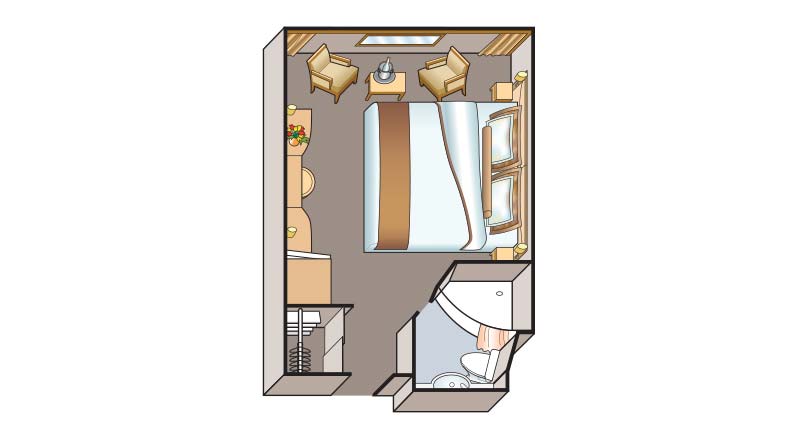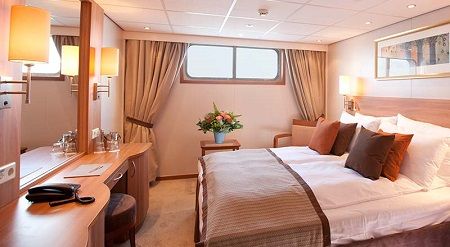 Stateroom size: 170 sq. ft.
Hotel-style beds 79 inches x 63 inches (with optional twin-bed configuration)
Half-high picture window 4.76 ft. x 2.13 ft. (cannot be opened)
Private bathroom with shower and premium bath products
Bathrobe and slippers available upon request
Telephone, refrigerator, safe, hair dryer & bottled water replenished daily
Individual climate control
Space under bed for storing suitcases
Roomy wardrobe with wooden hangers
Voltage: 220V and 115V in stateroom
Sony 32-inch flat-panel TV with premium entertainment package including: CNBC, CNN, National Geographic, MGM Movies, Sky Cinema, videos on demand and "View From the Bridge"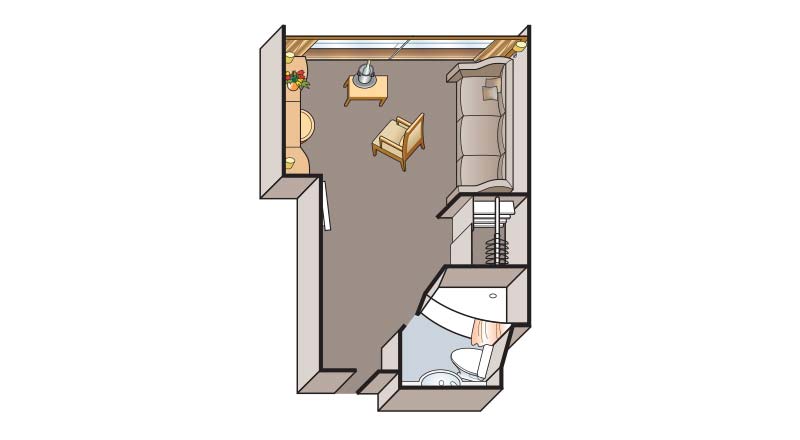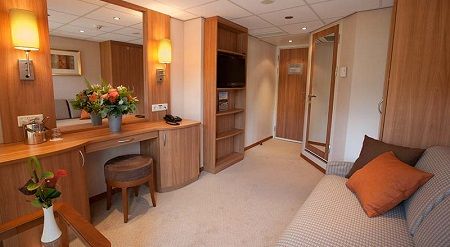 Stateroom size: 150 sq. ft.
Single staterooms have a sofa bed
French balconies (floor-to-ceiling sliding glass doors) EXCEPT stateroom #122 (main deck) which has a window that cannot be opened
Private bathroom with shower and premium bath products
Bathrobe and slippers available upon request
Telephone, refrigerator, safe, hair dryer & bottled water replenished daily
Individual climate control
Roomy wardrobe with wooden hangers
Voltage: 220V and 115V in stateroom
Sony 32-inch flat-panel TV with premium entertainment package including: CNBC, CNN, National Geographic, MGM Movies, Sky Cinema, videos on demand and "View From the Bridge"