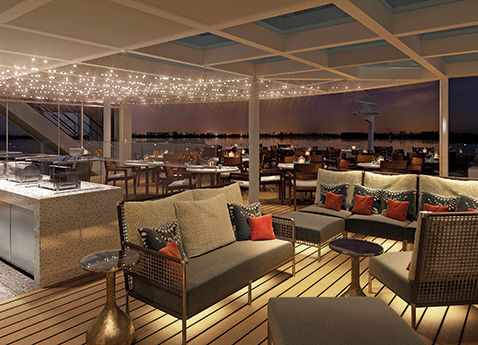 Designed by legendary naval architects Yran & Storbraaten, the team behind The Yachts of Seabourn, these new vessels offer state-of-the-art engineering, patented design and luxury. The Viking Longships provide guests with more ways to personalize their trip. Choose from a variety of stateroom classes, onboard entertainment options and ship locations from which you can enjoy sailing through the scenery, all the while enriching your time in some of Europe's most remarkable destinations.

Two Explorer Suites feature spectacular 270° views with a private wraparound veranda. Veranda Suites feature two full rooms with a veranda off the living room and a French balcony in the bedroom. Enjoy the indoor-outdoor Aquavit Terrace at the bow of the ship, or relax on the Sun Deck. These "green" ships, featuring energy-efficient hybrid engines, solar panels and an organic herb garden, were named to honour prominent members of the Norse pantheon. Each ship carries 190 guests in comfortable, understated elegance, with hotel-style beds and amenities like 40" flat-panel Sony® TVs and in-room refrigerators.

Ship Profile & Stats
Length: 135 metres
Passenger capacity (dbl): 190
Crew nationality: European
Officer nationality: European
Dining nationality: European
Ship Amenities
Bottled Water Replenished Daily
Air Conditioning
Hair Dryer
Refrigerator
Telephone
Television
Voltage: 220V and 110V in stateroom
Wi-Fi
Ship Facilities
Boutique
Laundry Service
Aquavit Terrace
Restaurant
Sun Deck
Library
Sky Bar
Filter results:
Currently we have no results for this ship, please click here to start a search and find something for you!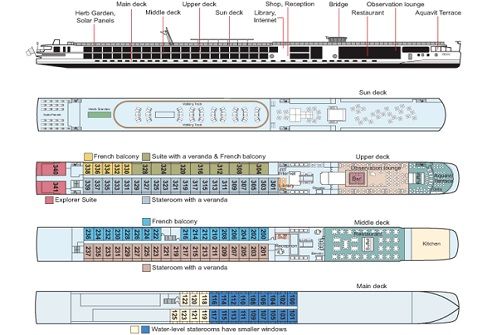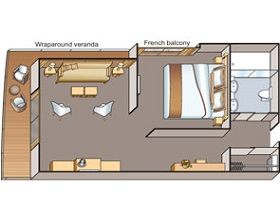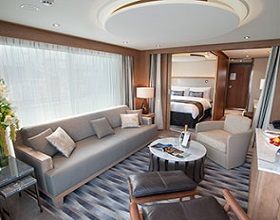 •Suite size: 445 sq. ft.
•Hotel-style beds 79 inches x 63 inches (with optional twin-bed configuration)
•Private wraparound veranda off the spacious living room offers 270-degree views
•Floor-to-ceiling sliding glass doors, known as a French balcony, in the bedroom
•Large bathroom with double sinks, shower, heated mirror & floor, premium bath products
•Telephone, refrigerator, safe, hair dryer & bottled water replenished daily
•Bathrobe and slippers available upon request
•Individual climate control
•Space under bed for storing suitcases
•Roomy wardrobe with wooden hangers
•Voltage: 220V and 110V in stateroom
•Sony 40-inch flat-panel TV with premium entertainment package including: CNBC, CNN, National Geographic, MGM Movies, Sky Cinema, videos on demand and "View From the Bridge"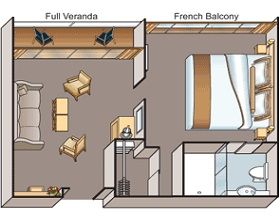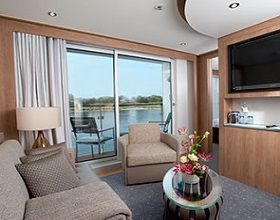 •Suite size: 275 sq. ft.
•Hotel-style beds 79 inches x 63 inches (with optional twin-bed configuration)
•Full-size veranda off the spacious living room
•Floor-to-ceiling sliding glass doors, known as a French balcony, in the bedroom
•Large private bathroom with shower and premium bath products
•Telephone, refrigerator, safe, hair dryer & bottled water replenished daily
•Bathrobe and slippers available upon request
•Individual climate control
•Space under bed for storing suitcases
•Voltage: 220V and 110V in stateroom
•Sony 40-inch flat-panel TV with premium entertainment package including: CNBC, CNN, National Geographic, MGM Movies, Sky Cinema, videos on demand and "View From the Bridge"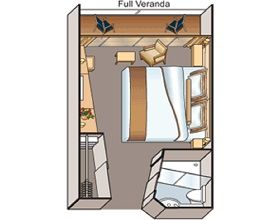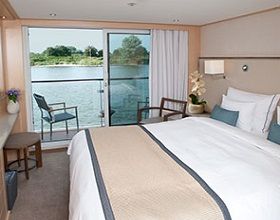 •Stateroom size: 205 sq. ft.
•Hotel-style beds 79 inches x 63 inches (with optional twin-bed configuration)
•Floor-to-ceiling sliding glass doors open to a full-size veranda
•Private bathroom with shower and premium bath products
•Telephone, refrigerator, safe, hair dryer & bottled water replenished daily
•Bathrobe and slippers available upon request
•Individual climate control
•Space under bed for storing suitcases
•Roomy wardrobe with wooden hangers
•Voltage: 220V and 110V in stateroom
•Sony 40-inch flat-panel TV with premium entertainment package including: CNBC, CNN, National Geographic, MGM Movies, Sky Cinema, videos on demand and "View From the Bridge"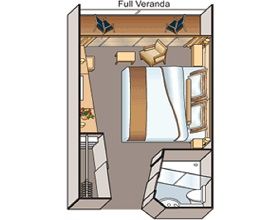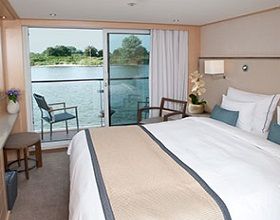 •Stateroom size: 205 sq. ft.
•Hotel-style beds 79 inches x 63 inches (with optional twin-bed configuration)
•Floor-to-ceiling sliding glass doors open to a full-size veranda
•Private bathroom with shower and premium bath products
•Telephone, refrigerator, safe, hair dryer & bottled water replenished daily
•Bathrobe and slippers available upon request
•Individual climate control
•Space under bed for storing suitcases
•Roomy wardrobe with wooden hangers
•Voltage: 220V and 110V in stateroom
•Sony 40-inch flat-panel TV with premium entertainment package including: CNBC, CNN, National Geographic, MGM Movies, Sky Cinema, videos on demand and "View From the Bridge"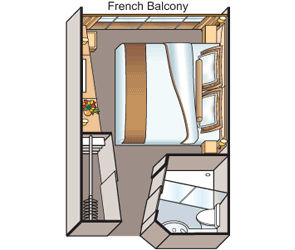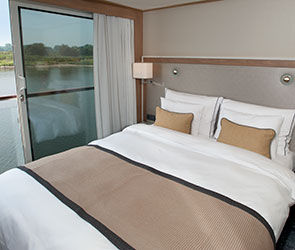 •Stateroom size: 135 sq. ft.
•Hotel-style beds 79 inches x 63 inches (with optional twin-bed configuration)
•Floor-to-ceiling sliding glass doors open to create a French balcony
•Private bathroom with shower and premium bath products
•Telephone, refrigerator, safe, hair dryer & bottled water replenished daily
•Bathrobe and slippers available upon request
•Individual climate control
•Space under bed for storing suitcases
•Roomy wardrobe with wooden hangers
•Voltage: 220V and 110V in stateroom
•Sony 40-inch flat-panel TV with premium entertainment package including: CNBC, CNN, National Geographic, MGM Movies, Sky Cinema, videos on demand and "View From the Bridge"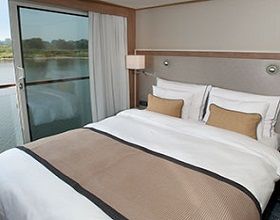 •Stateroom size: 135 sq. ft.
•Hotel-style beds 79 inches x 63 inches (with optional twin-bed configuration)
•Floor-to-ceiling sliding glass doors open to create a French balcony
•Private bathroom with shower and premium bath products
•Telephone, refrigerator, safe, hair dryer & bottled water replenished daily
•Bathrobe and slippers available upon request
•Individual climate control
•Space under bed for storing suitcases
•Roomy wardrobe with wooden hangers
•Voltage: 220V and 110V in stateroom
•Sony 40-inch flat-panel TV with premium entertainment package including: CNBC, CNN, National Geographic, MGM Movies, Sky Cinema, videos on demand and "View From the Bridge"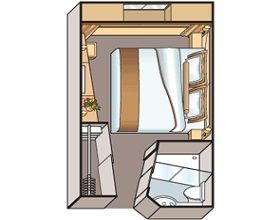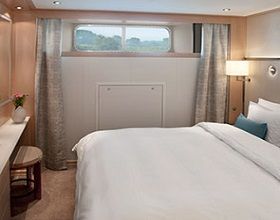 •Stateroom size: 135 sq. ft.
•Hotel-style beds 79 inches x 63 inches (with optional twin-bed configuration)
•Floor-to-ceiling sliding glass doors open to create a French balcony
•Private bathroom with shower and premium bath products
•Telephone, refrigerator, safe, hair dryer & bottled water replenished daily
•Bathrobe and slippers available upon request
•Individual climate control
•Space under bed for storing suitcases
•Roomy wardrobe with wooden hangers
•Voltage: 220V and 110V in stateroom
•Sony 40-inch flat-panel TV with premium entertainment package including: CNBC, CNN, National Geographic, MGM Movies, Sky Cinema, videos on demand and "View From the Bridge"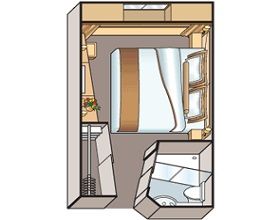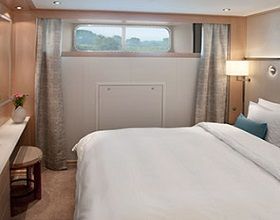 •Stateroom size: 150 sq. ft.
•Hotel-style beds 79 inches x 63 inches (with optional twin-bed configuration)
•Half-height picture window
•Private bathroom with shower and premium bath products
•Telephone, refrigerator, safe, hair dryer & bottled water replenished daily
•Bathrobe and slippers available upon request
•Individual climate control
•Space under bed for storing suitcases
•Roomy wardrobe with wooden hangers
•Voltage: 220V and 110V in stateroom
•Sony 40-inch flat-panel TV with premium entertainment package including: CNBC, CNN, National Geographic, MGM Movies, Sky Cinema, videos on demand and "View From the Bridge"