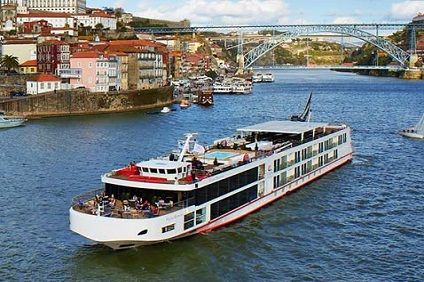 These intimate ships were custom built to sail Portugal's Douro River, with state-of-the-art engineering, deluxe accommodations and streamlined Scandinavian interiors. Like our Viking Longships, you can choose from a variety of stateroom classes, all with sweeping river views.
Ship Profile & Stats
Maiden voyage: 2014
Passenger capacity (dbl): 106
Crew nationality: European
Officer nationality: European
Dining nationality: European
Ship Amenities
Voltage: 220V & 110V (U.S. outlet) in stateroom
Bath Robe & Slippers available on request
Bottled water replenished daily
Hair Dryer
Safe
Individually Controlled Air Conditioning
Telephone
40" flat-panel TV with infotainment system featuring movies on demand plus FOX, National Geographic & more
Ship Facilities
Swimming Pool
Al Fresco Restaurant
Aquavit Terrace
Putting Green
Lounge
Restaurant
Bar
Sun Deck
Library Corner
Boutique
Free Wireless Internet
Laundry Service
Filter results:
Currently we have no results for this ship, please click here to start a search and find something for you!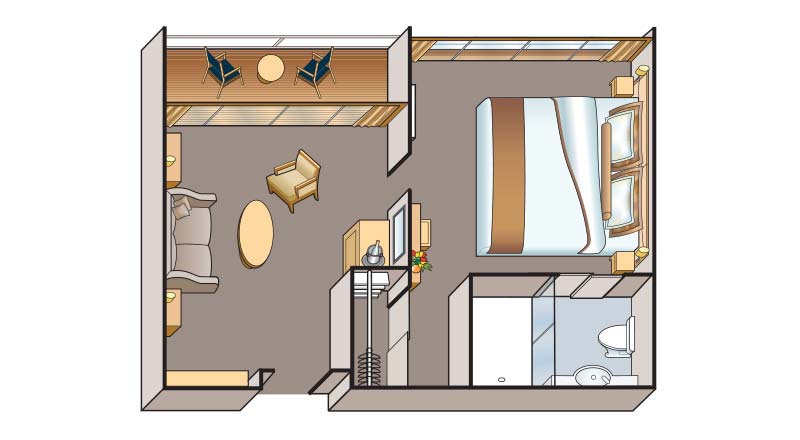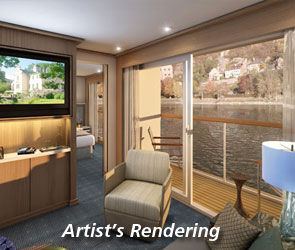 Suite size: 302 sq. ft.
Hotel-style beds (with optional twin-bed configuration)
Full-size veranda off the spacious living room
Floor-to-ceiling sliding glass doors, known as a French balcony, in the bedroom
Large private bathroom with shower and premium bath products
Telephone, safe, hair dryer & bottled water replenished daily
Bathrobe and slippers available upon request
Individual climate control
Space under bed for storing suitcases; roomy wardrobe with wooden hangers
Voltage: 220V and 110V in stateroom
40-inch flat-panel TVs with an infotainment system featuring movies on demand plus CNBC, CNN, National Geographic and more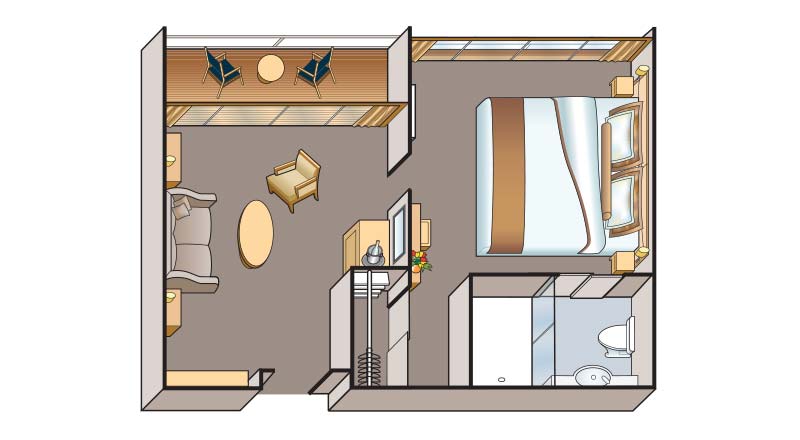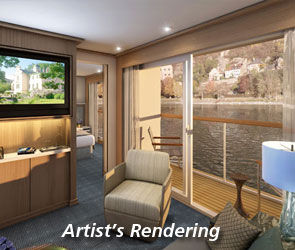 Suite size: 302 sq. ft.
Hotel-style beds (with optional twin-bed configuration)
Full-size veranda off the spacious living room
Floor-to-ceiling sliding glass doors, known as a French balcony, in the bedroom
Large private bathroom with shower and premium bath products
Telephone, safe, hair dryer & bottled water replenished daily
Bathrobe and slippers available upon request
Individual climate control
Space under bed for storing suitcases; roomy wardrobe with wooden hangers
Voltage: 220V and 110V in stateroom
40-inch flat-panel TVs with an infotainment system featuring movies on demand plus CNBC, CNN, National Geographic and more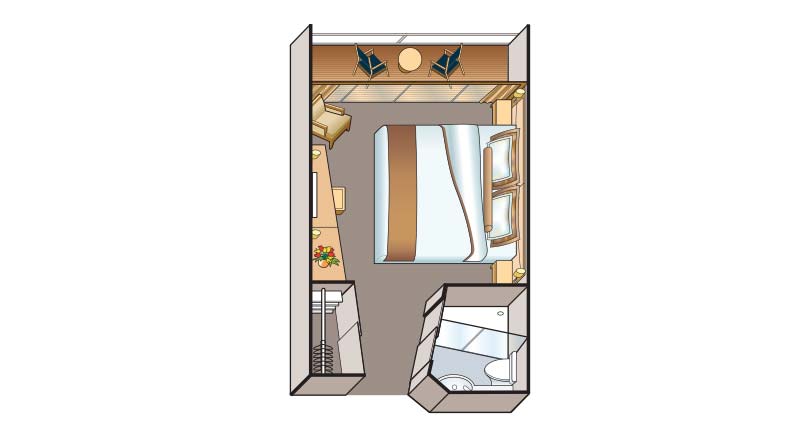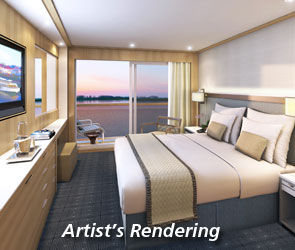 Stateroom size: 185 sq. ft.
Hotel-style beds (with optional twin-bed configuration)
Floor-to-ceiling sliding glass doors open to a full-size veranda
Private bathroom with shower and premium bath products
Telephone, safe, hair dryer & bottled water replenished daily
Bathrobe and slippers available upon request
Individual climate control
Space under bed for storing suitcases; roomy wardrobe with wooden hangers
Voltage: 220V and 110V in stateroom
40-inch flat-panel TVs with an infotainment system featuring movies on demand plus CNBC, CNN, National Geographic and more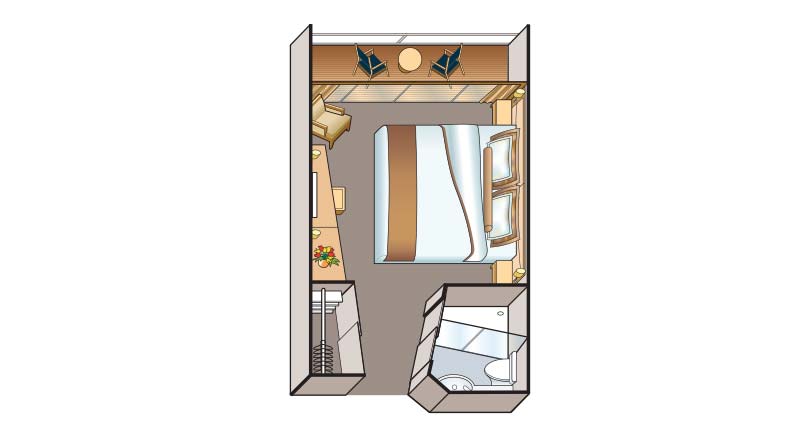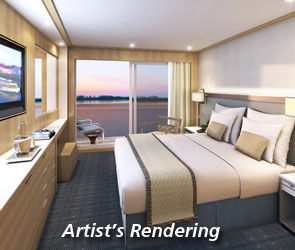 Stateroom size: 185 sq. ft.
Hotel-style beds (with optional twin-bed configuration)
Floor-to-ceiling sliding glass doors open to a full-size veranda
Private bathroom with shower and premium bath products
Telephone, safe, hair dryer & bottled water replenished daily
Bathrobe and slippers available upon request
Individual climate control
Space under bed for storing suitcases; roomy wardrobe with wooden hangers
Voltage: 220V and 110V in stateroom
40-inch flat-panel TVs with an infotainment system featuring movies on demand plus CNBC, CNN, National Geographic and more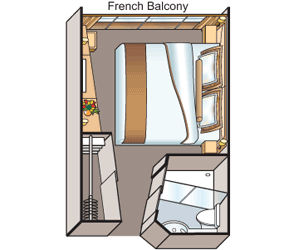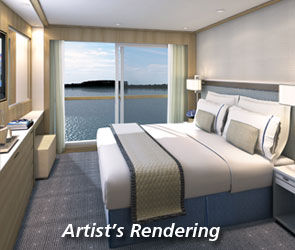 Stateroom size: 150 sq. ft.
Hotel-style beds (with optional twin-bed configuration)
Floor-to-ceiling sliding glass doors open to create a French balcony
Private bathroom with shower and premium bath products
Telephone, safe, hair dryer & bottled water replenished daily
Bathrobe and slippers available upon request
Individual climate control
Space under bed for storing suitcases; roomy wardrobe with wooden hangers
Voltage: 220V and 110V in stateroom
40-inch flat-panel TVs with an infotainment system featuring movies on demand plus CNBC, CNN, National Geographic and more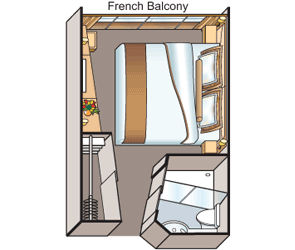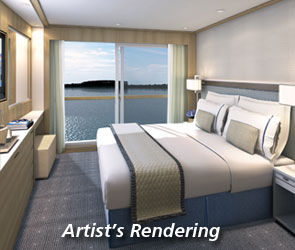 Stateroom size: 150 sq. ft.
Hotel-style beds (with optional twin-bed configuration)
Floor-to-ceiling sliding glass doors open to create a French balcony
Private bathroom with shower and premium bath products
Telephone, safe, hair dryer & bottled water replenished daily
Bathrobe and slippers available upon request
Individual climate control
Space under bed for storing suitcases; roomy wardrobe with wooden hangers
Voltage: 220V and 110V in stateroom
40-inch flat-panel TVs with an infotainment system featuring movies on demand plus CNBC, CNN, National Geographic and more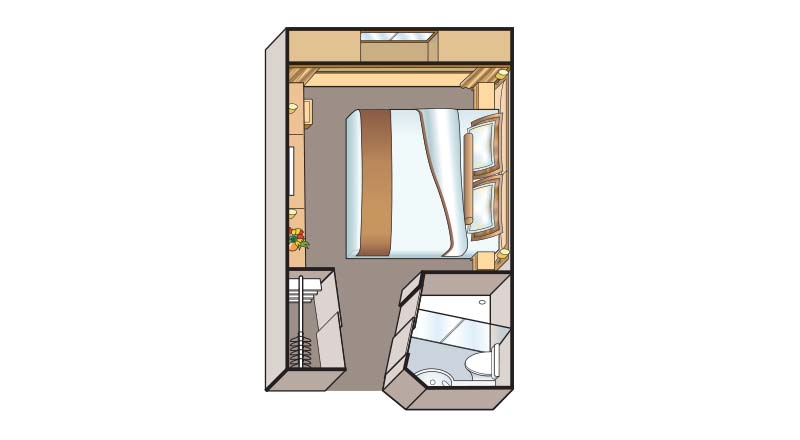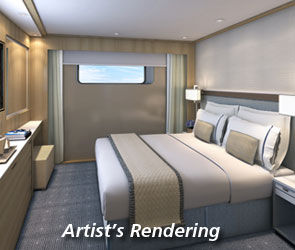 Stateroom size: 155 sq. ft.
Hotel-style beds (with optional twin-bed configuration)
Half-height picture window
Private bathroom with shower and premium bath products
Telephone, safe, hair dryer & bottled water replenished daily
Bathrobe and slippers available upon request
Individual climate control
Space under bed for storing suitcases; roomy wardrobe with wooden hangers
Voltage: 220V and 110V in stateroom
40-inch flat-panel TVs with an infotainment system featuring movies on demand plus CNBC, CNN, National Geographic and more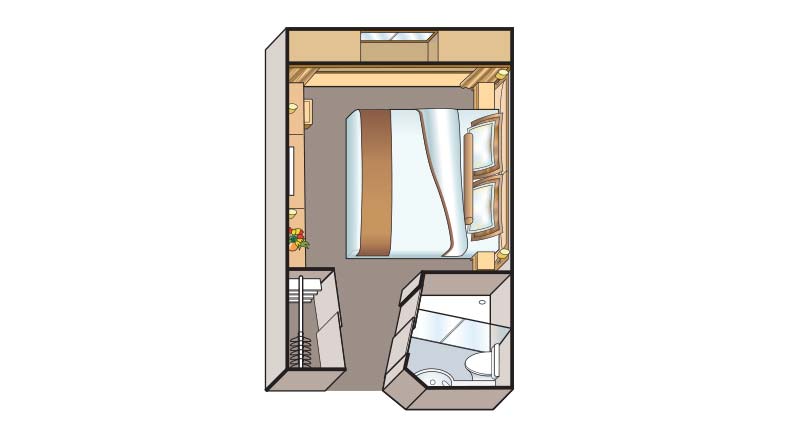 Stateroom size: 155 sq. ft.
Hotel-style beds (with optional twin-bed configuration)
Half-height picture window
Private bathroom with shower and premium bath products
Telephone, safe, hair dryer & bottled water replenished daily
Bathrobe and slippers available upon request
Individual climate control
Space under bed for storing suitcases; roomy wardrobe with wooden hangers
Voltage: 220V and 110V in stateroom
40-inch flat-panel TVs with an infotainment system featuring movies on demand plus CNBC, CNN, National Geographic and more