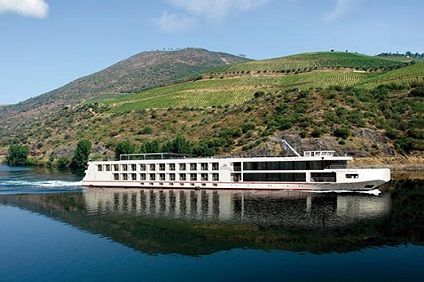 These intimate ships were custom built to sail Portugal's Douro River, with state-of-the-art engineering, deluxe accommodations and streamlined Scandinavian interiors. Like our Viking Longships, you can choose from a variety of stateroom classes, all with sweeping river views.
Ship Profile & Stats
Maiden voyage: 2014
Passenger capacity (dbl): 106
Crew nationality: European
Officer nationality: European
Dining nationality: European
Ship Amenities
Telephone
Hair Dryer
Bath Robe & Slippers available on request
Individually Controlled Air Conditioning
40" flat-panel TV with infotainment system featuring movies on demand plus FOX, National Geographic & more
Safe
Bottled water replenished daily
Voltage: 220V & 110V (U.S. outlet) in stateroom
Ship Facilities
Sun Deck
Bar
Restaurant
Lounge
Al Fresco Restaurant
Aquavit Terrace
Putting Green
Swimming Pool
Library Corner
Boutique
Free Wireless Internet
Laundry Service
Filter results:
Currently we have no results for this ship, please click here to start a search and find something for you!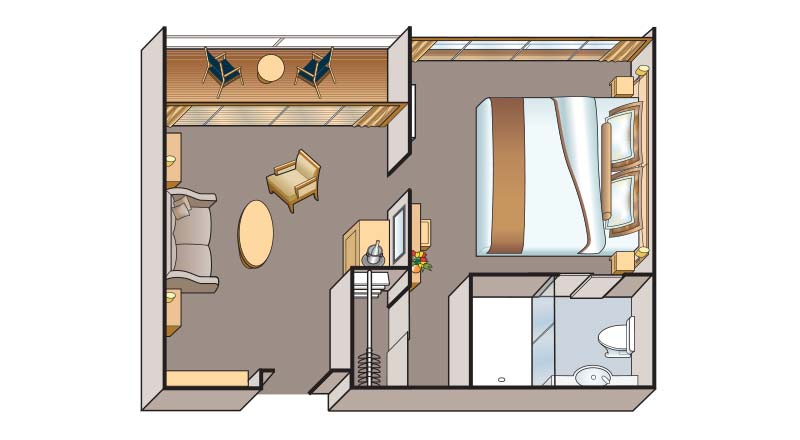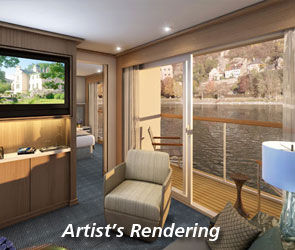 Suite size: 302 sq. ft.
Hotel-style beds (with optional twin-bed configuration)
Full-size veranda off the spacious living room
Floor-to-ceiling sliding glass doors, known as a French balcony, in the bedroom
Large private bathroom with shower and premium bath products
Telephone, safe, hair dryer & bottled water replenished daily
Bathrobe and slippers available upon request
Individual climate control
Space under bed for storing suitcases; roomy wardrobe with wooden hangers
Voltage: 220V and 110V in stateroom
40-inch flat-panel TVs with an infotainment system featuring movies on demand plus CNBC, CNN, National Geographic and more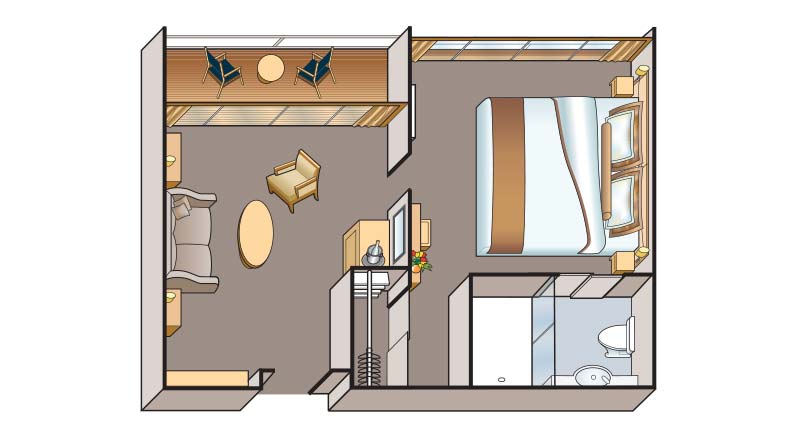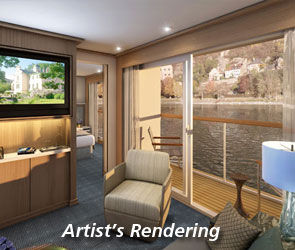 Suite size: 302 sq. ft.
Hotel-style beds (with optional twin-bed configuration)
Full-size veranda off the spacious living room
Floor-to-ceiling sliding glass doors, known as a French balcony, in the bedroom
Large private bathroom with shower and premium bath products
Telephone, safe, hair dryer & bottled water replenished daily
Bathrobe and slippers available upon request
Individual climate control
Space under bed for storing suitcases; roomy wardrobe with wooden hangers
Voltage: 220V and 110V in stateroom
40-inch flat-panel TVs with an infotainment system featuring movies on demand plus CNBC, CNN, National Geographic and more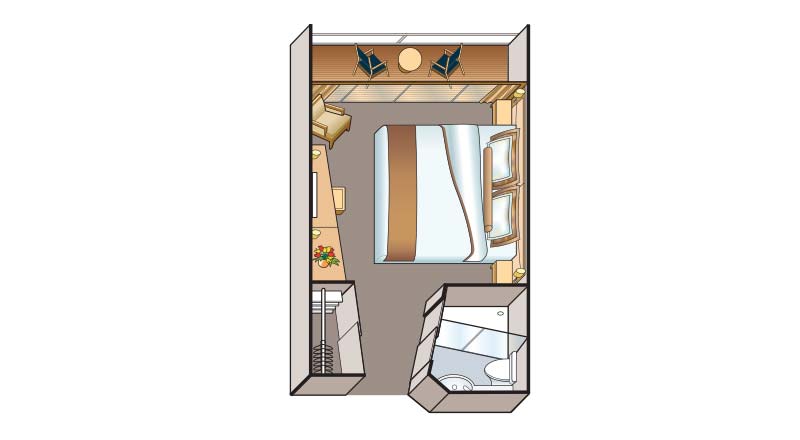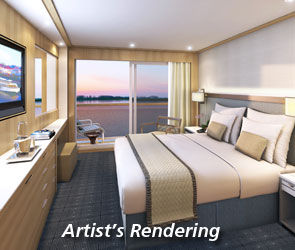 Stateroom size: 185 sq. ft.
Hotel-style beds (with optional twin-bed configuration)
Floor-to-ceiling sliding glass doors open to a full-size veranda
Private bathroom with shower and premium bath products
Telephone, safe, hair dryer & bottled water replenished daily
Bathrobe and slippers available upon request
Individual climate control
Space under bed for storing suitcases; roomy wardrobe with wooden hangers
Voltage: 220V and 110V in stateroom
40-inch flat-panel TVs with an infotainment system featuring movies on demand plus CNBC, CNN, National Geographic and more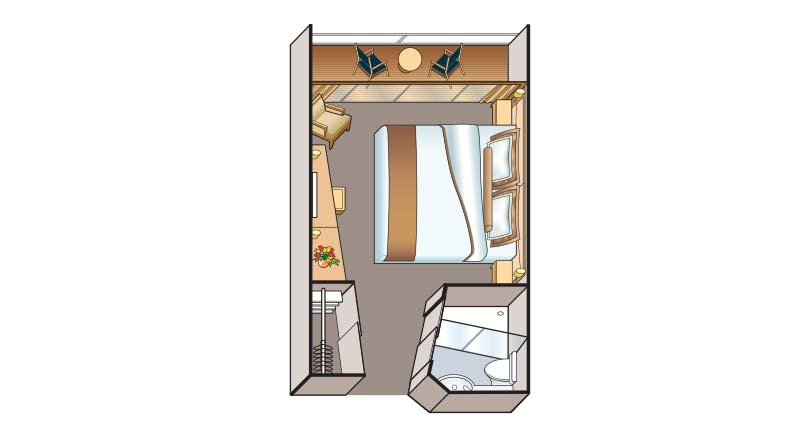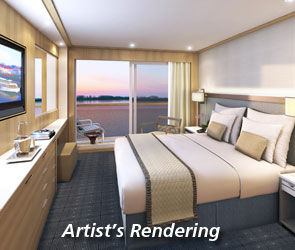 Stateroom size: 185 sq. ft.
Hotel-style beds (with optional twin-bed configuration)
Floor-to-ceiling sliding glass doors open to a full-size veranda
Private bathroom with shower and premium bath products
Telephone, safe, hair dryer & bottled water replenished daily
Bathrobe and slippers available upon request
Individual climate control
Space under bed for storing suitcases; roomy wardrobe with wooden hangers
Voltage: 220V and 110V in stateroom
40-inch flat-panel TVs with an infotainment system featuring movies on demand plus CNBC, CNN, National Geographic and more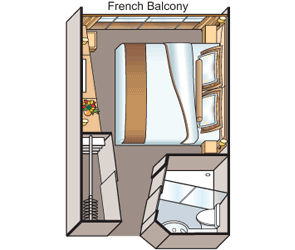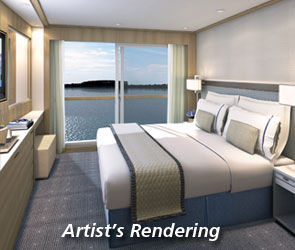 Stateroom size: 150 sq. ft.
Hotel-style beds (with optional twin-bed configuration)
Floor-to-ceiling sliding glass doors open to create a French balcony
Private bathroom with shower and premium bath products
Telephone, safe, hair dryer & bottled water replenished daily
Bathrobe and slippers available upon request
Individual climate control
Space under bed for storing suitcases; roomy wardrobe with wooden hangers
Voltage: 220V and 110V in stateroom
40-inch flat-panel TVs with an infotainment system featuring movies on demand plus CNBC, CNN, National Geographic and more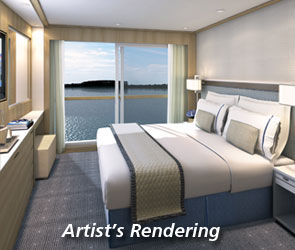 Stateroom size: 150 sq. ft.
Hotel-style beds (with optional twin-bed configuration)
Floor-to-ceiling sliding glass doors open to create a French balcony
Private bathroom with shower and premium bath products
Telephone, safe, hair dryer & bottled water replenished daily
Bathrobe and slippers available upon request
Individual climate control
Space under bed for storing suitcases; roomy wardrobe with wooden hangers
Voltage: 220V and 110V in stateroom
40-inch flat-panel TVs with an infotainment system featuring movies on demand plus CNBC, CNN, National Geographic and more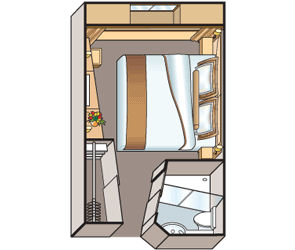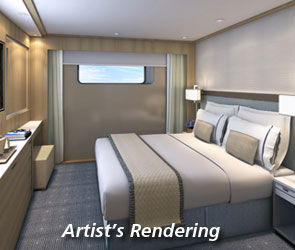 Stateroom size: 155 sq. ft.
Hotel-style beds (with optional twin-bed configuration)
Half-height picture window
Private bathroom with shower and premium bath products
Telephone, safe, hair dryer & bottled water replenished daily
Bathrobe and slippers available upon request
Individual climate control
Space under bed for storing suitcases; roomy wardrobe with wooden hangers
Voltage: 220V and 110V in stateroom
40-inch flat-panel TVs with an infotainment system featuring movies on demand plus CNBC, CNN, National Geographic and more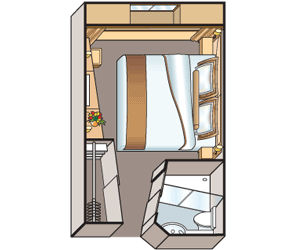 Stateroom size: 155 sq. ft.
Hotel-style beds (with optional twin-bed configuration)
Half-height picture window
Private bathroom with shower and premium bath products
Telephone, safe, hair dryer & bottled water replenished daily
Bathrobe and slippers available upon request
Individual climate control
Space under bed for storing suitcases; roomy wardrobe with wooden hangers
Voltage: 220V and 110V in stateroom
40-inch flat-panel TVs with an infotainment system featuring movies on demand plus CNBC, CNN, National Geographic and more