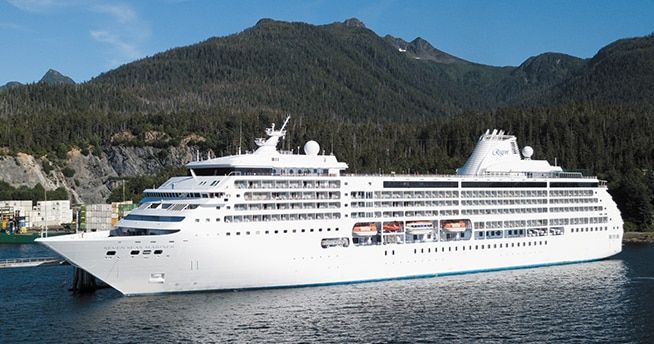 Seven Seas Mariner is the world's first all-suite, all-balcony ship, as well as the first to offer dining by the famed Le Cordon Bleu® of Paris in Signatures, one of four single, open-seating restaurants. Catering to only 700 guests, she is one of the most spacious cruise ships afloat, and, her staff to guest ratio of 1 to 1.6 provides the highest level of personal service in the tradition of Regent Seven Seas.

On just about any night on the Seven Seas Mariner, you'll be tempted to abandon any thoughts of going to bed at a sensible hour. There are dazzling live performances, thrilling games of chance, romantic cabaret acts, hilarious (and sometimes quite talented) Karaoke performances, plus dancing until you have had enough. Need a partner? One of the gentlemen hosts will be honored to spin you around the floor.

You're on vacation! And with renowned "Above and Beyond" service taking care of every little nuance or housekeeping chore, you can spend your time in more pleasurable pursuits. Enjoy peace of mind knowing your children are not only having fun, but are safely attended to. With the Seven Seas Mariner's outstanding 1 to 1.5 guest to crew ratio, you're assured of a matchless level of personal service. So relax!

Ship Profile & Stats
Maiden voyage: 2001
Tonnage: 48,015 tonnes
Length: 709 ft
Beam: 95 ft
Draft: 22 ft
Speed: 20 knots
Ship registration: France
Passenger capacity (dbl): 708
Passenger space: 65.71 ft/pass
Crew nationality: International
Officer nationality: European
Dining nationality: International
Ship Amenities
Air Conditioning
Radio/Stereo
Interactive Television
Electric Current 110 AC
Telephone
In Room Safe
Terry Robes
Bar set-up with premium liquor upon embarkation
Hair Dryer
24 Hour Room Service
Refrigerator stocked with soft drinks
Ship Facilities
Canyon Ranch Spa Club
Horizon Lounge
Signatures Restaurant
Coffee Connection
Club.com
Fitness Facilities
Library
Launderette
Connoisseur Club
Card & Conference Room
Constellation Theatre
Prime 7 Steakhouse Restaurant
Mariner Lounge
Compass Rose Restaurant
Stars Lounge
Casino
Shopping Boutiques
Pool Deck
Pool Bar
Pool Grill
La Veranda Restaurant
Observation Lounge
Jogging Track
Swimming Pool
Filter results:
Currently we have no results for this ship, please click here to start a search and find something for you!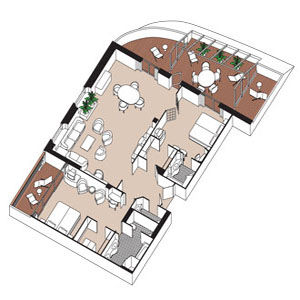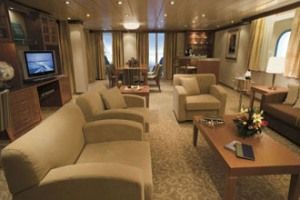 Layout
2 1/2 marble bathrooms
2 private balconies
2 spacious bedrooms
Expansive living room
Walk-in closet with safe

Dimensions
Suite: 1,204 ft2 (112 m2)
Side Balcony: 71 ft2 (6.5 m2)
Fwd. Balcony: 727 ft2 (67.5 m2)
Suite measurements are approximate, and those in same category may vary in size. They may also have different furniture placement than as depicted in photographs.

Highlights
FREE WiFi throughout the ship*
- Between 30 minutes and 500 minutes per suite, depending on voyage selected and length of voyage
FREE Pre- or Post-Cruise Land Program on Select Voyages
FREE 1-Night Pre-Cruise Luxury Hotel Package including:
- FREE Ground Transfers
- FREE Breakfast
- FREE Porterage
15 minutes of FREE ship-to-shore phone time
Priority online shore excursion reservations
Priority online Prime 7 and Signatures dining reservations
10% discount on premium wine and liquor purchases
5% discount on Regent Choice Shore Excursions
5% discount on pre- or post-cruise Hotel or Land Programs
Butler service
2 European king-size Suite Slumber Beds®
Welcome bottle of champagne
Stocked refrigerator
Daily canapés & upgraded bar set-up
Complimentary cocktail party
Vanity & hair dryer
Regent bathrobes & slippers
Hermès & L\'Occitane amenities
iPad® in suite
iPhone® docking station
Daily newspaper
Interactive flat-screen television & direct-dial satellite phone
In-suite binoculars, illy espresso machine and cashmere blanket
Nespresso coffee & Tea Forté set-up
24-hour room service with dinner served course-by-course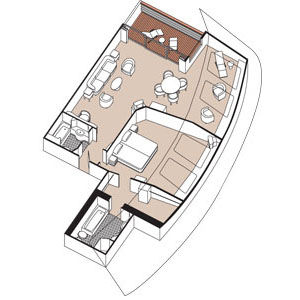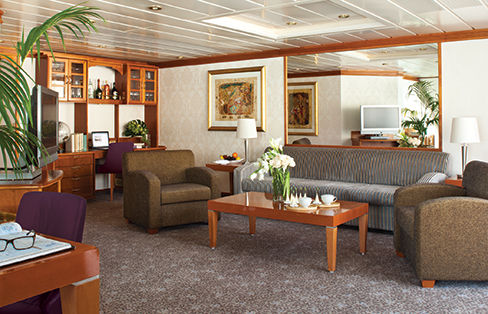 Layout
2 marble bathrooms
Private balcony
Spacious bedroom
Expansive living room
Walk-in closet with safe

Dimensions
Suite: 903 ft2 (84 m2)
Balcony: 84 ft2 (8 m2)
Suite measurements are approximate, and those in same category may vary in size. They may also have different furniture placement than as depicted in photographs.

Highlights
FREE WiFi throughout the ship*
- Between 30 minutes and 500 minutes per suite, depending on voyage selected and length of voyage
FREE Pre- or Post-Cruise Land Program on Select Voyages
FREE 1-Night Pre-Cruise Luxury Hotel Package including:
- FREE Ground Transfers
- FREE Breakfast
- FREE Porterage
15 minutes of FREE ship-to-shore phone time
Priority online shore excursion reservations
Priority online Prime 7 and Signatures dining reservations
10% discount on premium wine and liquor purchases
5% discount on Regent Choice Shore Excursions
5% discount on pre- or post-cruise Hotel or Land Programs
Butler service
European king-size Suite Slumber Bed®
Welcome bottle of champagne
Stocked refrigerator
Daily canapés & upgraded bar set-up
Complimentary cocktail party
Vanity & hair dryer
Regent bathrobes & slippers
Hermès & L\'Occitane amenities
iPad® in suite
iPhone® docking station
Daily newspaper
Interactive flat-screen television & direct-dial satellite phone
In-suite binoculars, illy espresso machine and cashmere blanket
Nespresso coffee & Tea Forté set-up
24-hour room service with dinner served course-by-course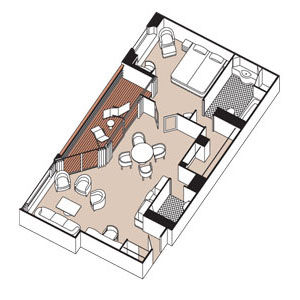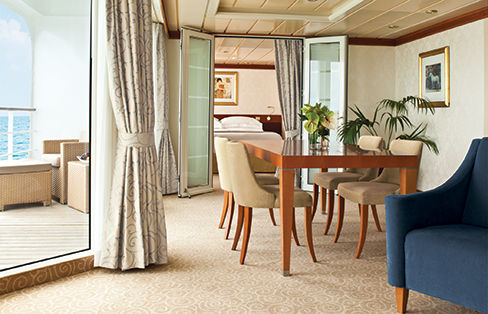 Layout
1 1/2 marble bathrooms
Private balcony
Spacious bedroom
Expansive living room
Walk-in closet with safe

Dimensions
Suite: 650 ft2 (60.5 m2)
Balcony: 89 ft2 (8.5 m2)
Suite measurements are approximate, and those in same category may vary
in size. They may also have different furniture placement than as depicted in photographs.

Highlights
FREE WiFi throughout the ship*
- Between 30 minutes and 500 minutes per suite, depending on voyage selected and length of voyage
FREE Pre- or Post-Cruise Land Program on Select Voyages
FREE 1-Night Pre-Cruise Luxury Hotel Package including:
- FREE Ground Transfers
- FREE Breakfast
- FREE Porterage
15 minutes of FREE ship-to-shore phone time
Priority online shore excursion reservations
Priority online Prime 7 and Signatures dining reservations
10% discount on premium wine and liquor purchases
5% discount on Regent Choice Shore Excursions
5% discount on pre- or post-cruise Hotel or Land Programs
Butler service
European king-size Suite Slumber Bed®
Welcome bottle of champagne
Stocked refrigerator
Daily canapés & upgraded bar set-up
Vanity & hair dryer
Regent bathrobes & slippers
Hermès & L\'Occitane amenities
iPad® in suite
iPhone® docking station
Daily newspaper
interactive flat-screen television & direct-dial satellite phone
In-suite binoculars, illy espresso machine and cashmere blanket
24-hour room service with dinner served course-by-course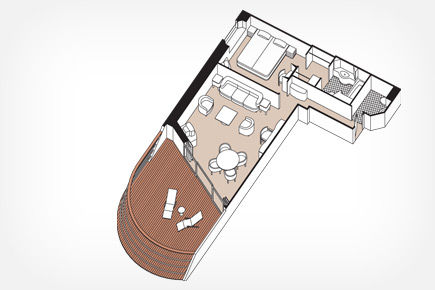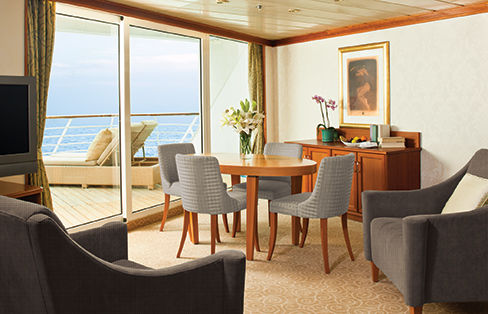 Layout
1 1/2 marble bathrooms
Private balcony
Spacious bedroom
Living area
Walk-in closet with safe

Dimensions
Suite: 561 ft2 (52 m2)
Balcony: 286 ft2 (27 m2)
Suite measurements are approximate, and those in same category may vary in size. They may also have different furniture placement than as depicted in photographs.

Highlights
FREE WiFi throughout the ship*
- Between 30 minutes and 500 minutes per suite, depending on voyage selected and length of voyage
FREE Pre- or Post-Cruise Land Program on Select Voyages
FREE 1-Night Pre-Cruise Luxury Hotel Package including:
- FREE Ground Transfers
- FREE Breakfast
- FREE Porterage
15 minutes of FREE ship-to-shore phone time
Priority online shore excursion reservations
Priority online Prime 7 and Signatures dining reservations
10% discount on premium wine and liquor purchases
5% discount on Regent Choice Shore Excursions
5% discount on pre- or post-cruise Hotel or Land Programs
Butler service
European king-size Suite Slumber Bed®
Welcome bottle of champagne
Stocked refrigerator
Daily canapés
Vanity & hair dryer
Regent bathrobes & slippers
Hermès & L\'Occitane amenities
iPad® in suite
iPhone® docking station
Interactive flat-screen television & direct-dial satellite phone
In-suite binoculars, illy espresso machine and cashmere blanket
24-hour room service with dinner served course-by-course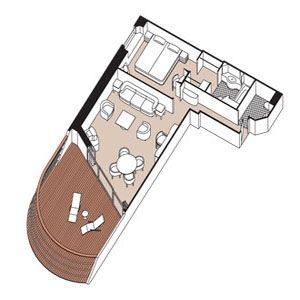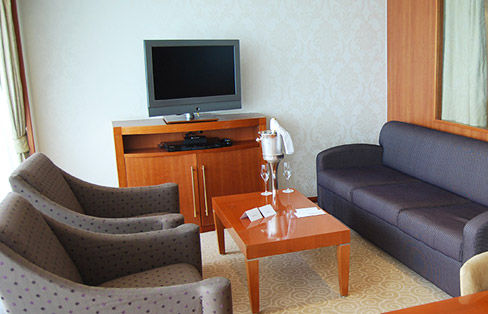 Layout
Marble bathroom
Private balcony
Spacious bedroom
Sitting area
Walk-in closet with safe

Dimensions
Suite: 505 ft2 (47 m2)
Balcony: 97 ft2 (9 m2)
Suite measurements are approximate, and those in same category may vary in size. They may also have different furniture placement than as depicted in photographs.

Highlights
FREE WiFi throughout the ship*
- Between 30 minutes and 500 minutes per suite, depending on voyage selected and length of voyage
FREE Pre- or Post-Cruise Land program on Select Voyages
FREE 1-Night Pre-Cruise Luxury Hotel Package including:
- FREE Ground Transfers
- FREE Breakfast
- FREE orterage
15 minutes of FREE ship-to-shore phone time
Priority online shore excursion reservations
Priority online Prime 7 and Signatures dining reservations
10% discount on premium wine and liquor purchases
5% discount on Regent Choice Shore Excursions
5% discount on pre- or post-cruise Hotel or Land Programs
Butler service
European king-size Suite Slumber Bed®
Welcome bottle of champagne
Stocked refrigerator
Daily canapés
Vanity & hair dryer
Regent bathrobes & slippers
Hermès & L\'Occitane amenities
iPad® in suite
iPhone® docking station
Interactive flat-screen television & direct-dial satellite phone
In-suite binoculars, illy espresso machine and cashmere blanket
24-hour room service with dinner served course-by-course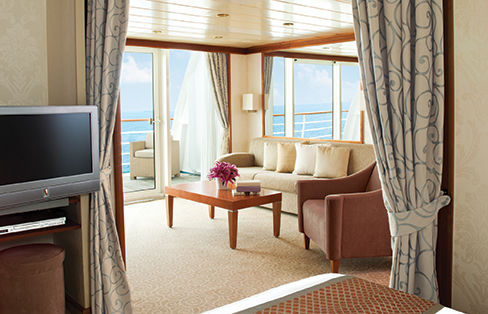 Layout
Marble bathroom
Private balcony
Sitting area
Walk-in closet with safe

Dimensions
Suite: 359 ft2 (33.5 m2)
Balcony: 167-268 ft2 (16-25 m2)
Suite measurements are approximate, and those in same category may vary
in size. They may also have different furniture placement than as depicted in photographs.

Highlights
FREE WiFi throughout the ship*
- Between 30 minutes and 500 minutes per suite, depending on voyage selected and length of voyage
FREE Pre- or Post-Cruise Land Program on Select Voyages
FREE 1-Night Pre-Cruise Luxury Hotel Package including:
- FREE Ground Transfers
- FREE Breakfast
- FREE Porterage
15 minutes of FREE ship-to-shore phone time
Priority online shore excursion reservations
Priority online Prime 7 and Signatures dining reservations
10% discount on premium wine and liquor purchases
5% discount on Regent Choice Shore Excursions
5% discount on pre- or post-cruise Hotel or Land Programs
Butler service
European king-size Suite Slumber Bed®
Welcome bottle of champagne
Stocked refrigerator
Daily canapés
Vanity & hair dryer
Regent bathrobes & slippers
Hermès & L'Occitane amenities
iPad® in suite
iPhone® docking station
Interactive flat-screen television & direct-dial satellite phone
In-suite binoculars, illy espresso machine and cashmere blanket
24-hour room service with dinner served course-by-course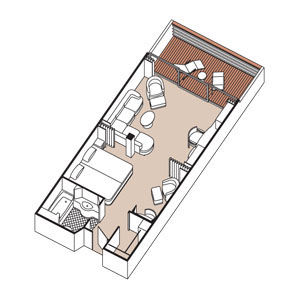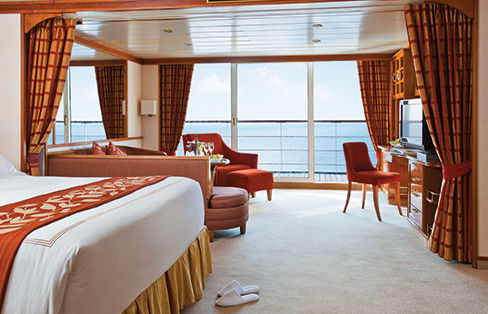 Layout
Marble bathroom
Private balcony
Sitting area
Walk-in closet with safe

Dimensions
Suite: 376 ft2 (35 m2)
Balcony: 73 ft2 (7 m2)
Suite measurements are approximate, and those in same category may vary in size. They may also have different furniture placement than as depicted in photographs.

Highlights
FREE WiFi throughout the ship*
- Between 30 minutes and 500 minutes per suite, depending on voyage selected and length of voyage
FREE Pre- or Post-Cruise Land Program on Select Voyages
FREE 1-Night Pre-Cruise Luxury Hotel Package including:
- FREE Ground Transfers
- FREE Breakfast
- FREE Porterage
15 minutes of FREE ship-to-shore phone time
Priority online shore excursion reservations
Priority online Prime 7 and Signatures dining reservations
10% discount on premium wine and liquor purchases
5% discount on Regent Choice Shore Excursions
5% discount on pre- or post-cruise Hotel or Land Programs
Butler service
European king-size Suite Slumber Bed®
Welcome bottle of champagne
Stocked refrigerator
Daily canapés
Vanity & hair dryer
Regent bathrobes & slippers
Hermès & L'Occitane amenities
iPad® in suite
iPhone® docking station
Interactive flat-screen television & direct-dial satellite phone
In-suite binoculars, illy espresso machine and cashmere blanket
24-hour room service with dinner served course-by-course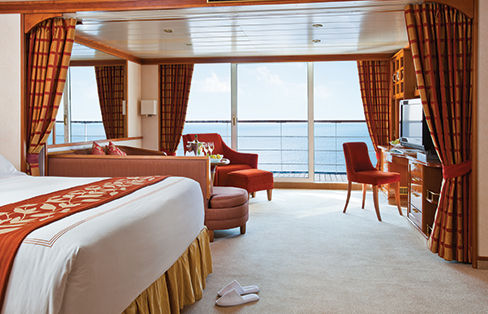 Layout
Marble bathroom
Private balcony
Sitting area
Walk-in closet with safe

Dimensions
Suite: 376 ft2 (35 m2)
Balcony: 73 ft2 (7 m2)
Suite measurements are approximate, and those in same category may vary in size. They may also have different furniture placement than as depicted in photographs.

Highlights
FREE WiFi throughout the ship*
- Between 30 minutes and 500 minutes per suite, depending on voyage selected and length of voyage
FREE Pre- or Post-Cruise Land Program on Select Voyages
FREE 1-Night Pre-Cruise Luxury Hotel Package including:
- FREE Ground Transfers
- FREE Breakfast
- FREE Porterage
15 minutes of FREE ship-to-shore phone time
Priority online shore excursion reservations
Priority online Prime 7 and Signatures dining reservations
10% discount on premium wine and liquor purchases
5% discount on Regent Choice Shore Excursions
5% discount on pre- or post-cruise Hotel or Land Programs
Butler service
European king-size Suite Slumber Bed®
Welcome bottle of champagne
Stocked refrigerator
Daily canapés
Vanity & hair dryer
Regent bathrobes & slippers
Hermès & L'Occitane amenities
iPad® in suite
iPhone® docking station
Interactive flat-screen television & direct-dial satellite phone
In-suite binoculars, illy espresso machine and cashmere blanket
24-hour room service with dinner served course-by-course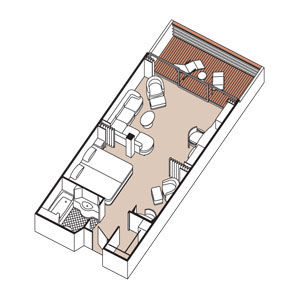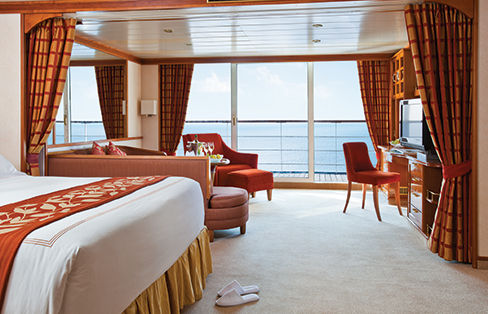 Layout
Marble bathroom
Private balcony
Sitting area
Walk-in closet with safe

Dimensions
Suite: 376 ft2 (35 m2)
Balcony: 73 ft2 (7 m2)
Suite measurements are approximate, and those in same category may vary in size. They may also have different furniture placement than as depicted in photographs.

Highlights
FREE WiFi throughout the ship*
- Between 30 minutes and 500 minutes per suite, depending on voyage selected and length of voyage
FREE Pre- or Post-Cruise Land Program on Select Voyages
FREE 1-Night Pre-Cruise Luxury Hotel Package including:
- FREE Ground Transfers
- FREE Breakfast
- FREE Porterage
15 minutes of FREE ship-to-shore phone time
Priority online shore excursion reservations
Priority online Prime 7 and Signatures dining reservations
10% discount on premium wine and liquor purchases
5% discount on Regent Choice Shore Excursions
5% discount on pre- or post-cruise Hotel or Land Programs
Butler service
European king-size Suite Slumber Bed®
Welcome bottle of champagne
Stocked refrigerator
Daily canapés
Vanity & hair dryer
Regent bathrobes & slippers
Hermès & L'Occitane amenities
iPad® in suite
iPhone® docking station
Interactive flat-screen television & direct-dial satellite phone
In-suite binoculars, illy espresso machine and cashmere blanket
24-hour room service with dinner served course-by-course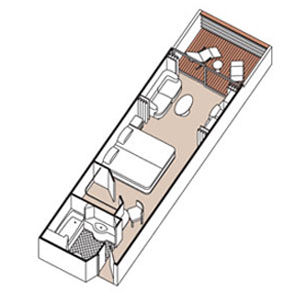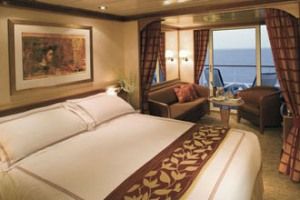 Layout
Marble bathroom
Private balcony
Sitting area
Walk-in closet with safe

Dimensions
Suite: 252 ft2 (23.5 m2)
Balcony: 49 ft2 (4.5 m2)
Suite measurements are approximate, and those in same category may vary in size. They may also have different furniture placement than as depicted in photographs.

Highlights
FREE WiFi throughout the ship*
- Between 30 minutes and 500 minutes per suite, depending on voyage selected and length of voyage
FREE Pre- or Post-Cruise Land Program on Select Voyages
FREE 1-Night Pre-Cruise Luxury Hotel Package including:
- FREE Ground Transfers
- FREE Breakfast
- FREE Porterage
15 minutes of FREE ship-to-shore phone time
Priority online shore excursion reservations
Priority online Prime 7 and Signatures dining reservations
10% discount on premium wine and liquor purchases
5% discount on Regent Choice Shore Excursions
5% discount on pre- or post-cruise Hotel or Land Programs
European king-size Suite Slumber Bed®
Welcome bottle of champagne
Stocked refrigerator
Vanity & hair dryer
Regent bathrobes & slippers
L'Occitane® amenities
Interactive flat-screen television & direct-dial satellite phone
In-suite binoculars, illy espresso machine and cashmere blanket
24-hour room service with dinner served course-by-course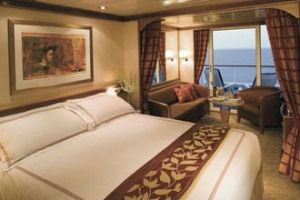 Layout
Marble bathroom
Private balcony
Sitting area
Walk-in closet with safe

Dimensions
Suite: 252 ft2 (23.5 m2)
Balcony: 49 ft2 (4.5 m2)
Suite measurements are approximate, and those in same category may vary in size. They may also have different furniture placement than as depicted in photographs.

Highlights
FREE WiFi throughout the ship*
- Between 30 minutes and 500 minutes per suite, depending on voyage selected and length of voyage
FREE Pre- or Post-Cruise Land Program on Select Voyages
FREE 1-Night Pre-Cruise Luxury Hotel Package including:
- FREE Ground Transfers
- FREE Breakfast
- FREE Porterage
15 minutes of FREE ship-to-shore phone time
Priority online shore excursion reservations
Priority online Prime 7 and Signatures dining reservations
10% discount on premium wine and liquor purchases
5% discount on Regent Choice Shore Excursions
5% discount on pre- or post-cruise Hotel or Land Programs
European king-size Suite Slumber Bed®
Welcome bottle of champagne
Stocked refrigerator
Vanity & hair dryer
Regent bathrobes & slippers
L'Occitane® amenities
Interactive flat-screen television & direct-dial satellite phone
In-suite binoculars, illy espresso machine and cashmere blanket
24-hour room service with dinner served course-by-course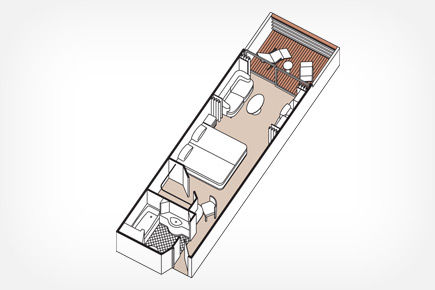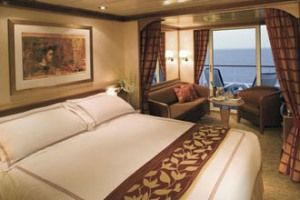 Layout
Marble bathroom
Private balcony
Sitting area
Walk-in closet with safe

Dimensions
Suite: 252 ft2 (23.5 m2)
Balcony: 49 ft2 (4.5 m2)
Suite measurements are approximate, and those in same category may vary in size. They may also have different furniture placement than as depicted in photographs.

Highlights
European king-size Suite Slumber Bed®
Interactive flat-screen television & direct-dial satellite phone
Stocked refrigerator
Vanity & hair dryer
Regent bathrobes & slippers
L'Occitane® amenities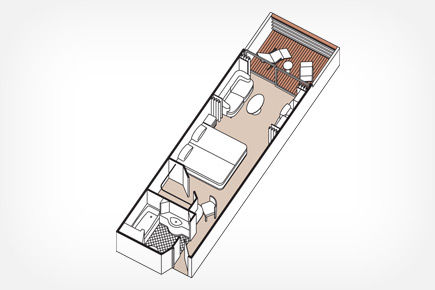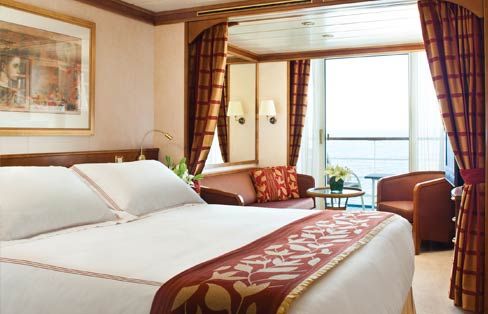 Layout
Marble bathroom
Private balcony
Sitting area
Walk-in closet with safe

Dimensions
Suite: 252 ft2 (23.5 m2)
Balcony: 49 ft2 (4.5 m2)
Suite measurements are approximate, and those in same category may vary in size. They may also have different furniture placement than as depicted in photographs.

Highlights
European king-size Suite Slumber Bed®
Interactive flat-screen television & direct-dial satellite phone
Stocked refrigerator
Vanity & hair dryer
Regent bathrobes & slippers
L'Occitane® amenities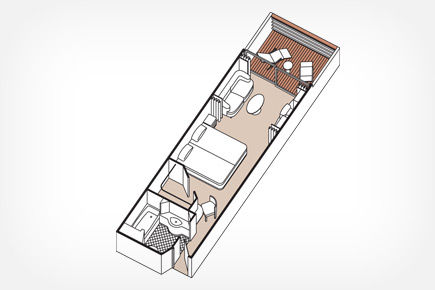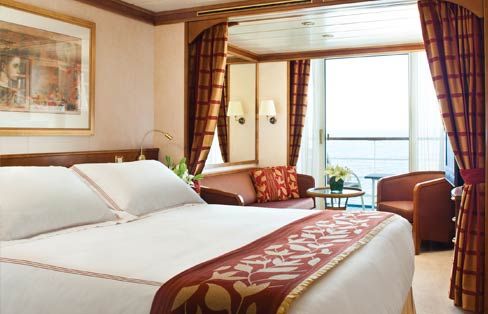 Layout
Marble bathroom
Private balcony
Sitting area
Walk-in closet with safe

Dimensions
Suite: 252 ft2 (23.5 m2)
Balcony: 49 ft2 (4.5 m2)
Suite measurements are approximate, and those in same category may vary in size. They may also have different furniture placement than as depicted in photographs.

Highlights
European king-size Suite Slumber Bed®
Interactive flat-screen television & direct-dial satellite phone
Stocked refrigerator
Vanity & hair dryer
Regent bathrobes & slippers
L'Occitane® amenities