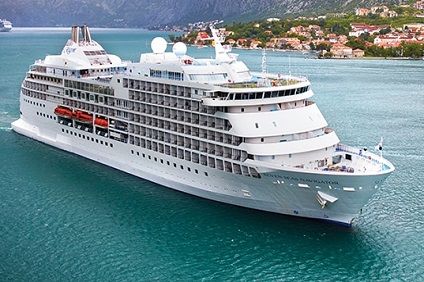 The intimate atmosphere of Seven Seas Navigator® is accompanied by her beautiful style and luxury, from the gorgeous teak pool deck to the superb offerings of Prime 7.

The elegant design of Seven Seas Navigator® harmonizes beautifully with the feeling of ease you experience when welcomed on board with kindness and grace. From stem to stern, the ship is staffed with a crew that has mastered exceptional service, exquisite cuisine and effortless luxury.
Ship Profile & Stats
Maiden voyage: 1999
Refurbished: 2016
Tonnage: 28,550 tonnes
Length: 560 ft
Beam: 81 ft
Draft: 21 ft
Speed: 20 knots
Ship registration: Italy
Passenger capacity (dbl): 490
Passenger space: 61.22 ft/pass
Crew nationality: International
Officer nationality: Italian
Dining nationality: International
Ship Amenities
Welcome Bottle of Champagne with Fresh Fruit Arrangement
Flat-Screen Television
Mini-Bar
Hair Dryer
Regent Bathrobes and Slippers
24-Hour Room Service With Dinner Served Course-by-Course
Ship Facilities
Connoisseur Club
Card Room
Shopping Boutiques
Stars Lounge
Compass Rose Restaurant
Navigator Lounge
Launderette
Seven Seas Lounge
Library
Casino
Pool Deck
Swimming Pool
Pool Grill
Prime 7 Steakhouse Restaurant
La Veranda Restaurant
Galileo's Lounge
Fitness Facilities
Canyon Ranch Spa Club
Coffee Connection
Sette Mari at La Veranda
Pool Bar
Filter results:
Currently we have no results for this ship, please click here to start a search and find something for you!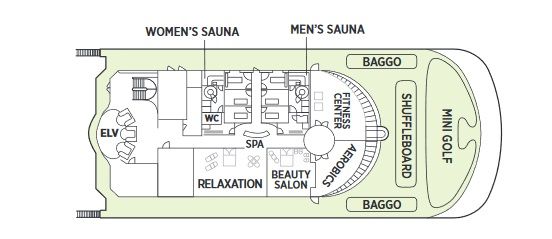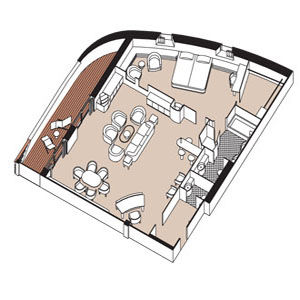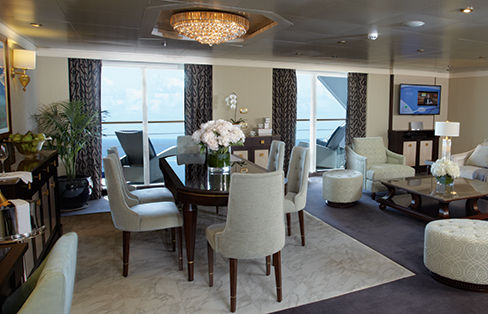 OVERVIEW: Park Avenue chic comes to the seven seas in the Master Suite. Elegant rosewood furniture, luxe fabrics and a crystal chandelier create sophisticated comfort, while a personal butler will happily assist with both ordinary and special requests. The Master Suite has one bedroom, one-and-a-half baths, a large living room and a private balcony, making it perfect for entertaining. LAYOUT:

1 1/2 Marble Bathrooms
Private Balcony
Spacious Bedroom
Expansive Living Room
Maximum of Five Guests

Suite Size 99 M2 Balcony Size
10 M2. AMENITIES:

FREE 1-Night Pre-Cruise Hotel Package Including:
- FREE Ground Transfers
- FREE Breakfast
- FREE Porterage
FREE Unlimited WiFi includes up to four logins, four devices, per suite*
FREE Unlimited Valet Laundry Service
FREE 15 Minutes of Ship-to-Shore Phone Time
Guaranteed Reservation Each Night in Specialty Restaurant of Your Choice
10% Discount on Premium Wine and Liquor
L'Occitane® Mer & Mistral Soaps, Shampoos and Lotions
Personal Butler Committed to Fulfilling Your Wishes
European King-Size or Twin Bed Configurations Featuring our Exclusive Suite Slumber Bed®
Interactive Flat-Screen Television With Extensive Media Library, Complimentary Movies-on-Demand
Mini-Bar Replenished Daily With Soft Drinks, Beer and Bottled Water — All Complimentary
Daily Canapés and Upgraded Bar Set-up
Complimentary Cocktail Party
Vanity and Hair Dryer
Regent Bathrobes and Slippers
A Variety of Hermès® and L'Occitane® Soaps, Shampoos and Lotions
iPhone® Docking Station to Accommodate All iPhone® Models
Daily Newspaper
In-Suite use of Binoculars, illy® Espresso Maker and Cashmere Blanket
Nespresso Coffee and Tea Forté Set-up

Welcome Bottle of Champagne with
Fresh Floral Arrangement
24-Hour Room Service With Dinner Served Course-by-Course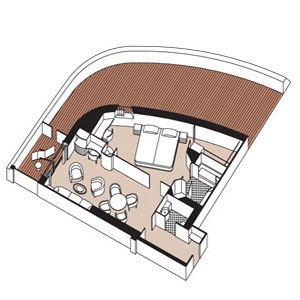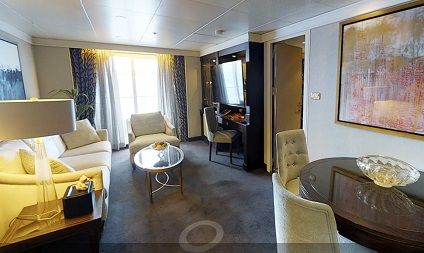 OVERVIEW: Each morning when you awake from a sound and peaceful sleep, you will feel a sense of joy knowing that you are about to explore a wonderful part of the world — and that your Grand Suite awaits you upon your return. This exquisitely designed suite features living areas with rich mosaics and exotic woods. Your own dining table lets you welcome friends for a quiet dinner, and one-and-a-half baths mean you have the master bath all to yourself as you prepare for another restful night's sleep. LAYOUT:

1 1/2 Marble Bathrooms
Private Balcony
Spacious Bedroom
Expansive Living Room
Maximum of Four Guests

Suite Size 50 M2 Balcony Size
19 M2. AMENITIES:

FREE 1-Night Pre-Cruise Hotel Package Including:
- FREE Ground Transfers
- FREE Breakfast
- FREE Porterage
FREE Unlimited WiFi includes up to four logins, four devices, per suite*
FREE Unlimited Valet Laundry Service
FREE 15 Minutes of Ship-to-Shore Phone Time
Guaranteed Reservation Each Night in Specialty Restaurant of Your Choice
10% Discount on Premium Wine and Liquor
L'Occitane® Mer & Mistral Soaps, Shampoos and Lotions
Personal Butler Committed to Fulfilling Your Wishes
European King-Size or Twin Bed Configurations Featuring our Exclusive Suite Slumber Bed®
Interactive Flat-Screen Television With Extensive Media Library, Complimentary Movies-on-Demand
Mini-Bar Replenished Daily With Soft Drinks, Beer and Bottled Water — All Complimentary
Daily Canapés and Upgraded Bar Set-up
Complimentary Cocktail Party
Vanity and Hair Dryer
Regent Bathrobes and Slippers
A Variety of Hermès® and L'Occitane®Soaps, Shampoos and Lotions
iPhone® Docking Station to Accommodate All iPhone® Models
Daily Newspaper
In-Suite use of Binoculars, illy® Espresso Maker and Cashmere Blanket
Nespresso Coffee and Tea Forté Set-up

Welcome Bottle of Champagne with
Fresh Floral Arrangement
24-Hour Room Service With Dinner Served Course-by-Course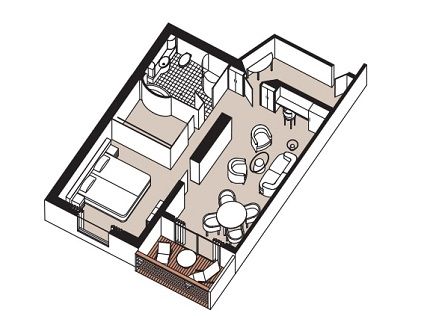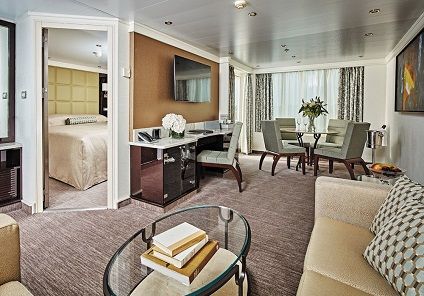 OVERVIEW: The already high staff-to-guest ratio of Regent Seven Seas Cruises® increases when you choose the Navigator Suite, as you'll have a personal butler to help take care of your every need and want. You will also find an exceptional level of luxury in your furnishings and in special amenities like priority boarding and in-suite caviar service. A large walk-in closet helps maximize your space and comfort.

LAYOUT:

1 Marble Bathroom
Private Balcony
Spacious Bedroom
Expansive Living Room
Maximum of Four Guests
Suite Size 42 M2 Balcony Size
4 M2. AMENITIES:

FREE 1-Night Pre-Cruise Hotel Package Including:
- FREE Ground Transfers
- FREE Breakfast
- FREE Porterage
FREE Unlimited WiFi includes up to four logins, four devices, per suite*
FREE 15 Minutes of Ship-to-Shore Phone Time
Priority Online Shore Excursions and Dining Reservations
10% Discount on Premium Wine and Liquor
L'Occitane® Mer & Mistral Soaps, Shampoos and Lotions
Personal Butler Committed to Fulfilling Your Wishes
European King-Size or Twin Bed Configurations Featuring our Exclusive Suite Slumber Bed®
Interactive Flat-Screen Television With Extensive Media Library, Complimentary Movies-on-Demand
Mini-Bar Replenished Daily With Soft Drinks, Beer and Bottled Water — All Complimentary
Vanity and Hair Dryer
Regent Bathrobes and Slippers
A Variety of Hermès® and L'Occitane® Soaps, Shampoos and Lotions
iPhone® Docking Station to Accommodate All iPhone® Models
In-Suite use of Binoculars, illy® Espresso Maker and Cashmere Blanket

Welcome Bottle of Champagne with
Fresh Floral Arrangement
24-Hour Room Service With Dinner Served Course-by-Course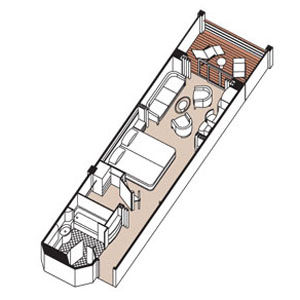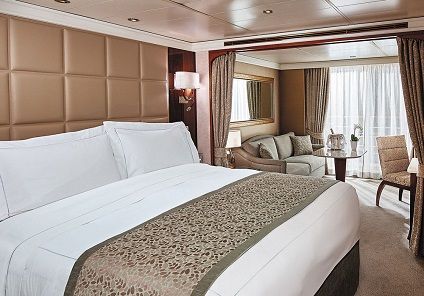 OVERVIEW: Your personal haven at the end of each day, the Penthouse Suite has been carefully designed to maximize space and comfort. Relax on your private balcony and indulge in your luxurious bath amenities as you recharge and ready yourself for a new adventure in the next port of call. You'll be assisted by a personal butler, and this suite also includes priority online reservations for shore excursions and dining. LAYOUT: 1 Marble Bathroom Private Balcony Sitting Area Maximum of 3 Guests Suite Size: 28 M2 Balcony Size 5 M2. AMENITIES: FREE 1-Night Pre-Cruise Hotel Package Including: - FREE Ground Transfers - FREE Breakfast - FREE Porterage FREE 15 Minutes of Ship-to-Shore Phone Time Priority Online Shore Excursions and Dining Reservations 10% Discount on Premium Wine and Liquor L'Occitane® Mer & Mistral Soaps, Shampoos and Lotions Personal Butler Committed to Fulfilling Your Wishes European King-Size or Twin Bed Configurations Featuring our Exclusive Suite Slumber Bed® Interactive Flat-Screen Television With Extensive Media Library, Complimentary Movies-on-Demand Mini-Bar Replenished Daily With Soft Drinks, Beer and Bottled Water — All Complimentary Vanity and Hair Dryer Regent Bathrobes and Slippers A Variety of Hermès® and L'Occitane® Soaps, Shampoos and Lotions iPhone® Docking Station to Accommodate All iPhone® Models Complimentary use of iPad® In-Suite use of Binoculars, illy® Espresso Maker and Cashmere Blanket Welcome Bottle of Champagne with Fresh Fruit Arrangement 24-Hour Room Service With Dinner Served Course-by-Course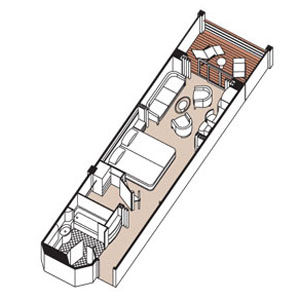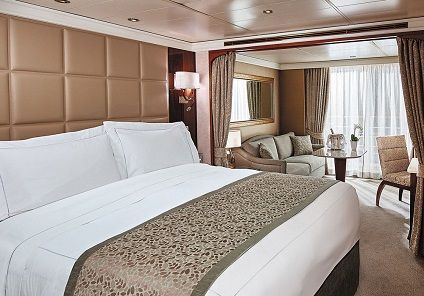 OVERVIEW: Your personal haven at the end of each day, the Penthouse Suite has been carefully designed to maximize space and comfort. Relax on your private balcony and indulge in your luxurious bath amenities as you recharge and ready yourself for a new adventure in the next port of call. You'll be assisted by a personal butler, and this suite also includes priority online reservations for shore excursions and dining. LAYOUT: 1 Marble Bathroom Private Balcony Sitting Area Maximum of 3 Guests Suite Size: 28 M2 Balcony Size 5 M2. AMENITIES: FREE 1-Night Pre-Cruise Hotel Package Including: - FREE Ground Transfers - FREE Breakfast - FREE Porterage FREE 15 Minutes of Ship-to-Shore Phone Time Priority Online Shore Excursions and Dining Reservations 10% Discount on Premium Wine and Liquor L'Occitane® Mer & Mistral Soaps, Shampoos and Lotions Personal Butler Committed to Fulfilling Your Wishes European King-Size or Twin Bed Configurations Featuring our Exclusive Suite Slumber Bed® Interactive Flat-Screen Television With Extensive Media Library, Complimentary Movies-on-Demand Mini-Bar Replenished Daily With Soft Drinks, Beer and Bottled Water — All Complimentary Vanity and Hair Dryer Regent Bathrobes and Slippers A Variety of Hermès® and L'Occitane® Soaps, Shampoos and Lotions iPhone® Docking Station to Accommodate All iPhone® Models Complimentary use of iPad® In-Suite use of Binoculars, illy® Espresso Maker and Cashmere Blanket Welcome Bottle of Champagne with Fresh Fruit Arrangement 24-Hour Room Service With Dinner Served Course-by-Course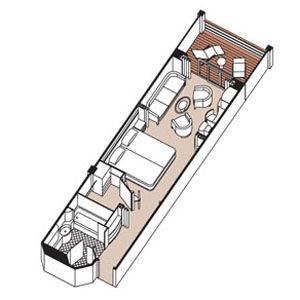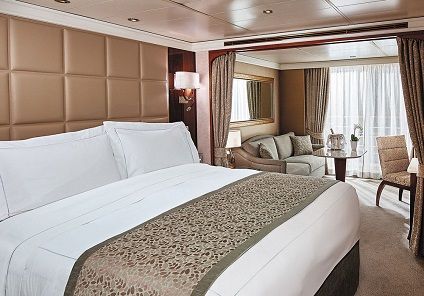 OVERVIEW: Your personal haven at the end of each day, the Penthouse Suite has been carefully designed to maximize space and comfort. Relax on your private balcony and indulge in your luxurious bath amenities as you recharge and ready yourself for a new adventure in the next port of call. You'll be assisted by a personal butler, and this suite also includes priority online reservations for shore excursions and dining. LAYOUT:

1 Marble Bathroom
Private Balcony
Sitting Area
Maximum of 3 Guests

Suite Size: 28 M2 Balcony Size 5 M2. AMENITIES:

FREE 1-Night Pre-Cruise Hotel Package Including:
- FREE Ground Transfers
- FREE Breakfast
- FREE Porterage
FREE 15 Minutes of Ship-to-Shore Phone Time
Priority Online Shore Excursions and Dining Reservations
10% Discount on Premium Wine and Liquor
L'Occitane® Mer & Mistral Soaps, Shampoos and Lotions
Personal Butler Committed to Fulfilling Your Wishes
European King-Size or Twin Bed Configurations Featuring our Exclusive Suite Slumber Bed®
Interactive Flat-Screen Television With Extensive Media Library, Complimentary Movies-on-Demand
Mini-Bar Replenished Daily With Soft Drinks, Beer and Bottled Water — All Complimentary
Vanity and Hair Dryer
Regent Bathrobes and Slippers
A Variety of Hermès® and L'Occitane® Soaps, Shampoos and Lotions
iPhone® Docking Station to Accommodate All iPhone® Models

Complimentary use of iPad®
In-Suite use of Binoculars, illy® Espresso Maker and Cashmere Blanket

Welcome Bottle of Champagne with
Fresh Fruit Arrangement
24-Hour Room Service With Dinner Served Course-by-Course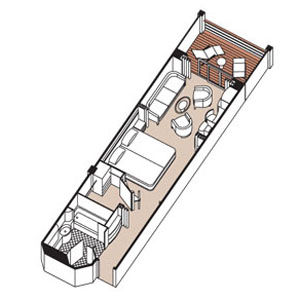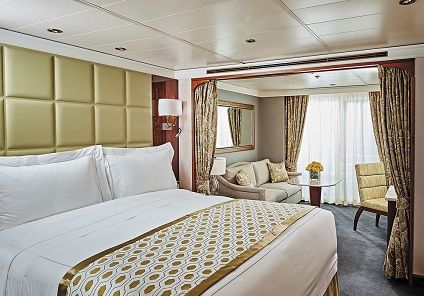 OVERVIEW: When you select a Concierge Suite, you enjoy the comfort of richly furnished accommodations as well as exclusive luxuries available only in suites at the Concierge level and higher. Your suite includes amenities such as an illy® espresso maker and cashmere blankets, perfect for use in the morning when you wish to sip coffee on your private balcony. You can also take advantage of a FREE 1-Night Pre-Cruise Hotel Package that includes ground transfers, breakfast and porterage. LAYOUT:

1 Marble Bathroom
Private Balcony
Sitting Area
Maximum of 3 Guests

Suite Size: 28 M2 Balcony Size 5 M2.

AMENITIES:

FREE 1-Night Pre-Cruise Hotel Package Including:
- FREE Ground Transfers
- FREE Breakfast
- FREE Porterage
Priority Online Shore Excursions and Dining Reservations
FREE 15 Minutes of Ship-to-Shore Phone Time
10% Discount on Premium Wine and Liquor
L'Occitane® Mer & Mistral Soaps, Shampoos and Lotions
European King-Size or Twin Bed Configurations Featuring our Exclusive Suite Slumber Bed®
Interactive Flat-Screen Television With Extensive Media Library, Complimentary Movies-on-Demand
Mini-Bar Replenished Daily With Soft Drinks, Beer and Bottled Water — All Complimentary
Vanity and Hair Dryer
Regent Bathrobes and Slippers
L'Occitane® Soaps, Shampoos and Lotions
In-Suite use of Binoculars, illy® Espresso Maker and Cashmere Blanket
Welcome Bottle of Champagne with Fresh Fruit Arrangement
24-Hour Room Service With Dinner Served Course-by-Course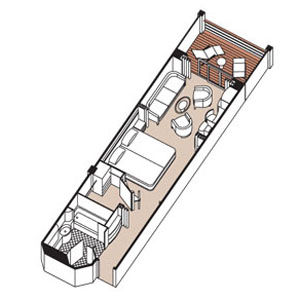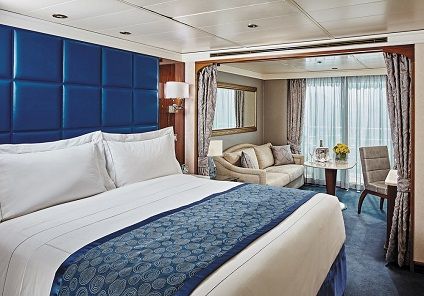 OVERVIEW: Every inch of the Deluxe Veranda Suite has been thoughtfully designed to maximize interior space and embrace the magnificent scenery outdoors. From the sitting area, admire the ocean views through the floor-to-ceiling windows, or better yet, take a seat outside on your private balcony to watch the world go by. Elegant finishes such as luxurious bedding and beautiful marble detailing in the bath further enhance your comfort. LAYOUT: 1 Marble Bathroom Private Balcony Sitting Area Maximum of 3 Guests Suite Size: 28 M2 Balcony Size 5 M2. AMENITIES: European King-Size or Twin Bed Configurations Featuring our Exclusive Suite Slumber Bed® Interactive Flat-Screen Television With Extensive Media Library, Complimentary Movies-on-Demand Mini-Bar Replenished Daily With Soft Drinks, Beer and Bottled Water — All Complimentary Vanity and Hair Dryer Regent Bathrobes and Slippers L'Occitane® Soaps, Shampoos and Lotions Welcome Bottle of Champagne with Fresh Fruit Arrangement 24-Hour Room Service With Dinner Served Course-by-Course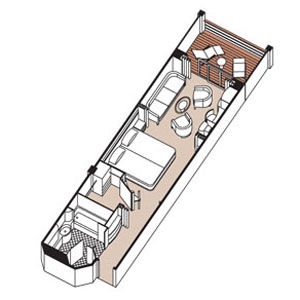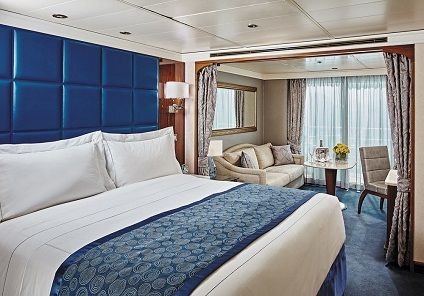 OVERVIEW: Every inch of the Deluxe Veranda Suite has been thoughtfully designed to maximize interior space and embrace the magnificent scenery outdoors. From the sitting area, admire the ocean views through the floor-to-ceiling windows, or better yet, take a seat outside on your private balcony to watch the world go by. Elegant finishes such as luxurious bedding and beautiful marble detailing in the bath further enhance your comfort. LAYOUT:

1 Marble Bathroom
Private Balcony
Sitting Area
Maximum of 3 Guests
Suite Size: 28 M2 Balcony Size 5 M2. AMENITIES:

European King-Size or Twin Bed Configurations Featuring our Exclusive Suite Slumber Bed®
Interactive Flat-Screen Television With Extensive Media Library, Complimentary Movies-on-Demand
Mini-Bar Replenished Daily With Soft Drinks, Beer and Bottled Water — All Complimentary
Vanity and Hair Dryer
Regent Bathrobes and Slippers
L'Occitane® Soaps, Shampoos and Lotions
Welcome Bottle of Champagne with Fresh Fruit Arrangement
24-Hour Room Service With Dinner Served Course-by-Course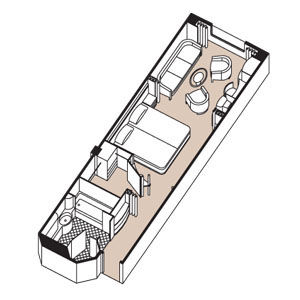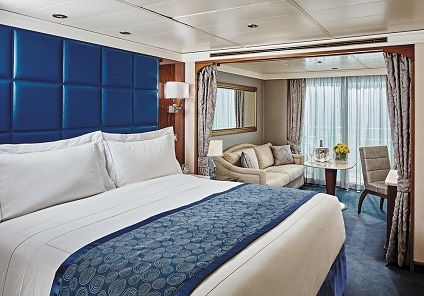 OVERVIEW: Even the smallest suites on Seven Seas Navigator® are spacious, welcoming and luxuriously furnished. Measuring 301 square feet, the Deluxe Window Suite features a large picture window, so you can fully enjoy the ocean view even without a balcony. Wrap yourself in a plush bathrobe, retreat to your sitting area and pop your welcome bottle of champagne as your ship sails out to sea. LAYOUT: 1 Marble Bathroom Sitting Area Maximum of 3 Guests Suite Size 28 M2. AMENITIES: European King-Size or Twin Bed Configurations Featuring our Exclusive Suite Slumber Bed® Interactive Flat-Screen Television With Extensive Media Library, Complimentary Movies-on-Demand Mini-Bar Replenished Daily With Soft Drinks, Beer and Bottled Water — All Complimentary Vanity and Hair Dryer Regent Bathrobes and Slippers L'Occitane® Soaps, Shampoos and Lotions Welcome Bottle of Champagne with Fresh Fruit Arrangement 24-Hour Room Service With Dinner Served Course-by-Course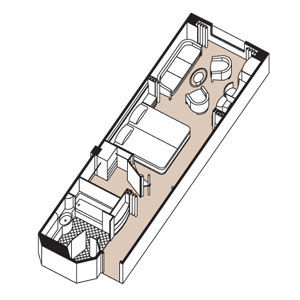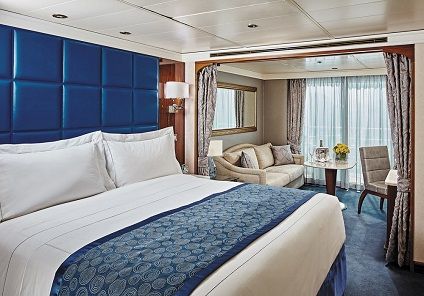 OVERVIEW: Even the smallest suites on Seven Seas Navigator® are spacious, welcoming and luxuriously furnished. Measuring 301 square feet, the Deluxe Window Suite features a large picture window, so you can fully enjoy the ocean view even without a balcony. Wrap yourself in a plush bathrobe, retreat to your sitting area and pop your welcome bottle of champagne as your ship sails out to sea.

LAYOUT:

1 Marble Bathroom
Sitting Area
Maximum of 3 Guests
Suite Size 28 M2.

AMENITIES:

European King-Size or Twin Bed Configurations Featuring our Exclusive Suite Slumber Bed®
Interactive Flat-Screen Television With Extensive Media Library, Complimentary Movies-on-Demand
Mini-Bar Replenished Daily With Soft Drinks, Beer and Bottled Water — All Complimentary
Vanity and Hair Dryer
Regent Bathrobes and Slippers
L'Occitane® Soaps, Shampoos and Lotions
Welcome Bottle of Champagne with Fresh Fruit Arrangement
24-Hour Room Service With Dinner Served Course-by-Course