Our cruises are fundamentally different than other Amazon cruises, how? They are true Expedition Cruises.
Exploration: We go farther and deeper into the rainforest than any other cruise vessel - anywhere in the Amazon. Our voyages explore deep into a UNESCO Natural World Heritage Site in the least inhabited major river system in all of the Amazon Basin, the Rio Negro --- and out there, among the greatest collection of flora and fauna in the world, it's just us.
Small Groups: One of the most important and often overlooked keys to exploration is small groups. When our teams are in the forest or on launch excursions, there are usually just seven or eight explorers including our guides.
Skilled Guides: Our guides are the very best in the Amazon. With their sharp eyes and ears we all can find and experience the bizarre and beautiful creatures of this wild wilderness.
Active and Authentic Excursions: We do not waste precious time. Our days in the rainforest are spent on many excursions to actively engage with the wilderness. We explore by launch, we walk in the rainforest, we silently paddle in kayaks, we fish for piranhas, we swim in refreshing water, and sometimes we visit villages that are small, remote, and unspoiled. This is the best way to experience the rainforest and the only authentic way.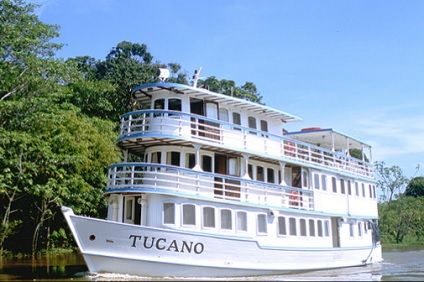 Tucano
On the M/Y Tucano we have a passion for exploration and we hunt deep into the small tributaries that weave their way into the wilderness. Our small-shi…
View More
Filter results:
Currently we have no results for this cruise line, please click here to start a search and find something for you!