The word "V'Spirit" actually means "Vietnamese Spirit", and our goal is to help you experience that feeling which is part of our daily lives.
With this in mind, our wooden junks are designed in the time-honored traditional style, but with contemporary, deluxe cabins and facilities, including sea-view windows in each cabin, private, modern bathrooms, and a comfortable sundeck bar. Our cooks will serve you the tastiest traditional Vietnamese foods, and our staff will help you learn about our current lives as well as our ancient history.
What sets V'Spirit apart from other vacation choices is our passionate dedication to providing guests with a cruise experience that exceeds expectations. Our goal is to be the best at providing our clients with everything that makes cruising popular today– a unique and interesting itinerary, high quality, comfortable accommodations, attentive service from our staff, and exceptional cuisine.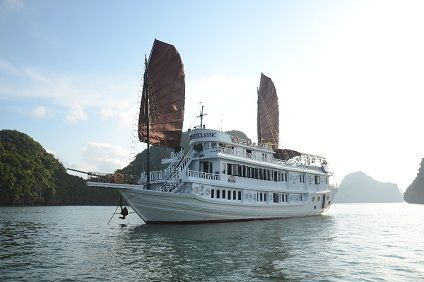 VSpirit Classic
Cruising along Ha Long Bay, V'Spirit Classic Cruises features deluxe cabin rooms with a blend of modern and oriental décor. It offers 24-hour front desk st…
View More
Filter results:
Currently we have no results for this cruise line, please click here to start a search and find something for you!