Nomads is a company created with one clear purpose: to become the world's most important special interests operation covering the luxury segment with an unique offer, through a sophisticated operational model set up in the virgin and unexplored Chilean Patagonia.
Nomads of the Seas, is based on a state-of-the-art expedition cruise, the Atmosphere. It offers its guests the unique opportunity of exploring Patagonia by air, land and water.
Thanks to a first rate crew and a cutting edge air and water transport system, Nomads of the Seas can deliver the thrill of fly-fishing, the majesty of whale – watching as well as bird-watching, nature photography, and a varied selection of soft outdoor adventures in unexplored surroundings of incredible beauty, in the southernmost corner of the world.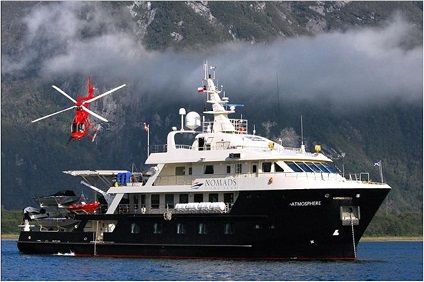 Atmosphere
Nomads of the Seas, Patagonian adventure acquire an entire new meaning aboard the Atmosphere. Guillermo Rodríguez, Chilean renowned chef, and President …
View More
Filter results:
Currently we have no results for this cruise line, please click here to start a search and find something for you!